Summary
Weather APIs provide developers with access to current, forecasted, and historical weather data.
The best weather APIs for 2023 are judged based on functionality & scope, compatibility & ease of implementation, responsiveness & reliability, and cost.
The all-around best Weather API for 2023 is Tomorrow.io's Weather API , which offers 80+ data layers and a top-rated interface.
A weather API may not seem like an essential tool for business, but that couldn't be further from the truth.
Accurate, actionable weather forecasts are vital to the success of many businesses. In fact, there are entire industries where weather conditions have a direct impact on day-to-day operations, including shipping, on-demand, energy, and the supply chain (to name just a few).
For example, a typical utility company sees up to $1.4B in storm damage costs and lost revenue due to outages from storms over a 20-year period, according to McKinsey. With actionable weather forecasts, businesses can better prepare for weather events, saving money, and improving operations.
And now that the popular Dark Sky API is shutting down (thanks, Apple), many people are looking for a new, better weather API for their weather data needs. But how do you know what's the right choice for you?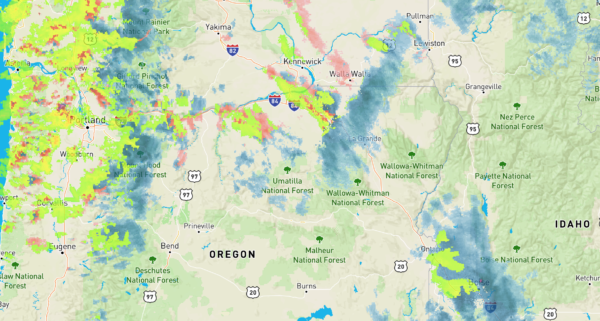 Whether you're building an app, adding weather data to your software platform, or creating a new Alexa skill, you may be looking for very different capabilities from a free weather API. That's where we can help! Depending on your priorities, some APIs will be a better fit than others.
We looked at all the top weather APIs on the market in 2023 to help you choose the right one and get started faster. Here's what you need to consider when choosing the best weather API for your project or business.
What is a Weather API?
As a developer, you already likely use many APIs to perform different tasks and functions in your apps or across your site. Weather APIs are similar to map APIs in terms of integration and versatility of data sources. Each service provider collects, aggregates, and processes meteorological and other relevant weather data then offers access to it via API. This includes data like:
Temperature
Humidity
Wind Speed
Precipitation
Cloud cover
Visibility
…and more
If you are building a web or mobile app that needs to pull weather forecast data, for example, the right weather API makes this easy. With this data, you can create updates and alerts in web and mobile apps, creating solutions that are uniquely suited to your needs.
How to Choose a Weather API
There are quite a few weather APIs out there, each with a unique set of capabilities, varying costs, and different degrees of reliability. Some even target specific markets or communities with unique features for agricultural applications or air quality monitoring. With the broad options available, choosing a weather API can be a bit daunting. So what should you consider before you scroll down to our list of recommended weather data API providers? Here's what we recommend.
Functionality and Scope
Like any API you integrate with your mobile or web app, the weather API you choose needs to do what you want and it needs to do it well. Overall, the majority of APIs will give you similar data, but will vary in resolution, the length of time back in historic weather records, as well as day and time formats. However, before you request an API key for each available service offering the functionality you need, be sure to define your scope as well.
For example, if your app users are only interested in marine weather conditions or the weather on Mars (yes, that's a thing), there are specific APIs that will give you the data you need without any unnecessary features or capabilities packaged in.
That said, it's worth noting that free APIs can only give you so much. Most free APIs are limited not only in the number of API calls, but also the functionality provided. The bottom line is that additional functionality comes with additional costs, which becomes especially relevant if your commercial app targets a vertical or business with specific needs that go beyond a general weekly forecast and current weather data.
Compatibility and Ease of Implementation
Most weather APIs today are based on RESTful architecture, with a handful offering a SOAP alternative. Be sure to pay attention to those subtle differences in date and time formats, as well as well-tested compatibility with the app framework and language you're coding in.
Another thing to take note of is documentation. While some services have in-depth tutorials and guides, others expect you to figure it out yourself or come armed with previous experience in implementing weather APIs. Depending on your level of expertise, you may need more or less documentation in order to set it up effectively.
Responsiveness and Reliability
You need a weather API to not only do what you want and well, but you want it to be fast and available. There are a number of sources for information on uptime and response speed of available weather APIs, but the information there is not very consistent or accurate.
The best way to find out which APIs are reliable and fast enough to make it into the production version of your app is to try them. Fortunately, the majority of them offer a free trial option or freemium subscription. This leads us to another important consideration: the price.
Cost
Once you've figured out your needs and scope, and narrowed down your list of potential weather API providers, it's time to consider the price tag. As one can expect, the features, uptime, capacity, and responsiveness offered by the free API services are inferior to those of paid options. That said, even the highest-priced APIs will become a significant expense only if and when the number of API requests made by your app is extremely high.
Now that you've got your checklist ready, let's go more in-depth into the very best Weather APIs on the market in 2023.
Our Picks for the Best Weather APIs
Based on our research, here are the top weather APIs based on functionality, price, and data access:
But before we get into the details of each of these providers, let's talk about how you should assess and decide on the right weather API for your project or business.


Tomorrow.io's API offers an all-in-one endpoint with 80 different data fields, including weather, air quality, pollen, road risk, and fire index, and also includes historical, real-time, and forecast weather data, globally. A lean and flat payload creates a seamless developer experience with comprehensive documentation, cutting edge functionality and features, including:
Polygon/polyline locations: Location types give developers the flexibility to choose the right bounding box to continuously observe inclement weather within that specific lat/long vicinity.
Monitoring and alerts: Customize your own rules for what weather conditions you want to be monitored in which locations, and you can receive alerts through the Tomorrow.io Weather API for when those specific thresholds have been met.
Dynamic routes: Get any of our data fields in realtime mapped to a travel route, with granularity in the forecast every step of the way.
Tomorrow.io's Weather API is already trusted by top companies such as Uber, JetBlue, National Grid, AWS, Ford, and more.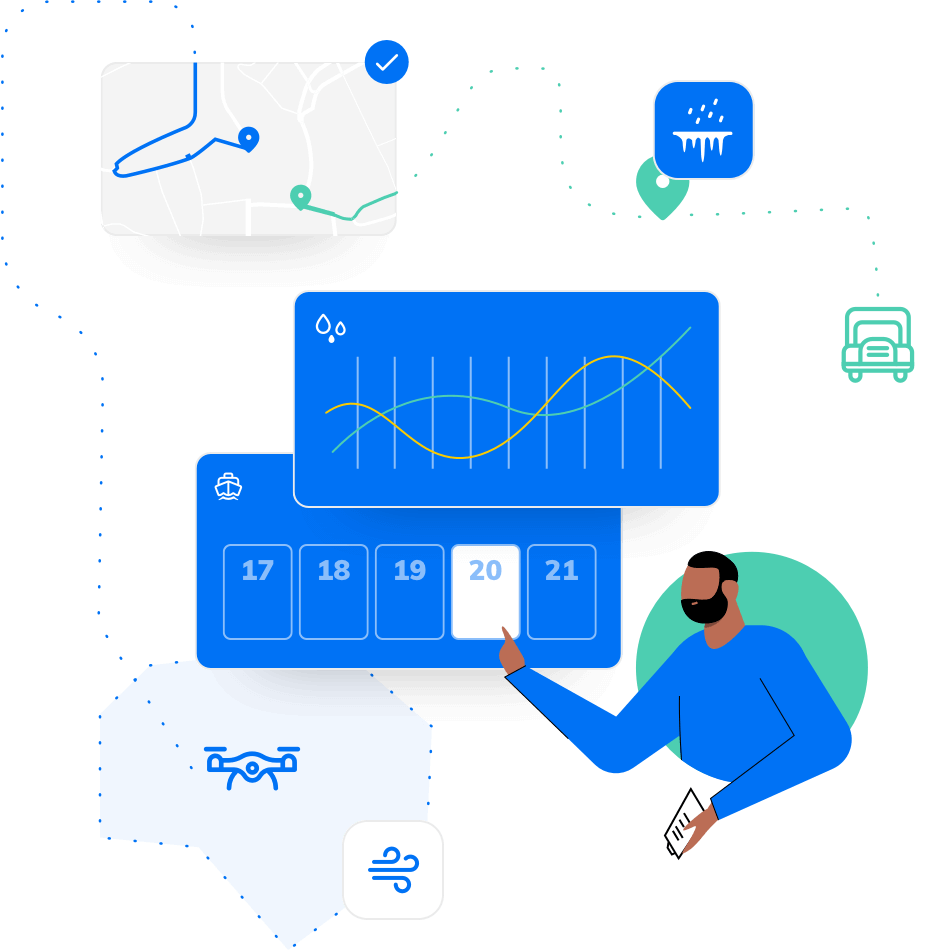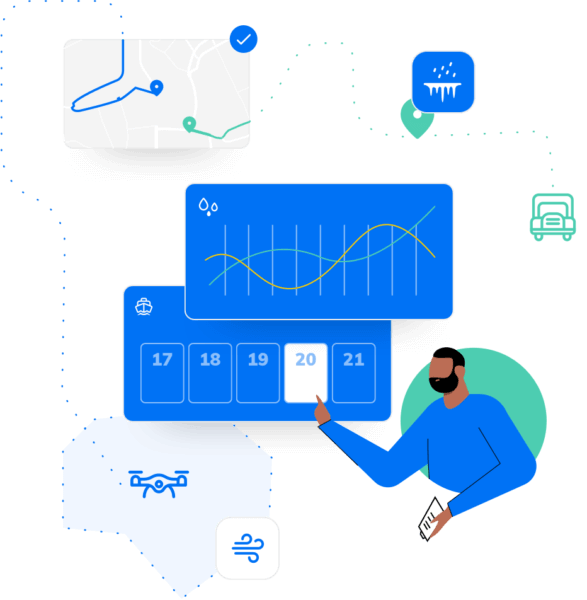 App Integration/ Format: AWS, Autodesk, REST Weather API using JSON for the requests and the responses, with HTTPS support
2. OpenWeatherMap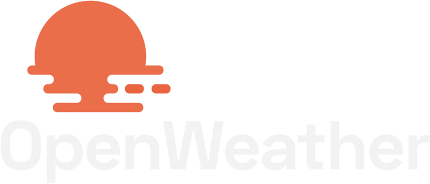 OpenWeatherMap offers weather data APIs for different types of timeline data. In a solution inspired by crowdsourcing projects like Wikipedia, weather data is collected from meteorological broadcast services worldwide and over 40,000 weather stations. This freemium solution also has a feature-limited free option that allows access to the 5 days/3 hour forecast API, as well as weather alerts and a weather map.
One thing to consider is that the free account for OpenWeatherMap limits your app to 60 API calls a minute at most.
App Integration/Format: JSON / XML
Pricing: Varies. Free up to Enterprise.
3. Meteogroup


Priding themselves by specializing in UK-specific and nautical weather and environmental data, Meteogroup offers four different APIs: Nautical API (Beta), Point Forecast, Point Observations, and Radar Precipitation Forecast (Beta).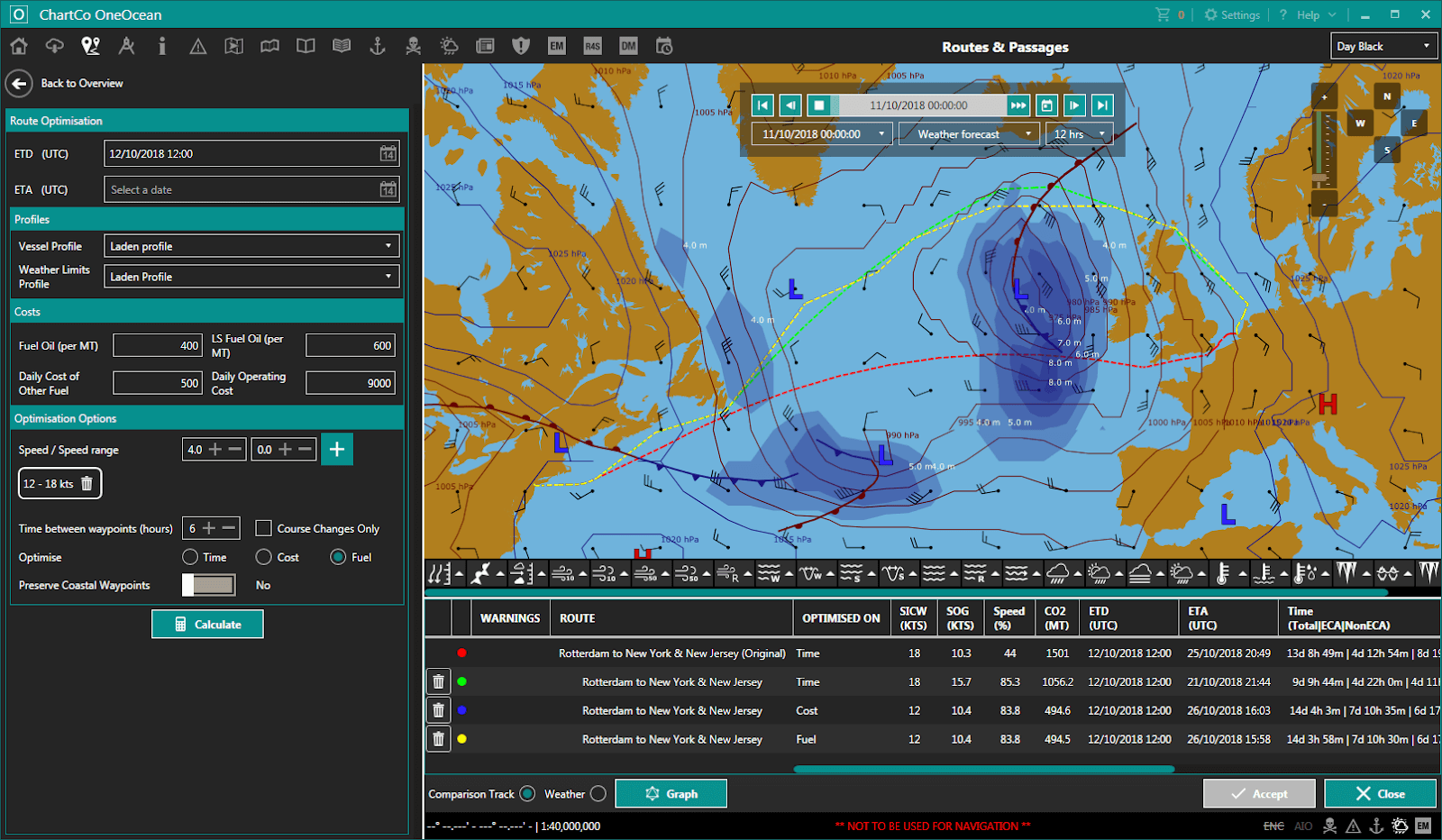 If you're in search of weather data for nautical verticals and UK-based customers, then the MeteoGroup API could be a great fit.
App Integration/Format: JSON with HTTPS support
Pricing: Unknown
4. Weatherstack


Staying in the UK, The Weatherstack API is developed by a UK company that excels in SaaS with companies like Ipstack, Currencylayer, Invoicely, and Eversign. Aimed mostly at websites and mobile apps looking to include a live weather widget at minimal cost, offers real-time weather, historical weather, international weather, and more.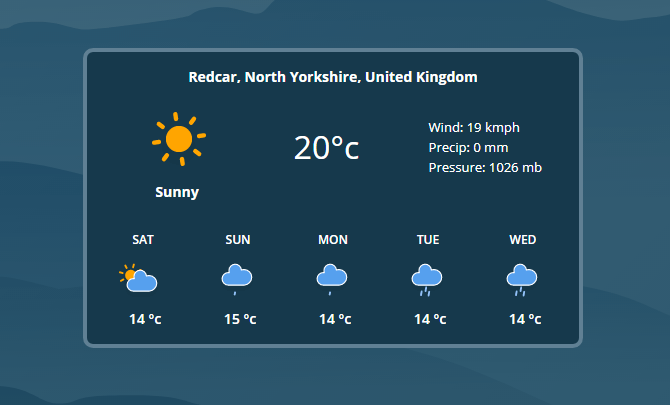 App Integration/Format: REST API returns JSON formatted responses, and supports JSONP callbacks. HTTPS is enabled for paid subscriptions.
Pricing: Varies. Free up to Enterprise.
5. Weatherbit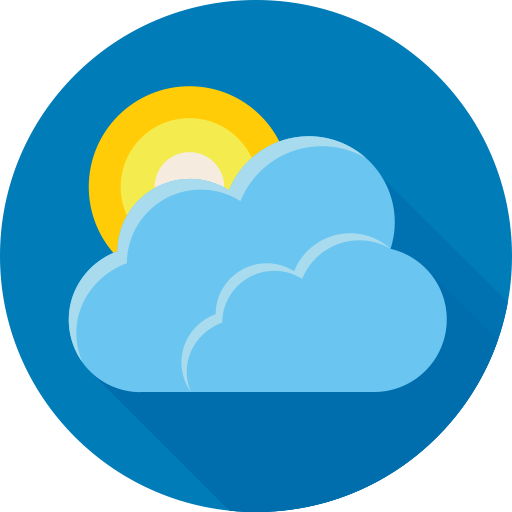 Weatherbit offers 5 different APIs for forecasts, historical data, and other weather data such as air quality, soil temperature, and soil moisture. Collecting data from weather stations and other traditional sources, Weatherbit uses machine learning and AI to help predict the weather.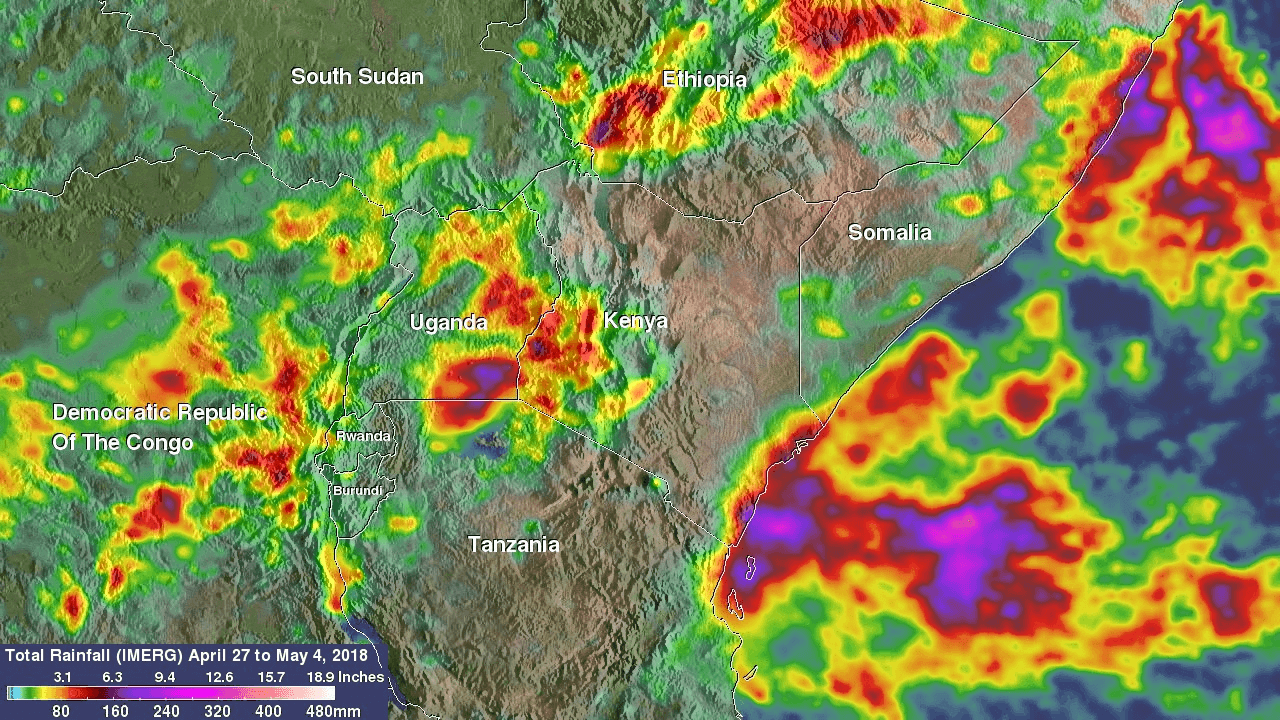 Boasting a 95% uptime and highly responsive API servers, Weatherbit provides a free limited-functionality account for a single API key. If you're looking to create a commercial app, note that the free API subscription will not be enough and you will have to upgrade to one of the paid plans.
App Integration/Format: JSON, HTTPS available for premium subscribers
Pricing: Premium pricing starts at $35 / month. The free version (not for use with commercial projects) is limited to 500 API calls/day.
6. Weather2020

Weather2020 brands itself as the only provider capable of delivering a 12-week forecast, so it's great if you're looking for long-term forecast data. However, there are some questions around the accuracy of forecasting after 10 days. The company also prides itself on being the weather data provider of leading weather apps like 1Weather.
If your focus is on long-range weather forecasting, and you're willing to take your chances on famed meteorologist Gary Lezak's forecasting model, Weather2020 is worth checking out.
App Integration/Format: JSON
Pricing: Premium pricing starts at $9.99 / month. The free version allows for up to 1000 API calls/day with each additional call priced at $0.002.
7. AerisWeather


AerisWeather API provides access to weather data and forecasts as well as storm reports, earthquake warnings, and other unique data for premium subscribers.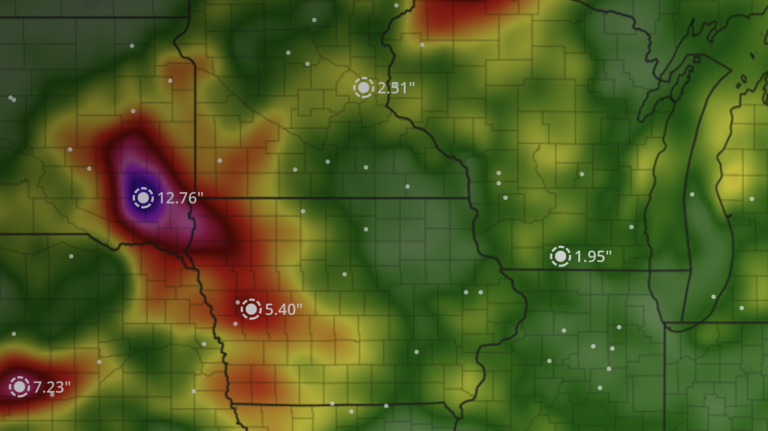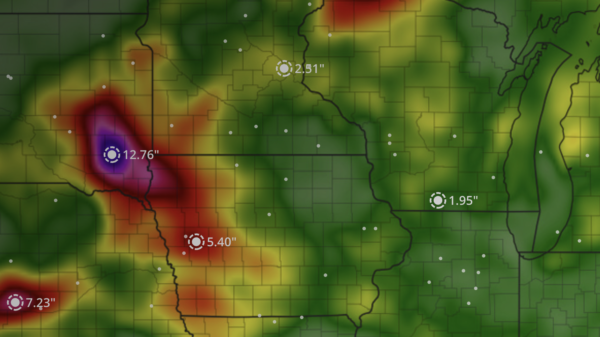 One of the main advantages of AerisWeather API is its documentation, as well as available developer toolkits for easier integration into your app.
App Integration/Format: RESTful calls and responses are formatted in JSON and JSONP
Pricing: Pricing starts at $23 / month. Free trial available (2 months).
8. Accuweather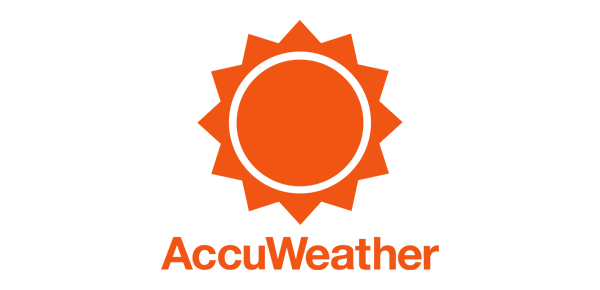 Accuweather is probably one of the most well-known names in weather. They offer current, historical, and international weather data, along with other specific data like mosquito activity. But when it comes to their API, they're most well known for their imagery endpoints.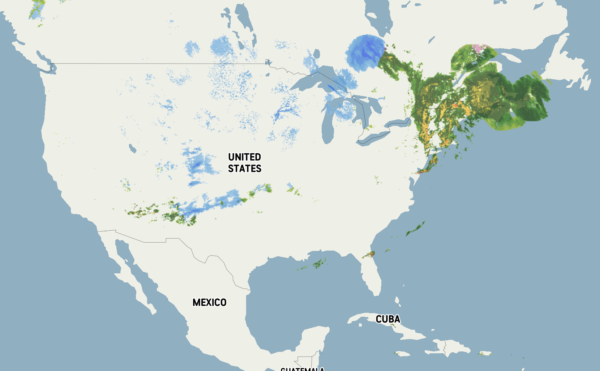 Note that while you can use this API in both commercial and non-commercial applications, including the Accuweather logo is required.
App Integration/Format: RESTful calls and responses are formatted in JSON and JSONP.
Pricing: Limited trial offers up to 50 calls per day, then three pricing tiers of $25 to $500/month
9. Visual Crossing API

Visual Crossing provides instant access to both historical weather records and weather forecast data, globally. The company aims to bring low-cost data and analysis tools to the public for use in data science, business analytics, machine learning, and other applications.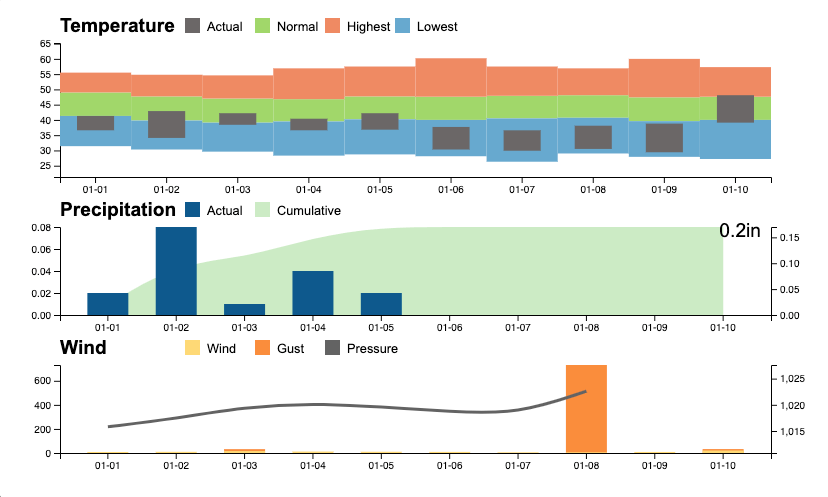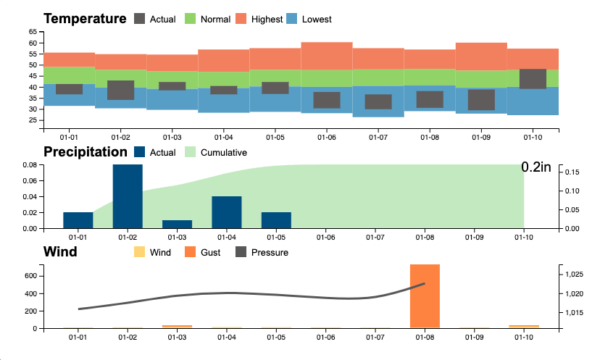 App Integration/Format: CSV, JSON, & OData
Pricing: 1000 calls per day, then $35/month.
Choosing the Best Weather API
The weather API that works best for you as a developer depends heavily on your goals, preferences, project scope, and budget. There are numerous services available that offer data on topics ranging from air quality to earthquakes, fire risk index, and historical to forecast weather. The services and solutions we listed cover all and any need that you, as a developer, might have. Did we miss something? Let us know in the comments.