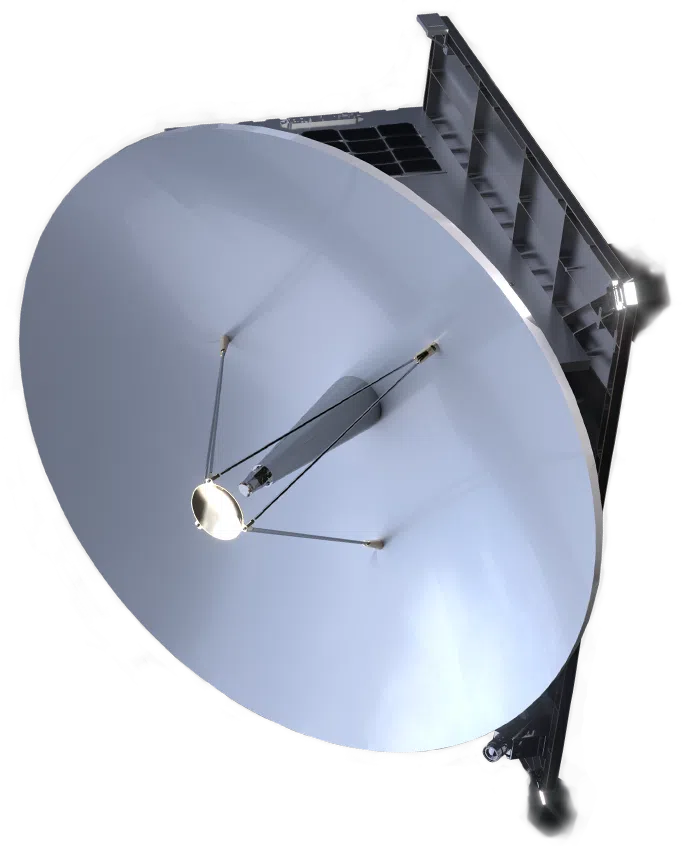 Meet Tomorrow.io's Pathfinder Satellites
The first of Tomorrow.io's constellation, Tomorrow-R1 and Tomorrow-R2, are ushering in a new era of precision and functionality in Earth observation.
Pioneering the Future of Earth Observation
As pioneers in our constellation, Tomorrow.io's Pathfinder radar satellites are blazing a new trail in weather and climate observation, proving the capabilities of private industry in providing science-quality spaceborne radar observations for operational forecasting.
Equipped with a state-of-the-art precipitation radar payload, Tomorrow-R1 and Tomorrow-R2 employ innovative operational modes and meticulous instrument calibration to realize precipitation measurements of unprecedented sensitivity and accuracy, ushering in a new paradigm in Earth observation.
Launched in 2023, the Pathfinder radars serve a three-fold purpose for Tomorrow.io's first-of-its-kind multi-sensor constellation:
Demonstrate advanced radar subsystems and sampling techniques
Acquire diverse datasets of cloud, precipitation, and surface backscatter for optimal geophysical algorithm development
Ensure accurate instrument calibration and validation of retrieved geophysical products
The Pathfinders
At a Glance
Spacecraft


85kg

Orbit


550 km / SSO

Instrument
Ka-Band Software
Defined Radar
Antenna
Cassegrain reflector
(~1.1 m²)
Frequency


35.5-36 GHz

Vertical Resolution


250 m

Sensitivity


<10 dBZ

Class


ESPA
Harnessing Breakthrough Radar Innovation
Powering the Pathfinder satellites is a next-generation Ka-band radar. This game-changing technology enables detailed, accurate, and rapid observations of Earth's atmosphere and surface like never before.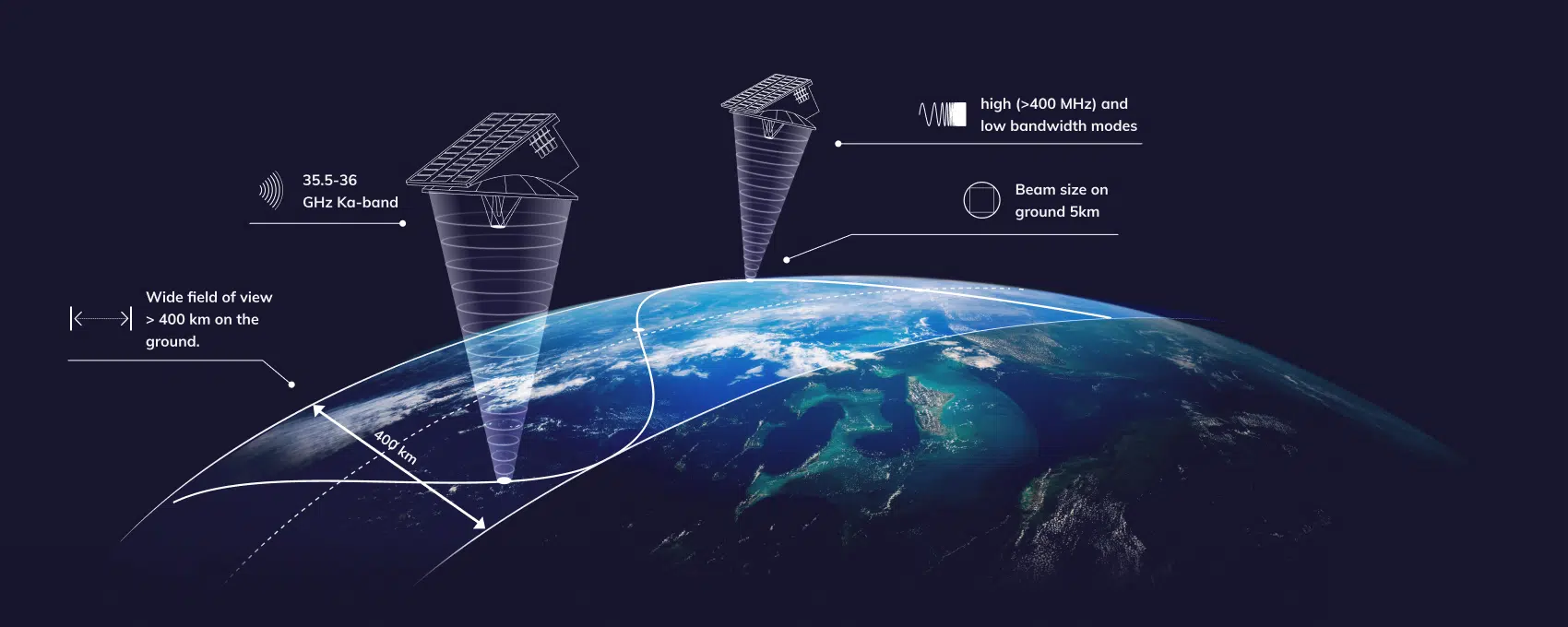 high (>400 MHz) and low bandwidth modes
Wide field of view (> 400 km )on the ground.
Beam size on ground 5km
35.5-36 GHz Ka-band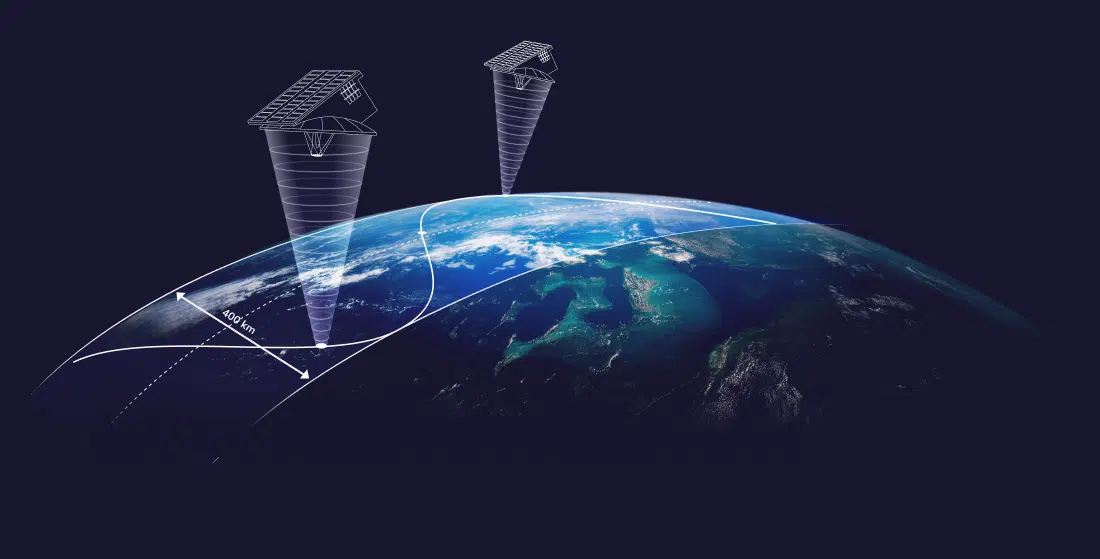 Exquisite Vertical Detail and Adaptable Sampling
Arbitrarily tunable 35.5-36 GHz Ka-band transceiver provides precision data capture with stunning spatial detail, nominally sampling with 250 m vertical resolution.
Flexible Horizontal Coverage with High Resolution
A solid, fixed reflector results in high horizontal resolution (5 km ground footprint at nadir). Spacecraft attitude agility enables directed targeting of land/atmosphere features within a wide field of view (> 400 km on the ground).
Multimodal Radar Sampling
ARENA(trademark) permits pulse-to-pulse reconfigurability between high (>400 MHz) and low bandwidth modes to optimize atmospheric and surface measurements.
Delivering Unmatched On-Orbit Performance
Set at a strategic orbital altitude of 500 km, the Pathfinders offer: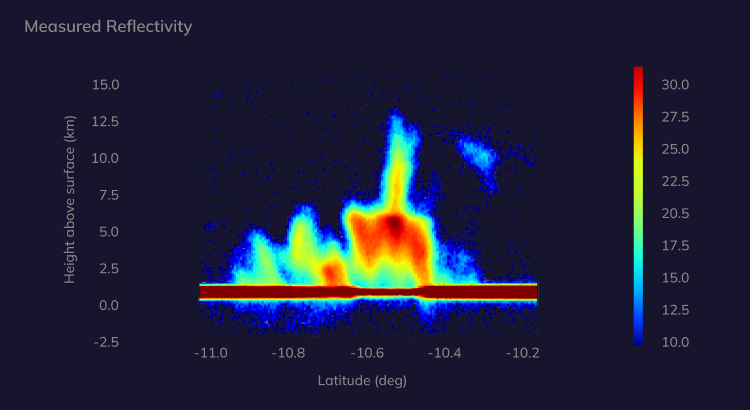 Innovative Operational Modes
High-duty cycle (30%) Ka-band radar with frequency-diverse waveforms provides unmatched sensitivity, optimized for detecting precipitation, surface scatterometry, and centimetric radar altimetry through reconfigurable sampling. Near Surface Precipitation Detection
Tomorrow-R1/R2 radars achieve high-resolution and accurate geolocation of precipitation by suppressing surface clutter and detecting near-surface precipitation, providing the clearest picture at the Earth's surface where it matters most.
Science-Quality Instrument Calibration
Comprehensively characterize radar calibration through pre-launch target testing, a high-fidelity transceiver calibration loop, comparative assessments, and a dedicated ground-based active calibration system.
Tomorrow.io's Pathfinders are just the beginning. Combined with radar and sounder-equipped satellites, our multi-sensor constellation will revolutionize weather forecasting
Ready to Join Us?