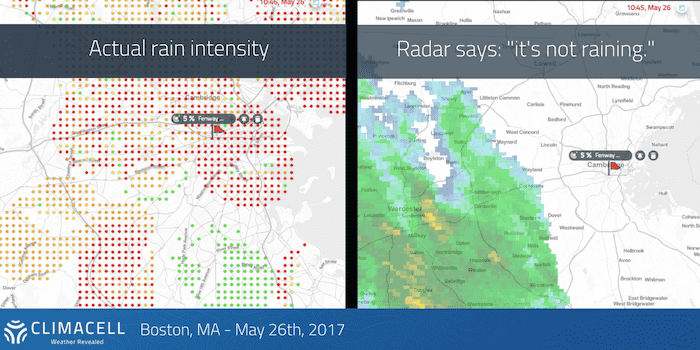 Weather is unpredictable. Right? As consumers, we rely on mobile apps, the radio, and TV to get our daily dose of weather guesswork. In the Apple app store alone, there are over 6,000 weather apps and even an entire weather category. Here's how forecasts get it wrong, why, and the trouble with claims of "hyper-local" and "real-time" forecasting.
The main weather description and graph don't match up;
The forecast seems to change from one minute to another, especially when the app is closed and re-opened;
If you open the same app on two different phones, it shows two different forecasts simultaneously;
Apps disagree with each other on the forecast.
Why Forecasts Turn Out Wrong:
Whether the forecast is produced by a meteorologist or automated, the data sources are almost always the same;
The same sources of weather data might be processed differently by different apps or forecasting models;
Measuring the weather at a city's airport with a weather station is usually irrelevant for people downtown. In many cases the "urban heat island" effect is to blame: when city heat is emitted to the air it makes the temperature higher than the temperature at the airport, and skews forecasts;
"Wet-bias" is real — forecasters sometimes overstate the amount of rain, because it's better to be safe than sorry;
Where you are in the world makes a difference — the weather in some areas is more difficult than others to accurately forecast. For example, precipitation forecasts depend heavily on humidity. In Boston, there are the Atlantic, smaller bodies of water, vegetation, and the water in the weather system. Contrast that with Israel, where there is basically one source of humidity: the Mediterranean. In the Great Plains in the U.S., there is an unstable atmosphere, which makes it challenging to predict the exact point where a major storm will explode.
The Trouble with 'Hyper-Local'
The most advanced forecasting models in the U.S. provide forecasting at a spatial resolution of 13km blocks;
Most claims of 'hyper-local' only provide weather per ZIP code. But an American ZIP code can be as large as 13,431 square miles (99557 — Aniak, Alaska) and the weather can vary;
Backyard weather stations are awesome, and have the potential to provide personal observations, but improper maintenance can lead to serious inaccuracies.
It's Not Actually 'Real-Time'
When using only satellite or radar, nobody is getting new data every minute — due to technical limitations.
That's why most "real-time" forecasts are either extrapolating or just issuing old data every minute.
The Good News
Radar, satellite, and weather stations are no longer the only way to observe the weather for forecasting. Take a look at how advanced weather forecasting looks in this video!
Published June 12th, 2017 by: Sophia Tupolev-Luz, Chief of Staff | Tomorrow.io
Rotem Bar-Or and Chandni Lakdawala contributed to this post.