One of the biggest games of the NFL season thus far takes place on Monday Night Football as the New England Patriots travel to Buffalo to take on the Bills in a pivotal clash between two contenders. Both teams have their sights set on winning the AFC East and to win the division, they'll have to battle each other…and potentially the elements as well.
Unsurprisingly for a December game in New England and upstate New York, there's a possibility of inclement weather in the forecast. Freezing temperatures, a small chance for precipitation, and most impactful of all, gusty winds are all in the forecast for kickoff at Highmark Stadium.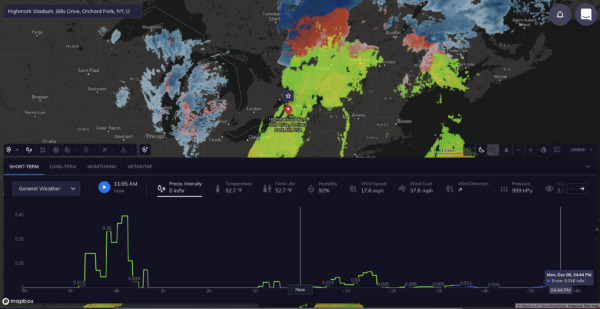 The Potential Weather Impact
Currently, our models and expert meteorologists forecast the conditions at kickoff to be 33℉ with a feels like temperature of 18℉, and both numbers are expected to drop steadily throughout the game. Precipitation is not likely to be an issue with clouds moving past the stadium, but if they linger at all, the freezing temperatures could lead to heavy sleet. 
Most impactful for the game itself are the gusty winds. With gusts up to 53mph blowing in an easterly direction throughout the game, both coaches will no doubt factor that in when making certain strategic decisions. Wind gusts and directions most affect the kicking game, so don't be surprised if Bill Belichick passes up some opportunities to kick a field goal to go for it in more conservative ranges than usual. Both quarterbacks will also have to be sharp to avoid fluttering throws that might be caught by the wind and intercepted by defenses.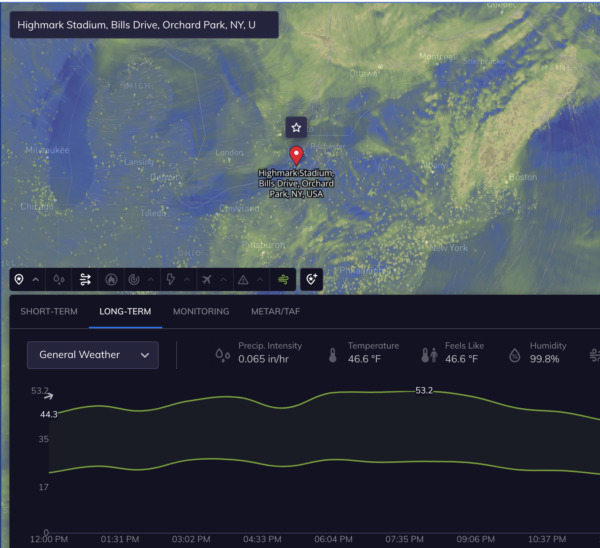 The New England Patriots have tons of experience – and success, a 34-6 record since 2001 in games below 32 degrees – in cold weather and inclement conditions throughout their history. Some of their most famous bad weather games include: 
The "Snowplow Game" in December 1982, when the snowplow operator had to be called in to clear a spot on the snowy field for New England kicker John Smith to kick the game-winning field goal….in a 3-0 win




The "Tuck Rule Game" in 2002, when a then-unknown Tom Brady lost control of the ball in the heavy snow and bitter cold, only for it to be subsequently reviewed and overturned due to an obscure rule. The Patriots eventually went on to win the game and their first Super Bowl Championship. 

The 2004 AFC Divisional Championship, which was unofficially the coldest game ever played at Foxborough with temperatures in the low single digits and a wind chill of 10-12 below zero. The Patriots defeated the Tennessee Titans.

The October 2009 match against the Tennessee Titans, which again brought the team outside of their warm home climates, got drubbed 59-0 in a snowstorm.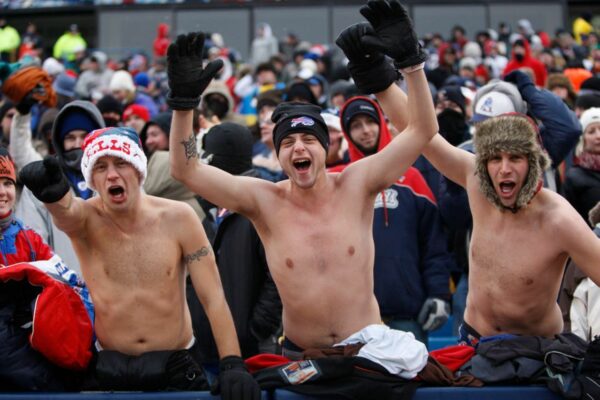 How Teams Can Prepare
The Patriots' historic success in the harsh wintry New England climate is a testament to their preparation and respect for the weather. This extends off the field as well, where the New England Patriots and their parent company The Kraft Group uses weather intelligence from Tomorrow.io to streamline game-day operations and preparation procedures. The team is even able to use weather analysis and insights to increase revenue by as much as 20%.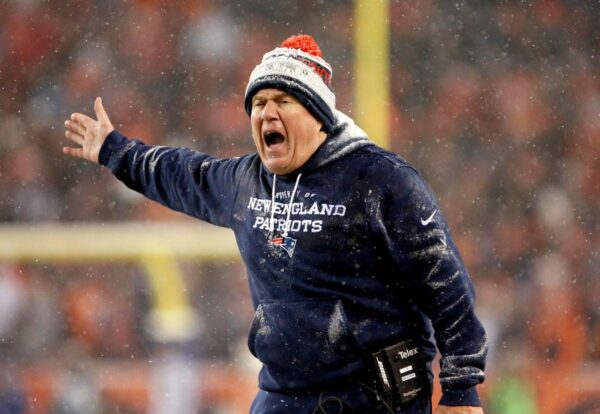 For this upcoming Monday Night Football matchup, with such freezing temperatures, Buffalo stadium operators should advise their visiting fans to take precautions. They can also provide appropriate concessions like hot chocolate, coffee, and hot cider, while making sure the pro shop is well stocked with sweatshirts and jackets, available on sale. 
Game-day operations crews will also need to take this weather into consideration leading up to and during the event. Precipitation throughout the afternoon will make setting up logistics for game operations and the broadcast crews a real challenge. Media teams will have to ensure all TV towers and equipment are safe from the 50 mph gusts. And all of this work will be done in freezing cold temperatures, so safety is always a concern. 
It's clear that weather has a dramatic impact on operations both on and off the field for the NFL and its 32 teams, especially when playing in the New England and Buffalo areas. Tomorrow.io has been an invaluable resource for the league and the New England Patriots in helping manage their weather operations.
Need to optimize your own game-day operations? See how Tomorrow.io's weather intelligence platform can help you get ready for kickoff faster.