Gillette Stadium is famous for snow bowls and the impact of extreme weather on football games. But even everyday weather can have a big impact.
Jason Stone is the expert in managing how the weather impacts the stadium and the fan experience. As the VP of Site Operations for the Kraft Group, Stone is responsible for 800 acres of land consisting of Gillette Stadium and lifestyle centers which includes two hotels, two healthcare centers, a movie theatre, bowling alley, e-sports, retail stores and much more.

In addition to regular games, the team hosts 600+ events per year including car shows, e-sports, outdoor movies, fitness classes, concerts, and road races. And because the stadium is outside and exposed to the weather, that means Stone has to understand the impact of weather in terms of safety, staffing, field conditions, and revenue.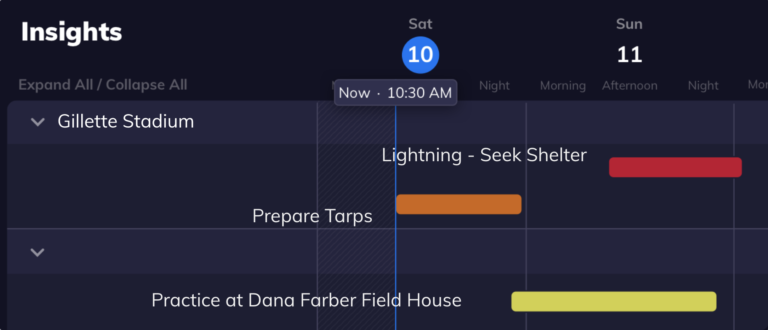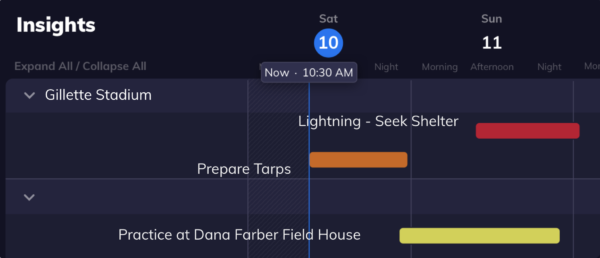 For example, there was a 30 minute pocket of rain during the Hall of Fame Induction Ceremony in 2019. The team was able to plan around the weather, start right after the rain and have a successful event. He's able to get these types of insights in advance to alert his team, be proactive, and ensure each and every event goes smoothly at Gillette.
Fan Safety & Experience
5 days in advance, Jason's team can plan for the expected weather and update stakeholders on operational plans in addition to communicating out to all ticket holders
Staffing & Equipment
With more than 3,000 people employed on game day, weather impacts staff show-up rates by 20% and weather operations help with ensuring there's enough staff in the right areas of need for each event

At 30 MPH of wind, certain protocols need to be implemented such as voiding the use of pop-up tents, a-frame signs, and anything else that can move.
Field Conditions & Facilities
The team manages 6 fields and the main stadium field for football, soccer, and concerts or events

They often need to "field flip" from a concert on Friday night to a soccer game on Saturday night

The team needs to find the best 2-3 hour pockets to update the grounds
Sales & Revenue
The team ran a 15 year historical analysis of sales as correlated against the weather

Sales can be impacted by 15 to 20% in correlation with the weather

They are now implementing a focused approach for the upcoming season to increase purchasing

Inventory management is smarter, including selling older inventory on opportunistic days 
With weather-powered insights, Stone and his team are bringing a more proactive approach to managing the stadium every day.
Learn more about how the Kraft Group optimizes weather operations.