Weather forecasting, by its very name and nature, implies looking forward and predicting what the weather will look like tonight, tomorrow, or even a week or more later.
And yet, both expert meteorologists and non-weather analysts alike know how valuable looking into the past is. Meteorologists depend on both current observations and past historical data to inform their sophisticated weather models, which ultimately dictate the "Cloudy with a high of 75 degrees" type of weather forecasts we see widely consumed by the public. 
Meanwhile, decision-makers in all industries have often relied on historical data of all types to help them form trend analyses. Weather data is another helpful source of insight from which powerful trends can emerge. 
Here at Tomorrow.io, it's critical for us to provide users with streamlined access to those data points – which is why we're so excited to announce the launch of our Synchronous Archive – Historical – API! Users will now have access to instant synchronous programmatic hourly and daily historical weather data for any location for a specific time frame, up to seven years in the past! 
The Value of Historical Weather Data
Tomorrow.io has partnered with dozens of titans of industry over the past five years to help them manage the impact of weather. And one thing we've heard over and over consistently across all the different industries we work with is just how valuable it is to have access to historical weather data. Convenient and programmatic access via our sophisticated and powerful API will accelerate application of this data to use cases that provide significant business impact:
Insurance companies

and any other organization

dealing with liabilities and protections

need historical weather data to investigate claims. Accurate historical data that is hyperlocal significantly minimizes payouts to fraudulent claims while maximizing profitability and understanding of pricing and leverage.

Logistics & transportation companies

can utilize historical data to better understand the impact of inclement weather conditions on shipping delays, pushes / cancellations, SLA adherence and more. All of which helps to mitigate future disruptions, while enabling more efficient operational planning and simultaneously, increasing customer satisfaction.

Sports teams and stadium operators

can directly correlate past retail merchandise sales at events with the weather, allowing them to manage inventory and craft forward-looking promotions that

bring in additional revenue.

On-demand companies like Uber

can leverage historical data to analyze the impact of weather on consumer and rider demand, availability of drivers, traffic delays and much more, all of which can help

optimize future operations

, routes, staffing and incentives.

Aviation and airline operators

can take a retrospective look at previous weather events to analyze delays, cancellations, and staffing. Having a holistic view of a past weather event is crucial to planning and mitigating future weather impacts to create a more efficient operation.

Energy companies can correlate past weather data with the location of power outages to optimize future staffing. Historical data can also improve models for wind generation and inform pricing by understanding the impact of weather on usage patterns.

And these use cases are just scratching the surface of what's possible by using historical weather data for trends analysis. This data powers predictive models and can uncover significant trends that make huge business impact.
The historical weather API will be accessed similar to our other API endpoints, using the endpoint:

POST /v4/historical

Users can request up to a full month's worth of data in a single call with access to point locations, polygons up to 10k square km, and polylines up to 2k km long. As part of the initial launch, the following weather parameters are available for historical access: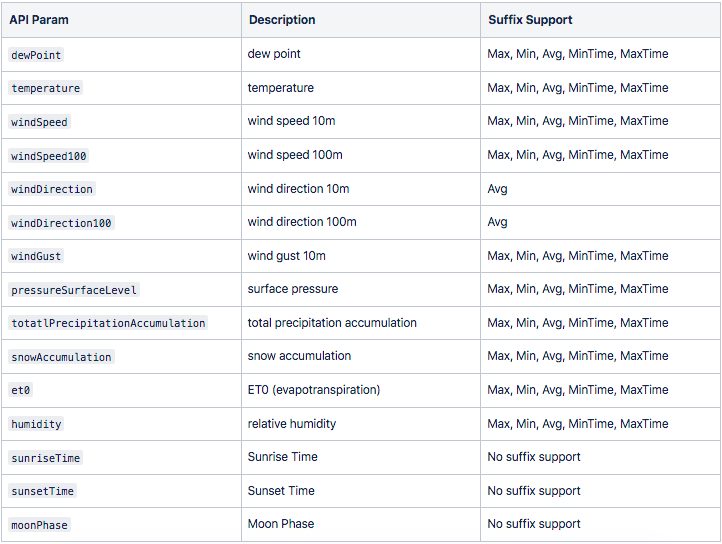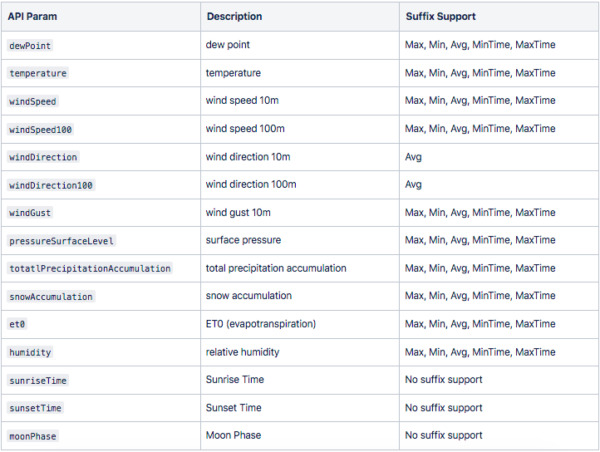 And just like with our regular API, users simply need to select your parameters for location, fields, and timestamps and get instant synchronous access to the historical data at the time and location of your choice! 
Looking to get access to the historical weather API?
Try it for yourself today.