When you face down your opponent — opposite a tennis court, stadium field, baseball diamond, or racetrack — it comes down to your team against theirs. Winner takes all.
But there's a secret opponent most teams overlook: the weather.
Snow, sleet, hail, rain, thunder, heat, and more can be the tipping point between coming home with the trophy or leaving empty handed. Ask 2018 Boston Marathon winner Des Linden who battled to victory despite the worst weather day in the history of the event — or New England Patriots kicker John Smith in 1982, who kicked a game-winning field goal during the infamous "snowplow game."
But it's not just athletes and fans that have to work around the weather. For sports organizations like yours, it's an everyday challenge. Weather-related game disruptions cost athletic departments an estimated $10-$15 million each season.
It's time to start working with the weather, not against it. In this operational guide, you'll learn:
Which weather-related challenges most significantly impact sports organizations today

Why weather intelligence creates a better fan and staff experience — and helps you drive more revenue

How to build your own customized weather action plan for next season
The Top 5 Weather Challenges Facing Sports Today
Weather-Related Delays and Cancellations
No one likes a rain delay. But it's especially challenging for time-based tournaments and big ticket games, with fans and athletes coming from every corner of the globe to compete.
Take the U.S. Open, one of the premier tennis events in the world, which takes place in Queens, New York each fall. Pulling off a two-week tournament like this one requires coordinating 500 tennis players and coaches, broadcasting services to over 200 countries, and gathering more than 10,000 staffers to handle everything from food service to security. Add that to more than 600,000 attendees over the course of the tournament, and rain delays don't just result in a few hours of missed revenue — they cause widespread disruption.
In 2016, the U.S. Open introduced a retractable roof to keep matches on time without weather delays, but it brought on its own set of challenges, including temperature, condensation, and extended game time. It takes between five and six minutes to close the roof (about the length of a typical time-out), and nine different people to confirm the call to close or open. In other words—it's a headache even on the best of days.
Late summer in New York is known for heavy thunderstorms and the start of hurricane season. In 2020, a hurricane hit the weekend before the event, which caused flooding and damage throughout New York City. Organizers questioned whether or not they'd be able to manage the retractable roof.
But because Tomorrow.io alerted the United States Tennis Association (USTA) ahead of time, they started matches at noon instead of 11 a.m. on the first day of play. With Tomorrow.io, the USTA can put precise protocols in place for themselves, players, and fans to keep operations moving smoothly — and play on.
Missed Revenue Opportunities
Delays and cancellations obviously cause major problems, but what about dealing with daily weather?
A Stronger Merchandising Strategy
The more you understand the weather and climate conditions for a given game, the better you can optimize your revenue opportunities. If it's going to be dumping snow at a football game, for example, then you can stock gloves, hats, and hand warmers. On the flipside, a day of relentless sun at a baseball game means you should have plenty of caps and sunscreen on hand. 
For the New England Patriots, a 15-year historical analysis of sales correlated against the weather showed that by optimizing their merchandising efforts against weather conditions, they can increase sales by up to 20 percent. Now, with help from Tomorrow.io, they're implementing a focused approach to increase purchasing, monitor inventory management, and find ways to give fans exactly what they need, when they need it.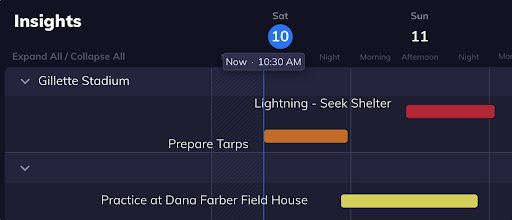 Keeping Staff Productive 
Delays cascade into other elements of your operations, like staffing. At the University of Michigan, the "Big House" stadium hosts more than 100,000 fans — the largest stadium in the United States — and an army of staff members that coordinate everything from laying out the player's jerseys to manning the elevators. 
While not every venue is quite as large, there's a huge operational cost when games get delayed. The average NFL team employs around 4,000 people per team — so if you're going into a rain or snow delay, and it takes four hours to decide whether or not to call the game, you're losing money every hour by paying your staff to do nothing. 
Weather intelligence ensures there's enough staff in the right areas of need for each event. If you're able to understand the weather ahead of time, you can move staff around to other tasks, implementing automated protocols.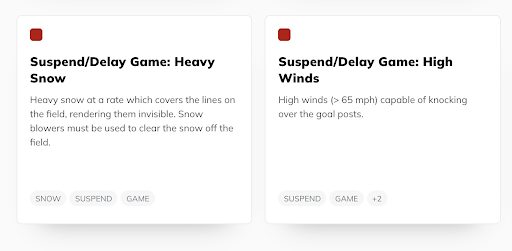 Protecting Athletes, Staff, and Fans
We often think about athletic safety in terms of player rules, like unnecessary roughness in football or the yellow card/red card system in soccer. But the weather poses plenty of risks to athletes, staff, and fans alike — and their safety in your venue needs to be a top priority.
That's because even daily weather has real consequences for athletes, staff, equipment, and fans:
Rain

: Heavy rain and sleet can cause hypothermia in colder temperatures, but it's also a safety hazard for your entrances and exits. Make sure your teams and fans can stay as dry as possible.

Lightning:

Lightning poses serious risks, so knowing ahead of time whether or not it's expected (and where) can help you call a game or not. And if it does come up suddenly, your organization needs an evacuation procedure in place for fans and teams.

Snow:

A little snow won't faze most cold-weather fans, but it's critical that you put safety measures in place to prevent hypothermia, slipping, and parking issues. It also requires you to clear snow and implement icing prevention measures as needed.

Wind:

Batten down equipment that could easily move in higher winds, like merchandising tents, signage, or other equipment. 

Heat:

Dehydration and overheating can present a major problem for fans and athletes alike. Adding free water stations and installing fans at major traffic points to keep air flowing can help.
For the New England Patriots, it's not just about the game going on at the stadium. In addition to regular games, the team hosts 600+ events per year including car shows, e-sports, outdoor movies, fitness classes, concerts, and road races. And because the stadium is outside and exposed to the weather, that means team members like Jason Stone, VP of Site Operations for Kraft Group, have to understand the impact of weather in terms of safety, staffing, field conditions, and revenue.
Managing six fields and the main stadium field for football, soccer, concerts, and events often means "flipping" the fields from one event to another. The team needs to find the best 2-3 hour pockets to update the grounds, while keeping everyone safe across the 30-acre complex at Patriot's Place.
Assessing Air Quality Challenges
While it may not be as obvious as rain, sleet, hail, or thunderstorms, over the last few years, air quality has become a major issue for athletes across the United States. Air quality can impact safety, visibility, and performance. The EPA measures air quality on a scale from 0-500, with anything over 200 designated as "very unhealthy." 
This is especially true on the West Coast, as wildfires rage from June to September — prime outdoor sports season. In California alone in 2020, wildfires burned across 1,443,152 acres, a 952 percent increase over the same time period in 2019. That's why certain states like California require N95 masks to be provided to employees when air quality rises above 150. In 2020, MLB officials postponed several Giants and Mariners games due to poor air quality, and it's likely to happen in the future.
How Tomorrow.io Measures Air Quality
Tomorrow.io's air quality offering includes both US and China EPA index parameters, along with PM<10 (dust), PM< 2.5 (not visible), Ozone (fuel+radiation), NO2, and SO2 levels. By actively visualizing air quality and using predictive analytics to understand future trends, your athletic teams can breathe easier — and focus on the big game.]
While the MLB defers to local authorities on air quality, the NFL game operations manual states that the league "will be prepared to relocate a game if there is definitive evidence that the AQI will remain consistently above 200 for a significant period of time, including the day of the game being played in the affected stadium." 
Air quality data, combined with the weather forecast, can help coaching staff and operations better understand the risks to their players from heavy smoke combined with humidity and temperature. This type of data can improve player performance and improve the overall team results both in the short and long term. 
Coordinating Hundreds of Games at Once
Where sports operations get incredibly challenging? Managing hundreds of games in hundreds of stadiums across the United States from a central office, which is how most leagues operate. 
Even if you're only managing one stadium or one game, there are still many moving parts and decision makers that need a single source of truth to know what to do. If you're sitting in a situation room with ten people holding ten different apps to try and see what meteorologists mean by "a chance of rain," then you know exactly how challenging it can be.
Stephanie Durante and her team at the NFL used to do exactly that to make calls for every one of their games on Thursday, Friday, Sunday, and Monday. The entire league has to adapt to the weather on a week-to-week basis, whether that's for teams practicing in different climates to film crews and stadium ground teams protecting their staff and equipment.
With Tomorrow.io's platform, they can go beyond obsessing over daily forecasts and start to think predictively about common situations that might arise — and how best to prepare facilities, teams, and staff. 
Why Weather Intelligence Creates a Better Fan Experience
Your biggest competitor to filling seats isn't always another sporting event. It's your fan's living room.
The experience needs to be enjoyable enough that fans are willing to leave the comfort of their televisions, easy chairs, and snacks. Instead, they're choosing to come stand in a cold stadium for several freezing hours, or spend a day wandering from hole to hole on a golf course during a tournament.
To get fans back into venues, you have to enhance the fan experience. You might be able to control top-notch food vendors, friendly staff, or the comfort level of the seats, but you can't control the weather.
Weather can influence a number of key game-day operations, including:
Game times or delays

Soil saturation and turf management with field tarps

Opening and closing of retractable roofs for stadium domes

Prevention of athlete injuries from slippery or cold weather conditions

Monitoring of hazardous conditions, like air quality or lightning
With weather intelligence from Tomorrow.io, you can improve the fan and employee experience with proactive alerts in your app or through email. Here's how:
Send out automated alerts

across your organization when the weather exceeds any of your custom-set parameters – lightning, snow, high winds, or any other weather that could delay games or put athletes and fans at risk.

Give fans advice

by sending push notifications recommending bringing gear like gloves and hats, or help rescheduling their tickets should a game be cancelled. This helps fans stay connected to the team, even if the game isn't happening.

Provide a heads up

to all third-party vendors to not only arrive on time, but prepare staffing for overtime or switch certain merchandise as needed.
With these tactics, your organization can build a unique fan experience that keeps spectators coming back again and again.
How to Build a Customized Weather Action Plan for Your Next Season
With Tomorrow.io, you can move from hazy forecasts to situational awareness, setting up automated protocols for every weather scenario. No matter what weather you're facing, Tomorrow.io's dashboard gives you a minute-by-minute playbook with your organization's checklist ready to go for referees, coaches, announcers, and ground crew.
At Tomorrow.io, you can choose from a series of pre-built dashboards ready for any weather situation, down to the stadium level, including:
Soccer

Tennis

Golf

Ski 

Sailing 

Baseball

Football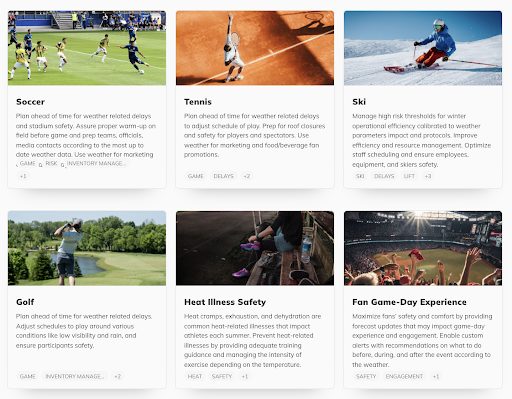 With Tomorrow.io, see exactly when, where, and how the weather is going to impact your sporting event in one simple dashboard, from scheduling rain delays to game-day forecasts.
Keep Your Head in the Game with Tomorrow.io
Optimize stadium and league operations with historic, real-time, and predictive weather intelligence from Tomorrow.io.
Workflows and decisioning, not the forecast:

Proactively make decisions and trigger automated workflows for schedules and delays.

High-resolution, minute-by-minute:

Hyperlocal weather intelligence for every minute of your sporting event, down to the court or field level, so you can make game-time calls that keep athletes, staff, and fans safe.

Team alerts and single source of weather truth:

Automated team messaging and alerts ensures every team member works off the same data, recommendations, and protocols 24/7, with no confusion over what steps to take to respond.
Learn how weather-related risk is impacting your business