The United States is in for another record-breaking hurricane season — with stronger storms blowing in even earlier than usual.
Traditionally, hurricane season begins June 1 and ends November 30 in the U.S. Using the Saffir-Simpson scale, hurricanes range from category 1 (75-95 mph winds that cause damage to trees and power lines) to category 5 (157 mph winds and stronger, causing catastrophic damage and power failures). Tropical storms receive names once winds reach speeds of 39 mph or higher, marking them as major storms.
The first named storm of the season, Tropical Storm Ana, occurred May 22 off the coast of Bermuda. This marks the seventh straight year that a named storm formed in the Atlantic Basin before the traditional start of the season.
Hurricane Elsa formed just a few weeks ago, becoming the first hurricane of the 2021 season, which outpaced 2020's first by a total of three weeks. And this season is not slowing down. So what does that mean for your business operations?
The 2021 Hurricane Season Already Breaking Records
The record-breaking 2020 season saw 29 tropical or subtropical cyclones, 28 of which were named; of these, 10 became hurricanes and 5 major hurricanes. NOAA predicts another active season this year, projecting between 13 and 20 named storms, including 6-10 hurricanes and 3-5 major hurricanes.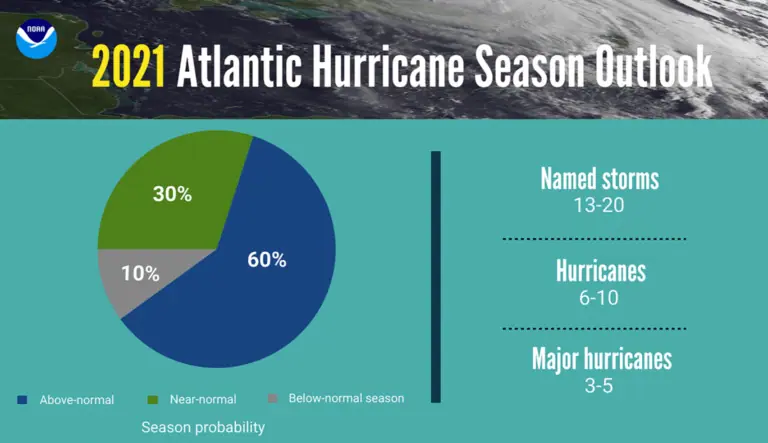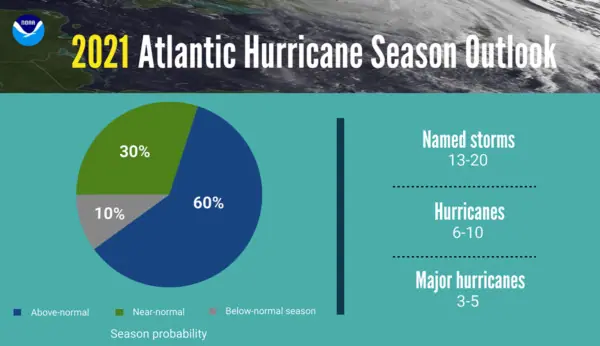 We've already seen 6 named storms by mid-July 2021.
Name
Dates
Max Wind Speed

Tropical Storm

Ana

May 22-24

45 mph

Tropical Storm Bill

June 14-16

60 mph

Tropical Storm

Claudette

June 19-22

45 mph

Tropical Storm Danny

June 28-29

45 mph

Hurricane Elsa (Category 1)

July 1-4

86 mph

Hurricane Felicia

July 14 – now

85 mph
What Causes So Many Hurricanes?
Hurricanes, like most weather phenomena, go through cycles. Since 1995, sea surface temperature patterns have risen in the Atlantic (what scientists call the Atlantic Multi-Decadal Oscillation, or AMO.) And as ocean temperatures rise over time due to climate change, they become fuel for developing tropical systems.
The second cyclical pattern to take into account is the El Nino-Southern Oscillation (ENSO), which relates to rising ocean temperatures in the equatorial Pacific ocean. For 2021, ENSO appears to be in a "neutral" phase, which is more favorable for tropical storms.
"ENSO-neutral and La Nina support the conditions associated with the ongoing high-activity era. Predicted warmer-than-average sea surface temperatures in the tropical Atlantic Ocean and the Caribbean Sea, weaker tropical Atlantic trade winds, and an enhanced west African monsoon will likely be factors in this year's overall activity."  – Matthew Rosencrans, lead seasonal hurricane forecaster at NOAA's Climate Prediction Center
Hurricanes form when hot air rises off the coast, creating a low-pressure zone below. Surrounding air rushes in, building a cycle of high-pressure and low-pressure zones that form clouds and thunderstorms. The rotation of high-pressure and low-pressure air movement is what builds wind speeds up to hurricane levels. Warmer ocean temperatures, especially in deep-sea areas, make for stronger storm development.
Bottom line: Big hurricanes aren't going away any time soon. 
What a More Active Hurricane Season Means for Your Business
As hurricanes become stronger and more frequent, it's more important than ever to build a strong emergency preparedness plan. An above-active hurricane season doesn't necessarily mean a higher number of storms that make landfall — but it can disrupt operations by:
Delaying or changing shipping routes to avoid storms
Destabilizing port operations and travel due to high winds
Causing property damage to your business
Threatening the safety of your employees
Creating major floods, power outages, and other dangerous situations 
The best preparation for upcoming major storms is creating an emergency plan and investing in tools and infrastructure to make sure you can operate safely and securely — even if the weather has other plans. 
That's where weather intelligence comes in.
Weather intelligence is much more than a forecast — it's the forecast put in context for your business. It provides actionable insights into the weather today, tomorrow, and in the coming weeks. And when the storm hits? Tomorrow.io gives you real-time insights and predictive analytics to stay ahead of anything Mother Nature might throw at you. 
Stay with Tomorrow.io for continuous updates on the 2021 Hurricane Season. Follow us on Twitter for updates to your feed.