Whenever meteorologists forecast snow, I put pizza on the menu at my house. When the weather outside is frightful…I can take a big, cheesy bite of goodness and forget about everything else. It's become something of a tradition in my household, and gives me an excuse to order out without feeling guilty. 
I'm not the only one. GrubHub documented a 135% increase in cheese pizza deliveries and a 134% increase in pepperoni pizza deliveries compared with a typical Monday after a 2015 New York blizzard. When we asked consumers, 49% of survey respondents told us they'd be more likely to order pizza during bad weather, and 56% want mobile notifications ahead of storms so they can schedule a pizza delivery in advance. 
That's just one way that historical weather data can impact your business. Here are three more ways historical weather data streamlines your operations and improves the customer experience:
1. Go Proactive with Supply and Demand
Historical weather data offers purchasing patterns that allow you to predict ebbs and flows of demand based on real-world conditions and increase your profit margins. Whether you're operating with a third-party delivery service like UberEats or Deliveroo or doing in-house delivery, understanding weather conditions help you prepare supply and demand. 
Pizza Hut did over $1 billion in digital sales during 2020, with one-third of their overall orders placed online. For individual stores, balancing incoming mobile orders with walk-ins can make the difference between running out of pepperoni and nailing a rush. 
"During the past six months, we've seen a substantial increase in business volume across on-demand platforms, technology, supply chain, and e-commerce. The impact of weather on these businesses operating across India is significant and being able to plan ahead and execute with confidence as Swiggy is able to do is critical." –  Ashish Chatterjee, VP – Product Operations, Swiggy
For India-based delivery company Swiggy, understanding historical weather data shows patterns that change their entire order of operations. In India, June to September sees the most precipitation — a 3x increase in average — and with this insight, Swiggy capitalizes on the increase in demand.
This cascades into other areas of operations, too, from staffing your business appropriately to offering incentives for delivery drivers to make sure they're ready for when demand surges and providing safety briefings ahead of time to make sure drivers know what to expect. Proactive predictions give you better results than reacting and hoping for the best.
2. Give Demand a Nudge with Targeted Marketing 
Historical weather data helps you know exactly how weather impacts your online ordering. Feeding historical data into your marketing machine allows you to deliver targeted, relevant messages to the right user at the right time. If you know ahead of time that you'll see a spike in demand at the beginning of the winter months, why not stay top of mind with a well-placed email or social campaign?
Your customers expect a level of personalization when it comes to your communications. The most successful marketing campaigns offer value — and with historical weather data in hand, you can build more targeted marketing campaigns. Real-time and predictive weather for direct response can decrease customer acquisition costs by 20%. 
"The ability to add context to the existing user coming to your digital experience, and speaking to that context, is really valuable. Weather is a key component of that for many of our customers." – David Fine, Senior Product Manager at Dynamic Yield
This email from Dominos highlights their loyalty program. Nudge your customers to their next reward:
Or send out an incentive to customers when you know demand might not be as high, like this GrubHub email: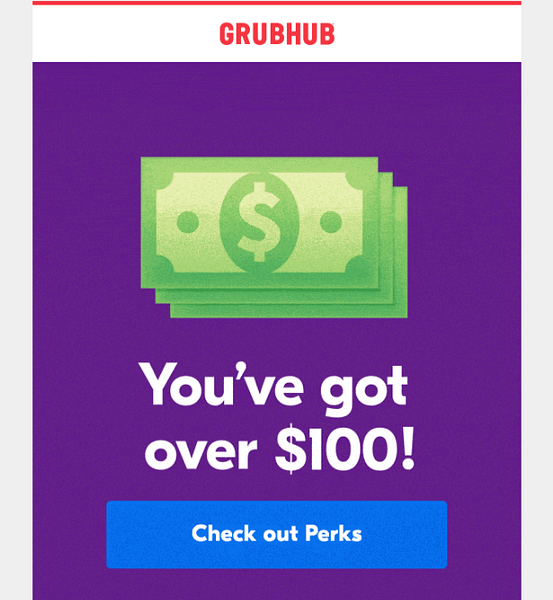 Or try a winback email when it might be better to order delivery than to go out, based on the forecast:
And if you know that a storm or bad weather might change ETAs, you can let customers know proactively with push notifications or emails that let them know it's better to order early.
3. Powering On-Demand Delight with Accurate ETAs
Whether that's the first bite of a comforting dish or helping customers celebrate big milestones, successful on-demand businesses don't just sell products or meals. They sell happiness. Understanding demand prepares your business for fluctuations — giving you the ability to capitalize on microbursts of interest with a moment of delight. 
In today's on-demand and delivery-first world, that's speed. When your customers want something, they want it now. In that same pizza delivery study, 92% of people said delivery time is important to them, with 32% willing to pay more for faster delivery. 
Snow, rain, sleet, or hail create conditions that make it difficult for deliveries to stay on-time, which is doubly important when transporting food that can spoil. Incorporating historical weather data into your delivery times offers more accurate ETAs and real-time re-routing, powering on-demand delight. Tomorrow.io's weather intelligence API improves ETAs by 25%. 
"With Tomorrow.io, we're providing even more accurate ETAs based on insights from their on-demand forecasts." – Nick Johnson, Maps and Technology Partnerships at Uber
Providing a better customer experience doesn't just help your bottom line — it mitigates risk. If the actual delivery time is later than the expected arrival time, 69% of people consider a different restaurant the next time they order. For delivery companies like Uber, historical weather data helps them understand the impact of weather on operations, supply and demand, and even ETAs multiple days in advance. 
Weather isn't always predictable. By leveraging Tomorrow.io's Weather for AI (WAI) you can generate the most accurate historical weather information for millions of locations all around the globe. You can then take those historical learnings to utilize AI-driven insights, train your own models (or use ours), and predict future weather's impact on your business — so you can deliver the best possible customer experience.