Earlier this week, Apple announced the launch of WeatherKit—a new weather service that allows developers to create apps using Apple Weather data.
The news comes a year after the company announced it will be shutting down its Dark Sky API at the end of 2022. Though a timely replacement, WeatherKit still leaves a gap in the market for enterprise-grade developers looking for solutions that require more than basic weather data. That's where Tomorrow.io can help.
Here's what else you need to know and how to adapt:
What is WeatherKit?
WeatherKit enables developers to integrate Apple Weather forecast data into their apps and Xcode Cloud. Apple says it provides current weather, 10-day hourly forecasts, daily forecasts, and historical weather.
Who is WeatherKit for?
Currently in beta, WeatherKit is available only to Apple Developer Program members and has specific usage requirements. Websites and other platforms can use REST APIs while compatible operating systems are:
 iOS 16

 iPadOS 16

 tvOS 16

 watchOS 9
Given its technology and feature restrictions, WeatherKit is best for non-enterprise developers.
What is WeatherKit's availability and pricing?
WeatherKit beta testers get up to 500,000 API calls a month, which is standard in the Apple Developer Program membership. Additional API calls will also be available for purchase.
How does the Tomorrow.io Enterprise-Grade Weather API compare?
Unlike WeatherKit, Tomorrow.io's Weather API uses proprietary technology and advanced features to deliver hyper-local, minute-by-minute weather data that allow you to build fully customized projects.
Compared to WeatherKit, Tomorrow.io stand out in a number of key ways both in our technology and feature set: 
Technology
Tomorrow.io draws on a combination of traditional and proprietary sources to deliver high-resolution data and modeling for any location on the globe. Compared to WeatherKit, Tomorrow.io's Weather API offers more comprehensive, reliable, and globally available data.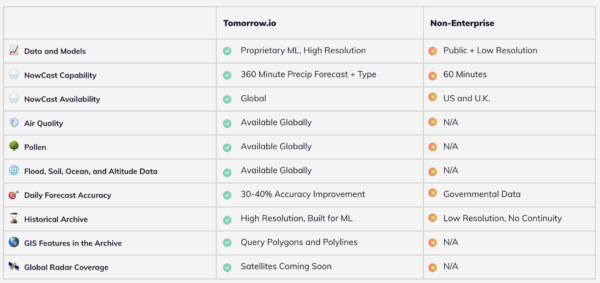 Features
But data is only one part of the equation for enterprise-grade developers. Unlike WeatherKit, the Tomorrow.io Weather API also offers features you won't find anywhere else, allowing you tobuild more innovative and scalable projects.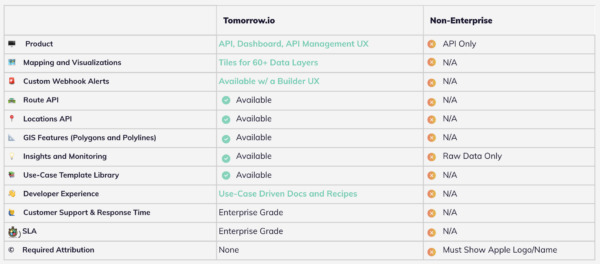 No matter your industry or use case, an enterprise-grade Weather API provides the data and features you need to take your project to the next level.
Try Tomorrow.io's Enterprise-Grade Weather API Today