This year is the 50th anniversary of Earth Day, an annual event that aims to drive meaningful action for the planet. 
The theme of Earth Day 2021 is Restore Our Earth and focuses on natural processes, emerging green technologies, and innovative thinking that can restore the world's ecosystems. 
But despite the important work from organizations such as Earth Day, climate change continues to have an unavoidable impact on businesses – at least in the short term. 
While COVID lockdowns resulted in a temporary reduction of CO2 emissions, global levels of carbon dioxide emissions are higher than they have been at any given time in the past 3.6 million years. 
Weather is already projected to cost more than $4 trillion in annual damages while climate change has been described as "the single biggest risk that exists to the economy today". 
This is where climate resilience becomes key to business operations. A growing number of companies are recognizing extreme weather and climate change as a business risk and developing climate resilience strategies to ensure they are prepared for what is to come. 
In honor of Earth Day, here's why every business must invest in climate-resilient strategies now – before the impact is too great. 
What is Climate Resilience?
According to the Center for Climate and Energy Solutions (C2ES), "Climate resilience is the ability to anticipate, prepare for, and respond to hazardous events, trends, or disturbances related to climate."
When we think about the impact of climate change, extreme weather events such as hurricanes and tornadoes often come to mind. But chronic factors such as rising sea levels and worsening air quality, as well as extraordinary weather-driven events such as a ship running aground in the Suez Canal, can also wreak havoc. 
The impact of the Suez Canal catastrophe alone was insanely large: 
$400 million per hour in global trade being halted
More than $10 billion in weekly cost
200+ ships unable to pass
The price of oil rose, and we will likely see disruptions in the supply chain for months to come, whether it's from the direct impact of the goods stuck in transit, or panic buying as a result of the wall-to-wall news coverage. 
But we could have seen this weather impact coming in advance; the event was avoidable if only operators had been prepared and had a climate resilience strategy in place. 
Developing a Coherent Climate Resilience Strategy
According to C2ES, companies widely acknowledge climate risks, but few manage climate change as a stand-alone risk. It reports that companies often overlook all or specific and indirect impacts posed by climate change. Through adopting a climate-resilient approach, companies can drive change and more easily find new ways of preparing for whatever the future holds. 
The question is, how do companies start taking steps to become more resilient so they can keep costs down, de-risk their business, and take advantage of the massive business opportunity and profit potential? 
Climate Literacy
Ensuring people adequately understand climate change can be as important as the solutions themselves. That's why climate literacy is key to developing resilience and solutions to prepare your business for both inevitable and extraordinary consequences. 
In a recent interview, EarthDay.org president Kathleen Rogers stated that, "Climate literacy and civic skill building are the keys to building a green jobs ready workforce, a green consumer movement, which corporations badly need, and an educated and engaged citizenry."
Often climate literacy is targeted at schools, but by educating the workforce on the need for solutions and resilience, you can increase adoption of these solutions and create the willingness to go the extra mile. 
Weather Intelligence 
On the morning of the Suez Canal catastrophe, winds picked up between 7 AM and 11 AM (local time), particularly towards the Southern port around Suez. Strong and gusty winds played a treacherous role in the Ever Given grounding itself on the banks of the canal. Being able to see the weather impact in advance would have made all the difference. The only way this would have been possible was with a Weather Intelligence Platform. 
By using weather intelligence software, operators would have had access to a hyperlocal look at more than 30+ weather parameters. In the case of the Suez Canal, this would have been wind speed, gusts, and direction.
Using an Insights Dashboard, the team would have received instant alerts of the incoming wind, with plenty of time to make operational changes and avoid the disaster. They would have understood exactly when they would be at risk and received specific recommendations on what to do to be more climate resilient.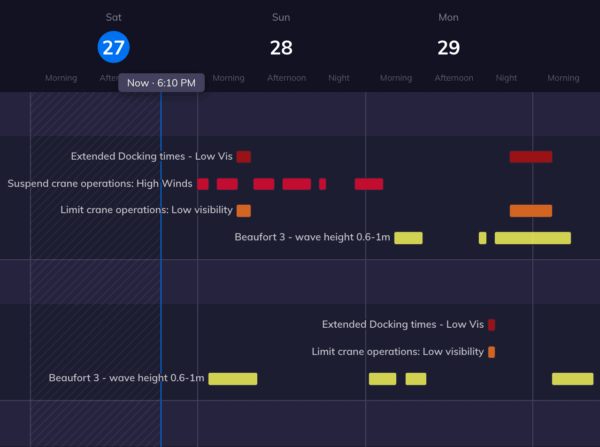 As a business leader, you likely already know the exact type of weather that has the biggest impact on your bottom line. But weather intelligence puts the weather into the context of your business, helping you become resilient and quickly prepare and adapt. You can turn the insights this platform provides into actions that help you minimize disruption.
Climate events such as the Suez Canal disaster will continue to happen each week around the world. You need to implement a climate resiliency strategy today with our Weather Intelligence Platform to ensure the stability of your day-to-day operations across every aspect of your team and company.