Each year, wildfires burn through millions of acres, destroying homes and entire neighborhoods, and producing dangerous air quality. And believe it or not, extreme wildfires are set to become even more frequent, increasing by around 50% by the end of this century, according to a new UN report.
Knowing exactly where these fires are, their potential to intensify and spread, and the predicted path of the hazardous smoke they produce can help businesses, organizations, and individuals make more proactive decisions to protect their properties, assets, health, or operations.
As fire season increasingly has become a "fire year," we are excited to announce Tomorrow.io's newest feature: Wildfire Smoke Index.  
A Proprietary Wildfire Smoke Model & Predictive Fire Index
Powered by a proprietary global smoke model, this new wildfire smoke product will help users anticipate and plan for potentially smoky days resulting from wildfires. 
The Wildfire Smoke Index is available via Weather API and Tomorrow.io's Weather and Climate Security Platform where it can be visualized on the map and timeline and used to create insights and alerts. Utilize this new feature to identify where wildfire smoke will cause reduced visibility, hazardous air quality or pose a general threat to safety and the environment.
Knowing when and where a fire or smoke could impact operations or communities can help increase safety for staff members and residents, lower the risk of damage to property and assets, and overall enable better action plans around wildfires and the smoke they produce.
The Wildfire Smoke Index is part of our comprehensive suite of fire, smoke, and air quality products:
Active Fires

gives users the ability to view all currently active fires globally along with the relative power, certainty, and origin of each fire based on the latest satellite imagery.

Fire Index depicts a general fire intensity potential on a scale of 0 to 100 based on changing weather conditions, enabling users to understand the risk of fire around their chosen locations. Insights and alerts can be generated out to 14 days.
Smoke Index visualizes the origin, extent, movement, and severity of wildfire smoke based on Tomorrow.io's proprietary smoke model. The Smoke Index indicates the potential for reduced visibility and hazardous air quality on a scale of 1 to 5. Insights and alerts for this feature can be generated out to 48 hours.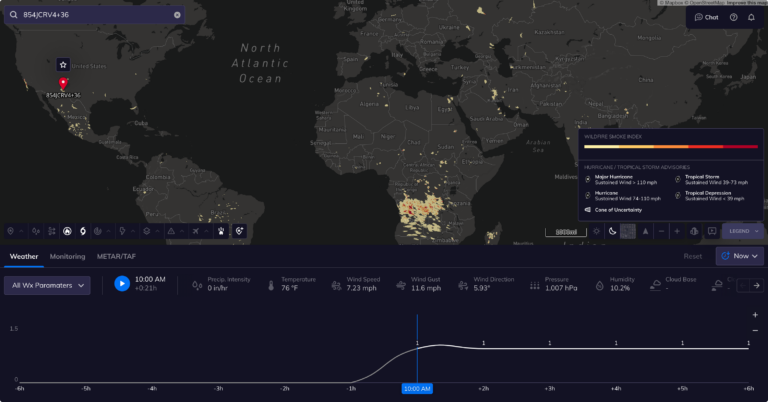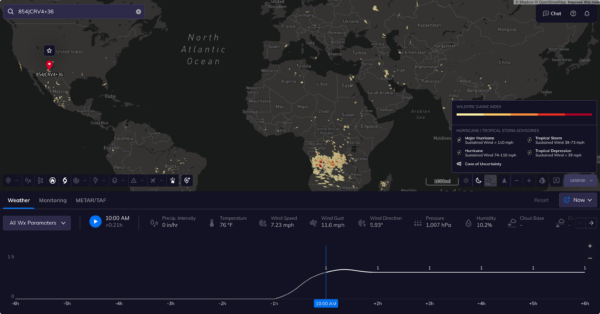 Make Better Operational Decisions with Fire and Smoke Insights
It's not just California that is seeing an uptick in wildfires – records are being shattered in places like Brazil, The Arctic, Indonesia and Australia. Here are some of the ways Tomorrow.io's fire and smoke insights can be used to help your business:
Predictive Fire Impact

: With proximities of 3, 5, and 10-mile radiuses along with lat/long users can visualize the predicted fire impact and make more proactive operational decisions.

If operations managers know when a fire is happening or is expected to happen, they can react more quickly. Soluna, a leading renewable energy company, is able to shut down their site faster, change filters when necessary, or speed up their fans to expel more water or air.
Alerting and Insights for Situational Awareness:

Generate insights based on the predicted fire or smoke index for any location globally and create customized alerts for parameters exceeding any threshold. For example, alerting fans, crews, and players of hazardous smoke prior to a game start is vital. Unnecessary health hazards pose an expensive risk and being able to see that potential risk will help these organizations keep employees and fans safer.

A Complete 360° View: Track active fires, fire risk, and wildfire smoke for any location globally from a single dashboard. For on-demand and logistics companies, being able to track the risk of fire and smoke can help users make informed decisions on routes to address any visibility concerns and keep drivers healthy and safe when air quality is poor.
Improve Safety & Lower Asset Damage: Protect assets, preposition crews, and alert communities with enough time to execute swift response plans. Airline operations managers need to know when visibility is too low for takeoff and landing. If smoke is inhibiting the ability to take off or land they can divert aircraft or ground planes when necessary.
Tomorrow.io's top priority is helping organizations and people manage and make the best operational decisions based on the impact of weather in their area. That's why we are committed to consistently updating and improving our product to ensure our customers have the insights necessary to keep their operations running smoothly.
See How Tomorrow.io's Wildfire Smoke Index Can Increase Your Team's Operational Safety