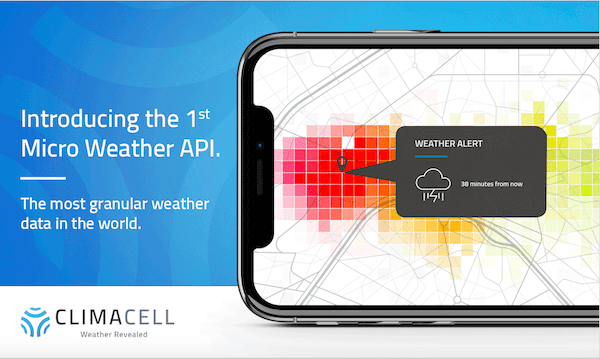 BOSTON, MA — May 14, 2018 —  Tomorrow.io, an emerging leader in weather technology, today announced the launch of its MicroWeather API built for mobility and on-demand businesses as well as others making snap decisions based on tiny pockets of weather. The API is the first to provide a weather data stream from new hypersensing technologies such as wireless networks and other stealth technologies. These technologies, along with Tomorrow.io's proprietary models and GPU-powered engine, give this MicroWeather API the following advantages over traditional weather APIs:
Ground-Level Sensing:

Technologies that can track weather at altitudes of 30 feet and above versus 1,000 feet and above.

Spatial Zoom:

Tracking weather within a 500-meter, zoomed-in area versus 2,000-4,000 meters.

Update Time:

 Updated weather data is delivered every minute by GPU-powered technology versus every 5-20 minutes.

New Nowcast Model:

Forecast data is delivered for every minute for the next 6 hours versus the standard nowcast that delivers weather data in 1-hour increments.
One of the early users of this new API is Hangar, Inc. of Austin, TX, a pioneer in Robotics-as-a-System technologies that power drones and autonomous robots. "Our platform lies at the heart of drones and other robotics that navigate tight spaces and need to avoid inclement weather to operate smoothly," said Jeff DeCoux, Founder and CEO of Hangar. "It's critical that we build the best MicroWeather data into our platform, and Tomorrow.io's technology is second to none. They are the only company that can deliver the ground-level MicroWeather that can give drones the power to see hidden weather systems and fly safely and efficiently."
Tomorrow.io's MicroWeather API is fed by data sources all over the world that are not used by other weather companies. "Our mission is to map all of the weather data in the world to build the default MicroWeather engine for the new economy," said Tomorrow.io founder and CEO Shimon Elkabetz. "Ride-sharing services, travel apps, autonomous cars; these industries all need to have a new kind of weather API that delivers more granular data and can forecast out every minute for the next 6 hours, versus just every hour."
Other companies that are already starting to use the Tomorrow.io MicroWeather API include Autodesk, a leader in design, engineering, construction and entertainment software, which is integrating Tomorrow.io's API into its BIM 360 construction management software. Through this integration, Autodesk customers can use Tomorrow.io to automatically send and receive minute-by-minute notifications via email and SMS, for example, to notify a crew of the type of dangerous weather to expect as well as the exact minute at which it will start and stop.
"Knowledge is power, but when it comes to construction, Tomorrow.io's real-time weather information means improved safety for construction professionals and greater insight on projects," said Sarah Hodges, Senior Director of Autodesk's Construction Business Line. "We are proud to have Tomorrow.io as one of our BIM 360 integration partners, and we are confident our shared customers will greatly benefit from the service they provide."
More information, including documentation on the Tomorrow.io Micro Weather API can be found at: https://www.tomorrow.io/api
About Tomorrow.io:
Tomorrow.io is a weather technology company that is on a mission to map all of the weather data in the world. While traditional weather companies all primarily use the same weather data sources with a focus on government radar, Tomorrow.io is the first and only company to use data from new sensing technologies including wireless communication networks to sense the weather. By combining this proprietary data with public and private weather data and state-of-the-art modeling, Tomorrow.io provides the only full view of the weather available. 
Tomorrow.io's MicroWeather API provides the only ground-level, hyper-local weather data that is updated every minute and has the most granular short-term nowcast in the industry.

Contact:
Sophia Tupolev-Luz
Director of Communications | Tomorrow.io
Tomorrow.io
sophia@tomorrow.io