The risks of wildfires will be high again this year, according to experts.
After the devastating 2020 wildfire season, both California and much of the Western US are at risk again thanks to drought. Despite some snow over the winter, this spring is the third driest on record.
The high risk of wildfires is exactly why we're launching Active Fires, a new feature that will enable Tomorrow.io users to understand where and when there is the most risk of a wildfire.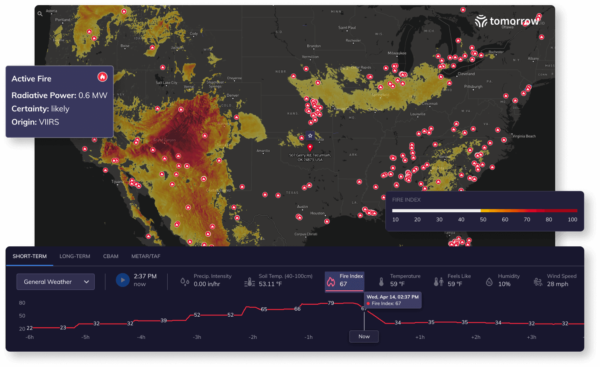 This new release combines with our existing Fire Index to show the potential intensity of fires, as well as any fire that is active right now. 
The fire data will be available both in our existing Tomorrow.io Platform, as well as the Tomorrow.io API to better serve our customers dealing with fire risk anywhere in the globe. 
But how does it work? We'll explain.
The Details of Active Fires
Our fire data is based on satellite imagery. An Active Fire alert is Issued when the Visible Infrared Imaging Radiometer Suite (VIIRS) aboard the joint NASA/NOAA Suomi National Polar-orbiting Partnership (Suomi NPP) and NOAA-20 satellites identifies an active fire.
Based on this satellite observation, we can state the confidence that a fire exists within the detected location according to these three parameters:
Observed (high, 80-100%)
Likely (nominal, 30-79%)
Possible (low, 0-29%)
If you'd like more detail about the technical specifications of this feature, read our documentation here.
The Business Impact of Active Fires
The value of Active Fires and the Fire Index is clear for any business located in areas at risk for wildfires. Rather than wait, you can take action quickly when fire poses a threat to your outdoor events, properties, or operations.
With Active Fires, you can:
Monitor fire risk 24/7

: Track all your locations at risk of fire from one place

Pinpoint regional impact

: Understand risk in surrounding areas to make strategic decisions

Protect specific locations

: Visualize proximity with 3, 5, and 10-mile radiuses around specific lat/long coordinates
With the Tomorrow.io platform, you can create automated alerts to send to your entire team when there is a risk or an active fire in your area. This can improve your response time in an emergency, potentially saving property damage and even lives.
Our Active Fire feature is available globally in our API and Maps interface today.