With more than 1.25 million acres burned in California this past week, Tomorrow.io hosted a webinar today focused on the operational strategies industry leaders can take in the future to better predict and manage the impact of weather events such as fire and air quality. While the wildfires this past week started in California, the impact is being felt across the midwest in terms of smoke and more fires, while the operational and consumer impact is being felt across the country.
For some regions of the country, dealing with air quality on a day to day basis has been a nuance of late, but things are changing quickly. Respiratory issues have become a recent hyper-focus around the world with the spread of COVID-19, while certain cities across North America, LATAM, EMEA, and APAC have been dealing with air pollution and air quality issues for years.
The opportunity for business across multiple industries is to better mitigate the impact of air quality for both employees and customers, and to do so in advance of impact at a hyperlocal level with high resolution.
Let's start with the state of the California wildfires.
In mid-August, 2020, an extreme heat wave hit California, leading to a series of lightning storms across the state and numerous wildfires.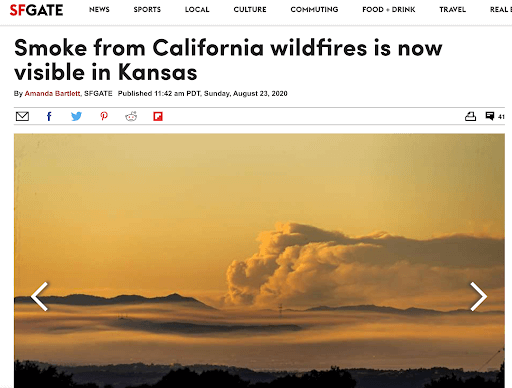 More than 1.25 acres have already burned, impacting millions of people and businesses across industries including energy and utilities, on-demand and technology, healthcare, sports and outdoor, e-commerce and supply chain.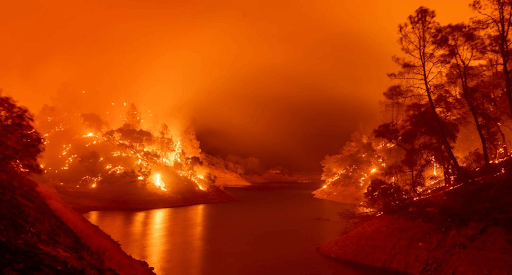 What do businesses need to help better manage these types of events in the future?
The first thing is a way to manage, predict, and understand fire risk, and Tomorrow.io's fire risk index provides a number of benefits as displayed below.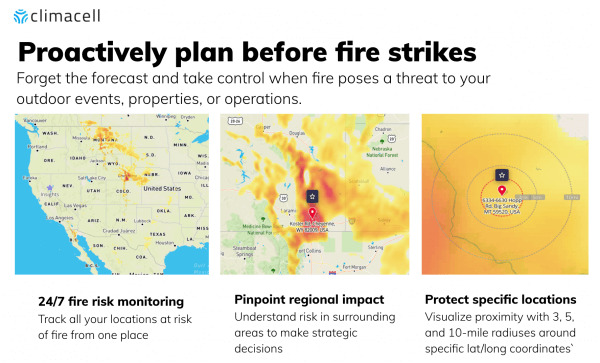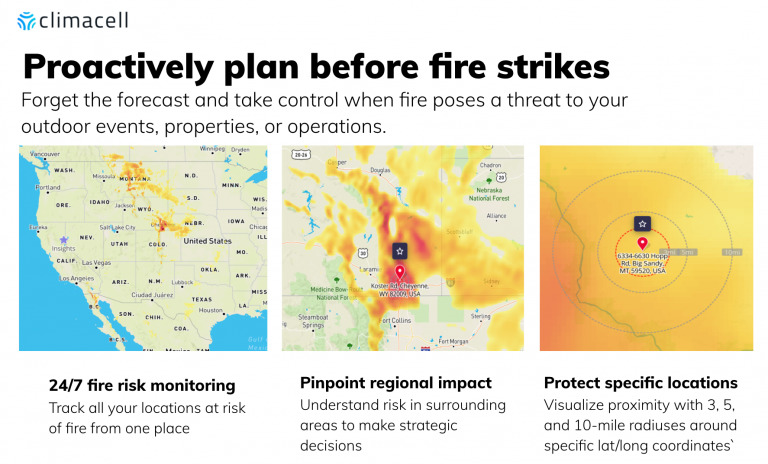 The second thing is the ability to see how air quality will impact hyperlocal areas in high resolution. For instance, below is a view of how the air quality is changing on a street by street basis, which is critical as things like dynamic wind patterns and direction change the impact areas.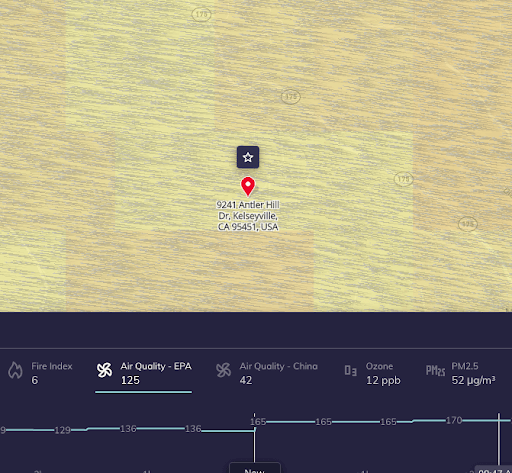 The most important elements to ensure predictive air quality impact and insights are:
Hyperlocal granularity

Dynamic wind

AQ risk impact

High resolution
Industry use cases
A few examples of industries that can most easily benefit from predictive air quality to inform decisioning are as follows:
Sports & Outdoor Examples:
Scheduling practices

Ensuring employee/player safety

Updating locations in advance if need to avoid cancellations/delays
*Tomorrow.io is working with brands including the New England Patriots, Revolution, The U.S. Open
Energy, Insurance, and Supply Chain Examples: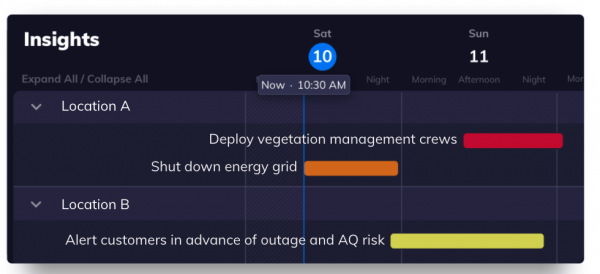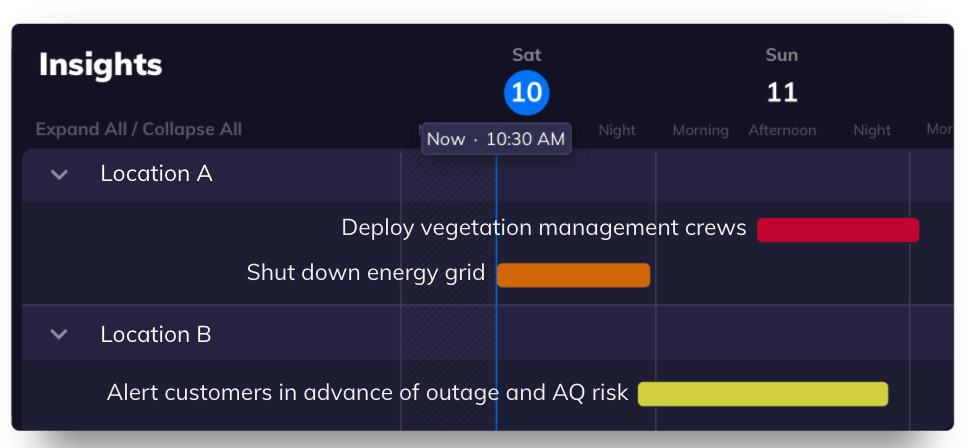 Deploying crews

Alerting customers

Operational procedures and communication
*Tomorrow.io is working with brands including National Grid, Evergy, IndiGrid, SoftBank Energy, Intact Insurance, ITS ConGlobal
On-Demand, Healthcare, Technology, and E-commerce Examples: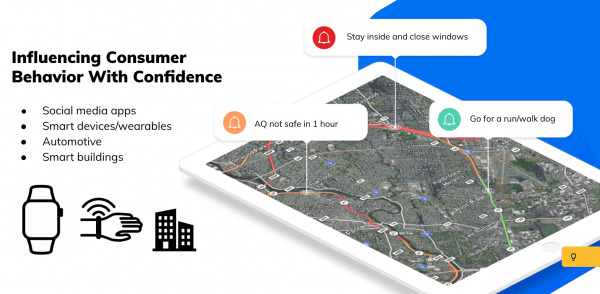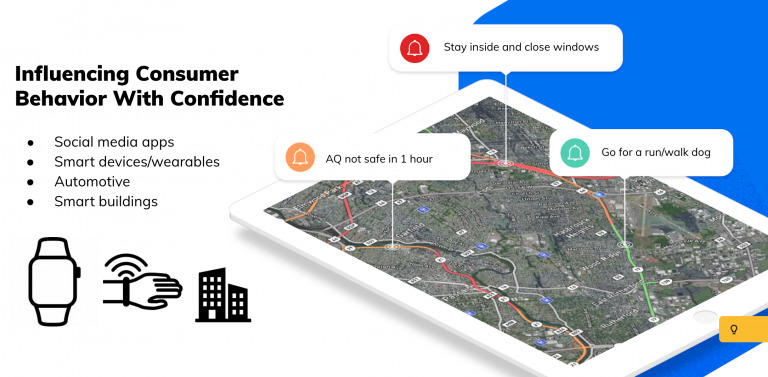 Protecting supply side from hazardous situations

Running promotions and incentives based on predicted risk

Predicting surges in advance for pricing, ETAs, and engagement

Marketing and promotions

Staff scheduling optimized for outdoor conditions
*Tomorrow.io working with brands including Ford, Uber, Rappi, Swiggy, Via, Drizly, Porsche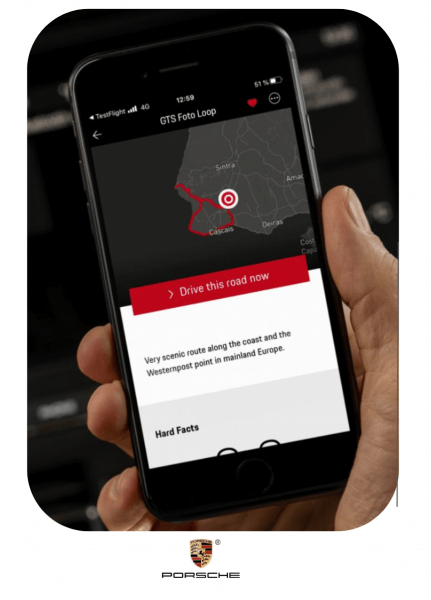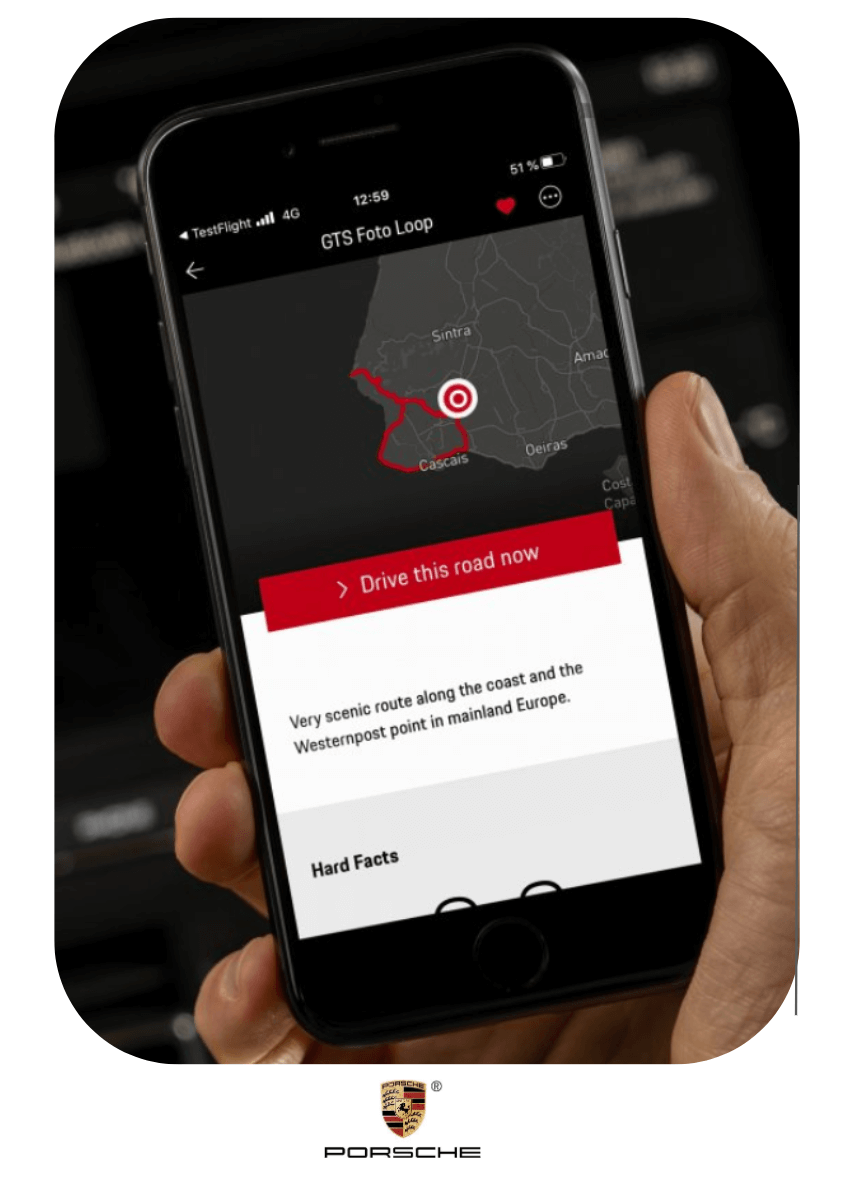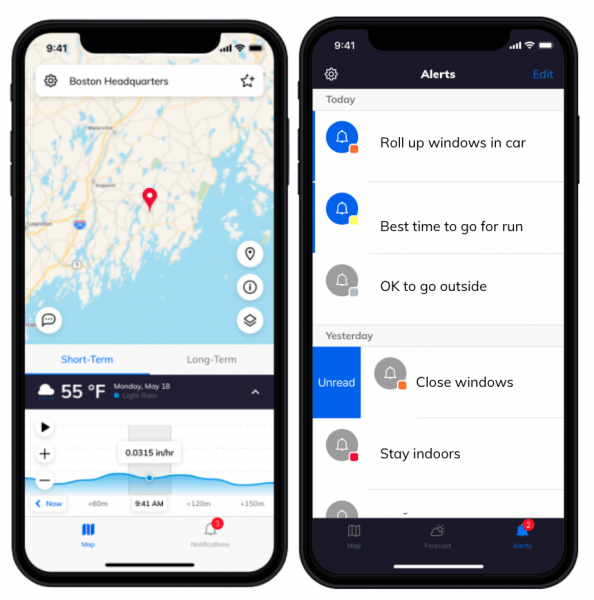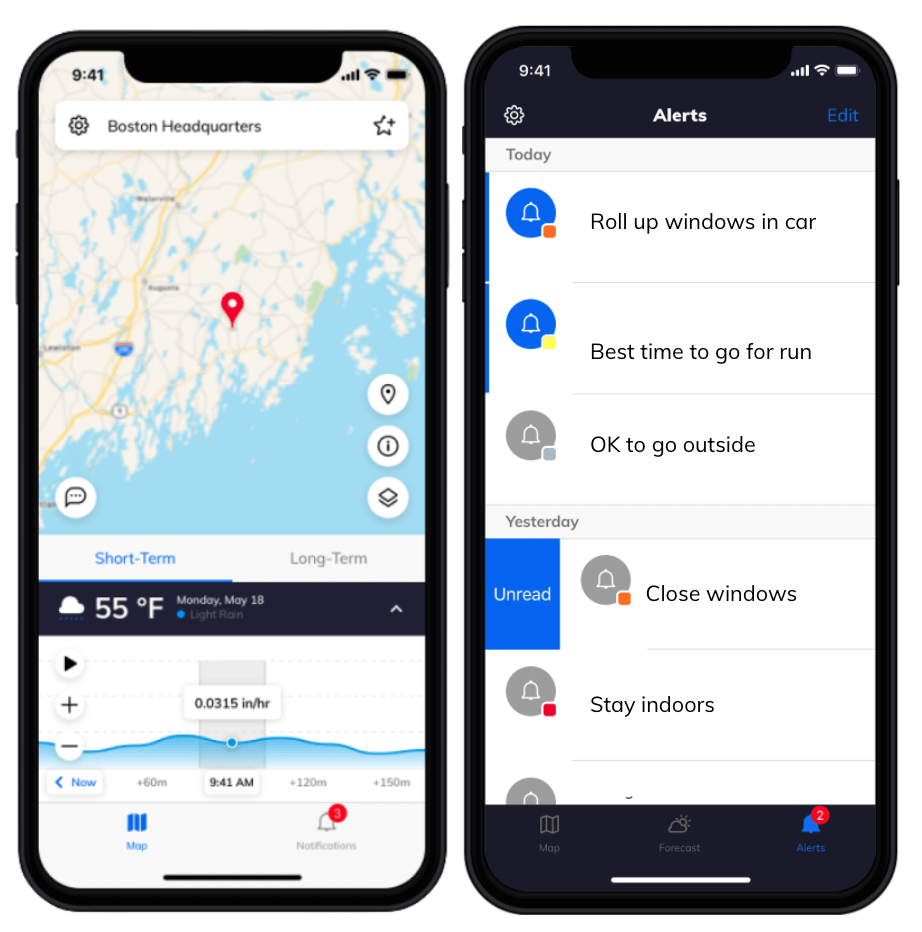 As pictured above, Porsche recently launched a project with Tomorrow.io to help drivers plan better and safer drives incorporating air quality data in real-time into their Roads app.
What sets Tomorrow.io apart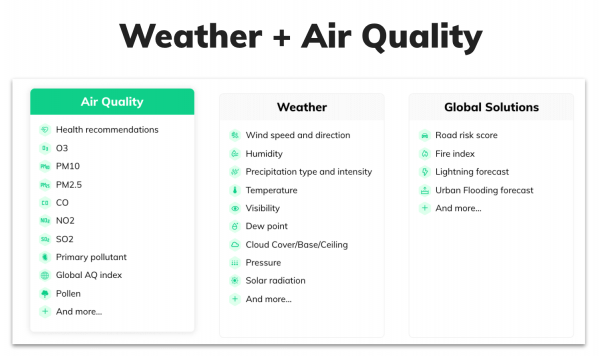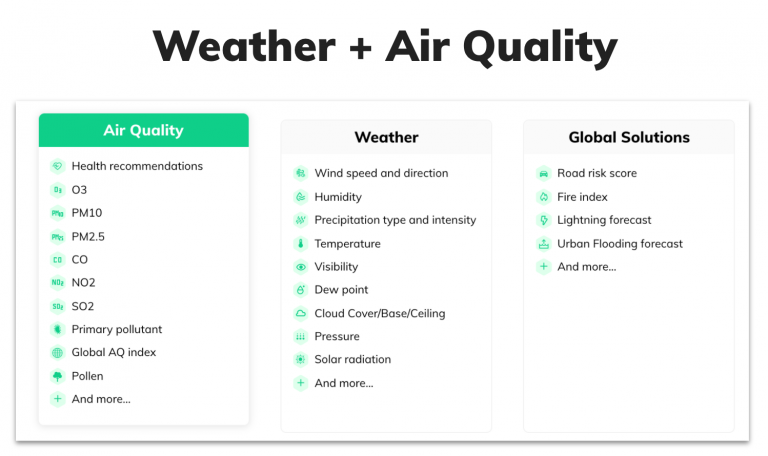 Air quality is more than just a simple AQI. The impact of air quality is drastically impacted by a number of weather conditions, which is why Tomorrow.io isn't an air quality company, we're a weather company that includes air quality, and that's the only way to get a measurable and actionable solution for your business and consumers. Just looking at an air quality reading gives you some of the picture, but not all, and definitely not an actionable one.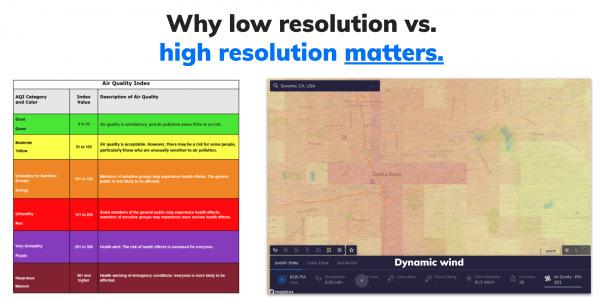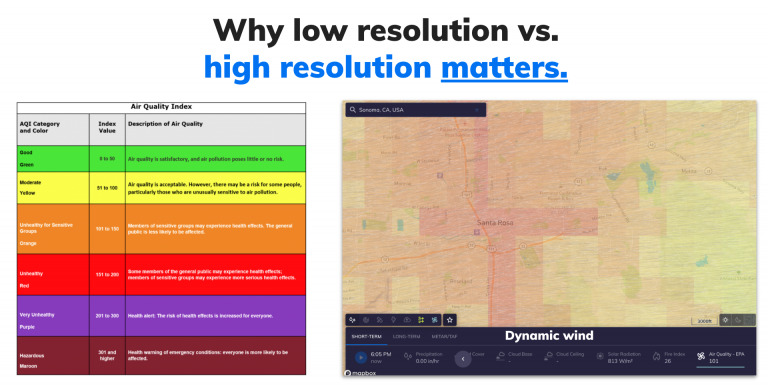 The second thing to consider is being able to look at the impact of air quality in high resolution at a hyperlocal level. As mentioned earlier, things like wind can be drastically different from street to street or from one side of the city to the other, and things change in real-time. Knowing how wind speed, direction, and duration will manifest themselves is the only way to truly provide an actionable offering.
While the wildfires will subside, the ongoing risk of future fires and day-to-day air quality management is here to stay. The impact for both consumers and businesses is significant, and it will be those companies incorporating actionable air quality data into their existing product offerings and operational strategies that will set them apart, while those businesses that don't innovate now will be the ones left behind tomorrow. The good news is the technology you need is here with Tomorrow.io's air quality API.
To learn more about Tomorrow.io's air quality offerings and hyperlocal dynamic wind capabilities, talk to one of our experts today!