Transportation companies can make objective weather decisions with Tomorrow.io
*This article was originally published in FreightWaves in October 2022
No driver would blindly go into the path of a hurricane as it is approaching — just as no dispatcher would knowingly send a driver there.
Transportation leaders are well aware of the safety risks severe weather poses, and most monitor the forecast on some level. While the threats of large-scale weather events are increasing alongside climate change, everyday weather also causes dangerous road conditions outside of tornadoes and major snowstorms. Common conditions like high winds, icy roads, dense fog, and local or pop-up storms make driving unsafe.
Many transportation companies have vague and disjointed safety processes in place for making weather-related decisions. Dispatchers or drivers still rely on traditional weather monitoring from sources that they might use in their personal lives (such as weather apps or alerts from the National Weather Service), which cover a wide area.
"When individuals are asked to track a network of moving drivers through ever-changing weather conditions without the right tools — on top of a million other daily tasks — things inevitably slip through the cracks," said Ayala Rudoy, general manager of logistics at Tomorrow.io, a weather and climate security company that is changing the game for transportation weather management.
Unlike traditional weather forecasting tools, Tomorrow.io provides hyperlocal and real-time insights that allow transportation companies to monitor road conditions and identify upcoming weather impacts along routes.
Without this advanced, scalable system, drivers are forced to make the decisions about whether road conditions are manageable or if they need to hunker down and wait it out. But often they're also using the same weather apps that dispatchers are using, which results in an incomplete picture of dangerous microevents. These outcomes are slowdowns, delivery delays and a significant increase in safety risks.
"The lack of automated tracking and decisioning tools around changing weather conditions mean that even companies attempting to put a solution in place are still missing critical events, resulting in major safety risks and, unfortunately, accidents," Rudoy said.
Not only does severe weather threaten driver safety, but it can also carry serious financial consequences. Penalties stack up for late loads, eating into operating budgets and damaging a company's reputation. When accidents do happen they place a costly burden on the transportation company: There's vehicle and cargo damage, increased insurance premiums and — in the worst-case financial scenario — a lawsuit that can result in devastating nuclear verdicts.
If you're caught off guard when severe weather strikes, it can have a devastating impact. But the weather is not completely unpredictable; in fact, greater weather visibility is possible now more than ever before.
How to improve weather safety
Transportation weather safety starts with taking responsibility through consistent monitoring and clear procedures.
"First and foremost, carriers have the responsibility to put systems in place to alert drivers as well as dispatchers ahead of time about dangerous conditions and do their best to avoid them," Rudoy said.
What facilitates the ability for transportation companies to monitor weather is real-time, transparent data relevant for their industry, trucks and lanes. This allows companies to make decisions prior to departure and helps drivers make informed choices about changing conditions while over the road. But not all weather prediction systems are created equal.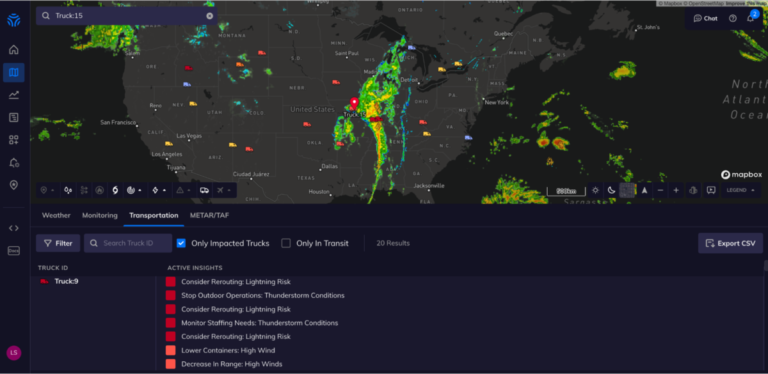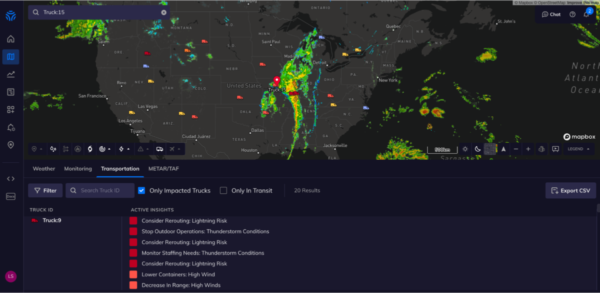 "Weather is such a big pain for transportation companies that unsurprisingly, companies have tried to tackle it themselves in the past with homegrown solutions," Rudoy noted.
The problem with these solutions, though, is that publicly available data covers a wide area and is not designed for actionable decision-making within the transportation industry.
Rudoy identified these key functions of a scalable and predictive weather solution, which directly addresses these issues:
Hyperlocal data: Information on how conditions are impacting a specific route vs. an entire region
Predictive and real-time monitoring: The ability to monitor all lanes, dynamic routes and moving trucks and match them with the weather every few minutes to ensure nothing is slipping through.
Actionable and customized insights: Recommendations on how to act based on hyperlocal conditions and the unique truck (e.g., empty vs. full, Texas snow vs. Boston snow)
As the transportation industry continues to undergo a digital transformation and embrace more cloud technology, companies like Tomorrow.io are driving innovations to provide more actionable weather data specifically for transportation companies than ever before possible.
With Tomorrow.io's weather prediction and tracking platform, transportation companies can choose alternative routes prior to departure, avoiding severe weather altogether and proactively preparing for everyday conditions like wind gusts, slippery road conditions and snow.
"Real weather preparedness doesn't stop at the forecast. We provide the tools needed to monitor all trucks in the fleet in real time, easily and quickly identify which ones are in severe weather conditions so you can prioritize them according to projected severity and keep drivers safe," Rudoy said.
See How Tomorrow.io Can Help Your Logistics Operations