As the calendar turned to April and the season turned to spring, across much of the country that meant one thing: baseball is back! America's pastime returns as Major League Baseball kicked off their 2021-22 season. Unfortunately, fans eagerly waiting to tune into the latest version of the storied rivalry between the New York Yankees and Boston Red Sox were forced to wait as their opening day game was preemptively delayed and eventually postponed, with rain in the forecast.
They weren't the only teams impacted by inclement weather; opening day games in Minneapolis and Washington DC were also delayed. And the truth is that with 30 teams playing 162 games each across a 7-month span, there are bound to be delays and postponements due to rain and lightning. We've seen this play out since opening day across the country from St. Louis to Los Angeles and everywhere in between.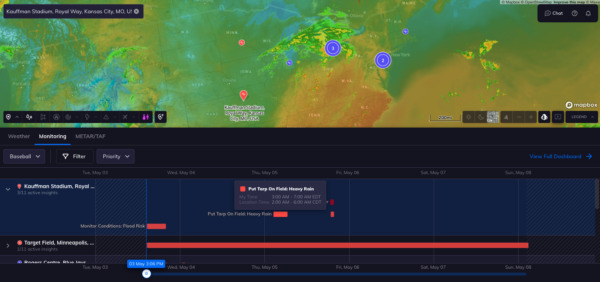 The Impact of Delays
While inevitable, delays and postponements are also a logistical nightmare for many people involved; from the field operators to the broadcast media partners to the schedule-makers and finally, and perhaps most important of all, to the fans:
For fans,

it's hard to imagine a more unpleasant scenario than sitting in the pouring rain through an hours-long delay, only for the game to eventually be postponed. Teams need to ensure that fans are informed – through in-app alerts and stadium announcement – before, during, and after a delay, as well as making sure there is enough protective gear and warm drinks available. 

For broadcast partners,

operating through a rain delay is not only logistically challenging, but also potentially dangerous for crew members. Media teams like Fox Sports, which broadcasts hundreds of MLB games each year,

depends on weather intelligence to better adapt

to the operational impact of weather. 

For the league,

postponed games have to be played at a later time, while delayed games have to be finished. There are well laid out

protocols for score-and-time situations

for when to call delays, but weather intelligence is also crucial to making those decisions and finding the ideal pockets of time of clear weather to schedule replacement games.

For teams and stadium operators,

the costs of a delay are significant. For starters, the team now has to pay dozens of staffers overtime to stay through the length of the delay, or even for a second game in the event of a rescheduled doubleheader. Losing gameday revenue with refunds or a rescheduled game that is lightly attended is another significant cost borne by the team during delays.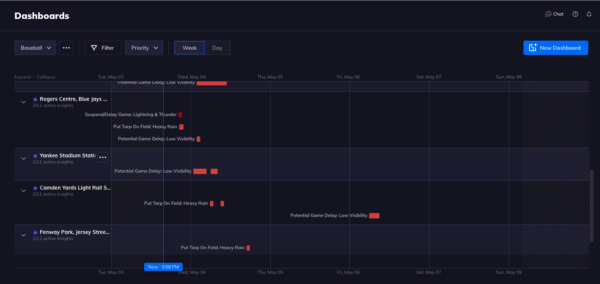 How to Adapt Instead of React
Major League Baseball and its individual teams need the best in weather intelligence to manage the impact of weather on games across the league, at both the micro and macro level. With hyperlocal forecasts at an hourly and even minutely level, teams and field operators will be able to make the best decisions under pressure. With automation in both operations and communications, there will be a seamless transition between different conditions, and fully transparent and clear lines of communication with both fans and staff members. 
Don't let rain and lightning ruin America's pastime. See the power of weather intelligence in mitigating and managing rain delays in MLB to minimize their impact across the board.
See How Tomorrow.io Can Help