What makes a successful ad campaign?
Connecting the right person to the right message at the right time. 
The average person today sees 6,000 to 10,000 ads per day. But how many of those actually resonate with them? 
Out-of-home advertising (OOH) doesn't have the same easy connection between behavior and product that true digital advertising can. For digital OOH to be effective, it has to make sense in the context of the place and time the person sees the ad — for example, a billboard while in traffic during the morning commute or a storefront advertising a special deal. 
Connecting real-world experiences to the right ads at the right time for out-of-home advertising requires a secret weapon: the weather.
How Weather Intelligence Can Build Better Ads
We already know that the weather has a strong influence on buyer behavior. Take food delivery, for example. 49 percent of people are more likely to order delivery during bad weather. Of the approximately $5,000 a year each person spends on impulse purchases, 70 percent are food or grocery-related.
Understanding weather patterns ahead of time allows you to better predict customer needs, especially when they're in the moment — like a gas station advertising hot coffee during a snowstorm or a fast-food restaurant offering a last-minute breakfast deal during a rainy Sunday.
Building advertising campaigns with predictive and real-time weather intelligence automatically adds a layer of personalization that customers aren't used to seeing with out-of-home advertising. The success of your entire campaign depends upon the context in which someone interacts with it. By incorporating weather information, you have a chance to surprise your audience (Hey! It's raining right now!) and delight them (Yes! That's exactly what I need!).
Knowing how weather impacts consumer behavior and spending can return more than $1 billion on retailer investment.
"The ability to add context to the existing user coming to your digital experience, and speaking to that context, is really valuable. Weather is a key component of that for many of our customers. If a user comes to a website and they see a banner that speaks to what's happening outside their window, they will react much more positively." – David Fine, Senior Product Manager at Dynamic Yield
Think about where your audience is and what kind of weather conditions they deal with on a regular basis, with themed campaigns like:
Cloud cover: "Brighten your day" 

Heat: "Cool off" 

Cold: "Stay warm"

Poor visibility: "Safety first" 

Snow: "Be prepared"
Depending on the season, you may be able to leverage rain, snow, air quality, or winds. Whether your placements are at charging stations, in retail districts, or through billboards, dynamically changing creative, messaging, and offers based on the weather delivers a personalized experience your customers will love.
Real-World Examples of Weather Personalization for OOH
Electric vehicle owners are used to waiting for their cars to charge at charging stations around the country. It takes between 30 minutes and 1.5 hours to charge a Tesla at a public charging station, giving advertisers ample time to deliver a dynamic message to vehicle owners.
What might interest them during this time? Well, you already know that they're interested in electric cars. Jeep Wrangler's 2021 campaign for Volta charging stations featured two different creative options based on the current weather. For sunny days, the ad shows a Wrangler top-down, exploring a mountainous landscape. For stormy ones, the ad focuses on performance during bad weather, with a message of "charging ahead and taking on the elements."
Similarly, if you're one of Audible's millions of subscribers, you probably enjoy listening to books while on your evening commute. For summer 2021, Audible ran two versions of the same billboard campaign through Outfront Media in Boston, Chicago, New York, and Philadelphia during Friday night rush hour. When temperatures hit above 85 degrees, they changed the creative to focus on messaging related to beating the heat during traffic.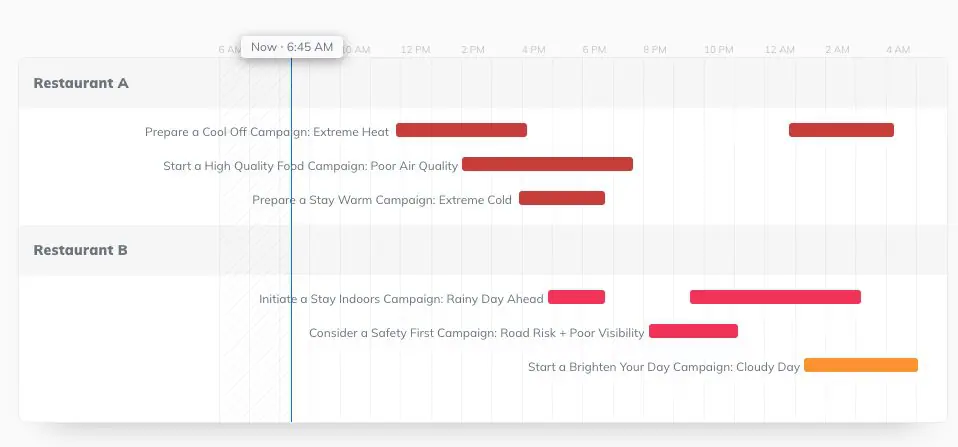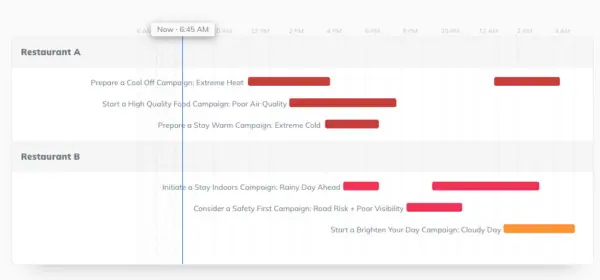 Build Weather-Driven Out-of-Home Advertising Campaigns with Tomorrow.io
This is where weather intelligence can be incredibly powerful. Hyper-local weather information gives you the insights to make decisions about what message to serve when, and whether or not it will resonate with your customers, driving additional revenue.
Personalized real-world experiences offer a huge opportunity for OOH advertising. By getting direct access to weather data and dynamically adapting your ad copy and creative to the weather for your out-of-home campaigns, you'll see significant results.
Using a weather dashboard or weather API, you can incorporate weather forecasts into your marketing and advertising campaigns – giving you a way to delight your customers in the moment, increasing conversion rates and delivering the best possible shopping experience.
See how Tomorrow.io can Help You Build More
Personalized Out-of-Home Advertising