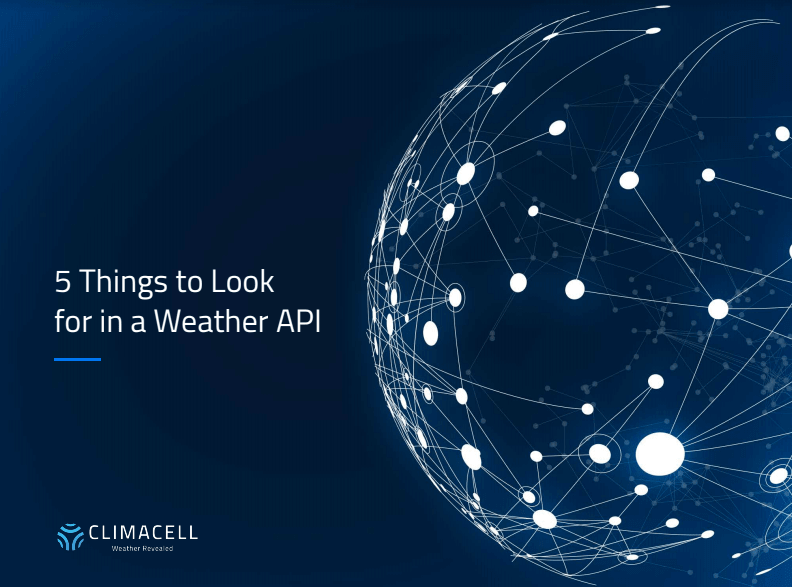 For almost as long as there have been APIs, there have been weather APIs. While the concept itself isn't new, the needs for weather APIs have changed dramatically in the last few years. It's no longer acceptable to use a weather API that can only deliver updated information every 10 minutes or that can only zoom in to a 2-mile area. Companies in the new economy need more; they need street-level, minute-by-minute data. Tomorrow.io's MicroWeather API is the first to deliver the granular level of data needed to power drones, guide autonomous cars, and give businesses the ability to make up-to-the minute decisions based on MicroWeather in a specific location. This blog explains how the Tomorrow.io API is different and how developers and analysts can use it to gain an advantage, or at minimum, keep pace with competitors.
What's Different About Tomorrow.io's MicroWeather API?
There are a lot of weather APIs available today, many of which offer data from the same traditional sources only. Below are the five things that make the Tomorrow.io API unique:
NEW HYPERSENSING TECHNOLOGIES:
Traditional weather companies rely on public weather sources like government radar. Tomorrow.io is the only company that takes the best of existing weather technology and adds new hypersensing technologies that find weather that no one else can see.

TRULY GROUND-LEVEL:
Tomorrow.io's proprietary technology tracks weather closer to the ground that is often missed by traditional sources. This is why major airlines and sports teams are relying on us – to make sure every storm is tracked.
TRULY HYPERLOCAL:
Everyone says they are hyperlocal, but Tomorrow.io's API is the only one that can deliver weather data zoomed in to a specific location. With other APIs when you pick a location, you're seeing weather from a large area around that location (sometimes an area of 2 miles or more).
FASTEST UPDATES:
Other APIs may send you data every minute, but often that data is 5-20 minute-old radar data. Tomorrow.io's GPU-powered technology delivers data that is updated every minute.
BEST NOWCASTING MODEL:
Most short-term forecasts look out in hour chunks into the future. Tomorrow.io's API shows you what the weather will look like in every minute for the next six hours and the data that we provide is deterministic rather than probabilistic.  Simply put, our data is based on real data points, not the statistical chances of data points being within a particular range.

Unique Functionality
In addition to delivering data not available through other weather APIs, the Tomorrow.io API has functionality that sets it apart.
ALERTS
Tomorrow.io's API has powerful alerting capabilities designed to proactively inform you of weather conditions at a given location. Each alert can be defined using multiple layered rules; for example "if it's below 32 degrees and winds gusts are over 20 mph."  Alerts can be sent to different groups of people that you define and can be communicated in three ways: 1. back to your system, 2. email, or 3. SMS. You can also specify that you want the alert to be communicated at the time of the event or as far out as 6 hours. (Soon you'll be able to set alerts for days in advance).
WEATHER GRID
When selecting locations to track with the Tomorrow.io API, you can choose a specific location based on latitude/longitude or street address. In addition, Tomorrow.io's API offers the unique ability to create a rectangular grid around an area, and track weather within equally sized rectangular areas inside the grid. This allows for easy analysis of multiple "zones" within a grid without having to create a separate polygon for each zone.
WEATHER MAP (VISUAL TILES)
Some companies need more than just the raw weather data. For companies that want a visual representation of the data, Tomorrow.io's API can deliver visual tiles on a weather map, showing precipitation, and soon other weather parameters as a colorful layer. This is ideal for any company that relies on a map visual as part of their business and would benefit from having the weather overlaid on the map.
Use Cases
There are two primary use cases for our weather API:

SOFTWARE DEVELOPMENT:

Any company building an app or any kind of software that would benefit from including granular weather data should use the Tomorrow.io API. Examples could include a travel app that wants to send customers a notification when it's going to rain near their hotel, or a maker of construction software that displays which equipment should not be used at certain construction sites that day because of high winds. For examples of more uses cases, subscribe to the Tomorrow.io blog

here

where we'll present updated use cases every month.

ANALYSIS AND MARKETING:

Many companies use weather data to analyze how different conditions affect their business. For example, a clothing retailer may see that they sell more fleece jackets on days when it's below freezing with wind gusts of 15mph or more. Once a company has this analysis in hand, they can create digital marketing that is automatically triggered by weather events. They could even choose to include live weather data in their ads.
No matter what the use case, Tomorrow.io's MicroWeather API has all of the data of the traditional APIs, along with unique data that no one else can access. This provides a more granular, ground-level picture of the weather that is updated every minute vs. every 5-20 minutes like most traditional APIs. Leading companies in travel, construction, aviation, map software, agriculture, and outdoor sports and entertainment are all using the Tomorrow.io API to gain an edge and improve their customer experience.
More Information
To start a free trial or request pricing information for the Tomorrow.io Enterprise API, click here.