Earlier this week, the SEC released a statement on proposed mandatory climate risk disclosures, with significant implications for publicly listed companies. The mandate offers a sink or swim scenario for public companies, with those unwilling to innovate heading for trouble while those ready to embrace climate adaptation positioning their corporations as the industry leaders of tomorrow.
Climate Security Ushers in New Era for Public Companies
While the proposal has been widely expected within the community since late last year and still needs to go through revisions and approval processes, the message is clear; the time for change is now. Companies will need to be transparent about how they are updating their operations in more sustainable ways while also disclosing the operational risk that weather and climate change is and will continue to have on their bottom line. At the core of both issues will be climate security. As companies navigate new operating territory amidst an ever-changing and volatile climate, implementing guardrails and safeguards will be critical for both investors and operators. 
Climate Adaptation is the Solution to Climate Risk Exposure
We here at Tomorrow.io fully support this initiative as we see just how much unexpected weather and volatile climates impact people, companies, and governments all across the globe. The distinction that we want to highlight amidst this announcement from the SEC is that while disclosure is absolutely necessary, operators need to be focused on their climate adaptation strategy to ensure longevity. For instance, once a company discloses their climate risks to investors, the first thing they'll need to explain is what is being done to mitigate the risk. To put forth a real world example, if an airline such as JetBlue is seeing the number of high wind events at a specific airport double every year and seeing an increase in flight delays, investors will need to know the operational, financial, and environmental risks associated with the disclosure (this is actually happening with JetBlue at Logan Airport). Furthermore, stakeholders will need to see what systems are going to be put in place to combat the increase in wind events so the minimal number of flights are impacted, efficiencies are being realized, and the airline is operationally a step ahead instead of two steps behind.
The way to turn climate risk disclosure into opportunity is with a climate adaptation strategy that leverages the world's most cutting-edge predictive weather intelligence technology. Welcome to Tomorrow.io's weather and climate security platform.
Top 7 Highlights of the SEC's Statement on Proposed Mandatory Climate Risk Disclosures
Before we get into the details, however, let's quickly review what the SEC announced in relation to weather and climate security. While the below certainly does not represent everything presented by the SEC, the top 7 highlights of climate risk disclosure include:
Today, roughly two-thirds of companies in the Russell 1000 Index, and 90 percent of the 500 largest companies in that index, publish sustainability reports.

One-third of annual reports submitted today already include "some" disclosure related to climate change.

The SEC is proposing a set of disclosure and reporting standards to provide investors with consistent, comparable, and decision-useful information for making their investment determinations and would provide consistent and clear reporting obligations for issuers. 

Companies would be required to disclose (via

Form 10-k

) governance, risk management, and strategy specific to climate-related risk.

Operations would need to disclose operating criteria to back up any forward-looking statements or projections that could be impacted by climate-related risks.

Required disclosure would also include financial reporting on the impact of climate-related events and ensuing transition activities. 

Greenhouse gas emissions data disclosure including Scope 1, Scope 2 and Scope 3 (optional to start), which include emissions resulting directly from facilities/activities, indirectly, and emissions from upstream/downstream activities across a company's value chain would also be required.
The Climate Risk Value Chain and Ecosystem
With a number of variables for companies to consider around climate-risk disclosure mandates, the path from disclosure includes:
Identifying climate risks:

This includes both physical and transition risks

Measuring climate impact:

Scenario analysis and the dollar value of potential losses and opportunities

 Disclosing climate risk and impact:

To stakeholders, investors, regulators, lenders, supply chain…etc.

Setting strategy:

Corporate strategy, geographic footprint, M&A, supply chain…etc.

Building adaptive capabilities:

Response planning, team training and certification 

Executing adaptable and climate-resilient operations:

Automated operational system to predict and respond to weather and climate, risk mitigation, ESG, and regulatory compliance  
For variables 1 – 4, there are a plethora of existing options for companies to select from, including legacy companies, climate-tech start-ups and major consulting firms depending on which direction companies feel most comfortable investing. Where things get more interesting is the void that exists as companies move from risk analysis and disclosure to operational mitigation.
Going Beyond Disclosure: Solving for Sustainability and Climate Risk Mitigation
Wrapped in the SEC's proposed mandate are operational updates focused on both sustainability as well as climate risk mitigation. Let's look at examples for both, and how companies can move beyond just disclosure to focus on impact.
Sustainability
Corporations unable to operate in a sustainable manner put themselves in financial and operational crosshairs. Consider a mining company, for example, blasting with explosives during times of the day with high winds. All of the air pollution is getting blown into the neighboring town threatening air quality for residents. The mine is at risk of getting shut down unless it can solve for putting the community's health at risk and mitigating hazardous situations. Each day the mine is closed, the lost operating revenue is in the millions.
This is not a position any company wants to find themselves in. Thankfully, with the right system in place, this problem is easily solved. The mining company can simply use weather and climate security software to identify which times during a given week the weather will be acceptable for them to blast without risk of air pollution. With operating protocol like "winds below X miles per hour and humidity of Y," for example, their system will automatically display the times they can operate during the week. This type of system keeps the mine operating in a sustainable way and mitigates risks caused by the local climate and weather.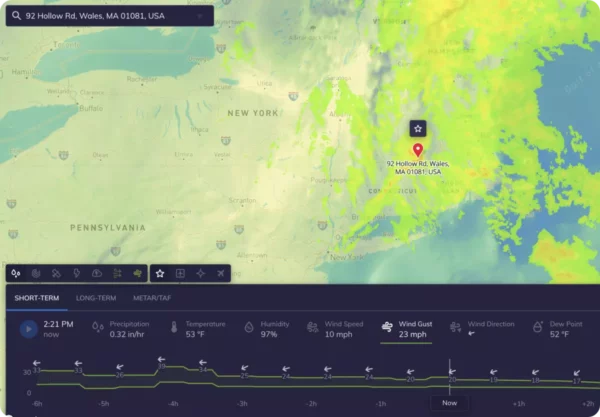 Climate Risk Mitigation
Imagine the CEO of a major airline disclosing climate risk on an earnings call, which is becoming the new normal. Perhaps the airline is operating out of a major hub and seeing a 500% increase in annual "high wind events," causing a significant increase to flight delays and safety risks. While investors will hail the CEO for disclosing the risk and highlighting the impact, focus will immediately turn to what's being done about this risk being posed by climate and impacting operating revenue and margins. The CEO will have one of two answers to this elephant-in-the-room question:
Answer 1

: The first answer will be along the lines of continuing to understand how climate will evolve while updating operating procedures and teams in accordance with strategic planning. While the narrative will be crafted to sound innovative, the reality is that the company doesn't have an answer yet and will continue to be reactive.

Answer 2

: The second answer, however, will show to investors, customers, and employees that the airline is two steps ahead of their climate risk and already innovating on their operating procedures through technology. This will include implementing a

climate security software platform

that is able to automatically predict days in advance

when flights will be delayed

due to high wind events and ensuring teams deploy all of the operational changes that the airline must now make to mitigate the impact. This answer gives the market confidence to know that regardless of weather impact on any given day, the airline is operationally prepared with its climate security system in place at scale.
Stop Risking Climate and Start Securing Your Future
We are setting new records each year for volatile and disruptive weather events as well as natural disasters. Without the use of cutting-edge technology and scalable support systems, the combination of both volatility and increased frequency spells bad news for predictable and sustainable growth. The good news for companies lies in Tomorrow.io.
Why is Tomorrow.io unique?
Tomorrow.io is the world's weather and climate security platform. We are the fastest-growing software company in the history of the weather industry, focused on building the most cutting-edge technology and products.
What is Tomorrow.io's mission?
Tomorrow.io's mission is to equip humanity with the weather intelligence needed to adapt and thrive in an era of climate crisis. Companies and countries need systems in place to predict, manage and mitigate the impact of weather. We believe climate security is the new cyber security.
What does Tomorrow.io do?
We help countries, businesses, and individuals better manage their climate security challenges. As an example for CEOs evaluating your risk disclosure, Tomorrow.io is the impact mitigation solution to the operational risks being predicted by your sustainability, operations and ESG teams.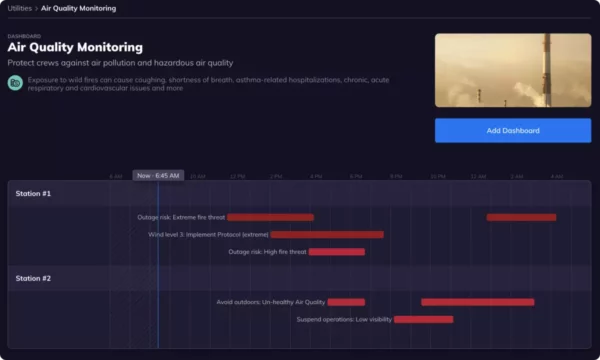 How does Tomorrow.io help businesses?
Using our weather and climate security platform, teams can better predict the business impact of upcoming weather and automate weather-related decisions in advance, enabling climate adaptation at scale.
We help customers across a myriad of industries directly address and act on the climate and weather-related risks they disclose and are challenged with operationally. While the most glaring aspect of climate change is the risk and potential loss, there are significant opportunities to drive new areas of value and efficiency. But these require a more sophisticated approach to weather-related decision making processes than has ever existed before.
That is why Tomorrow.io is innovating across the entire value chain of the weather industry to deliver more accurate, timely, and relevant weather intelligence so that you can spend less time worrying about the weather and more time making the right decision and executing. Through our predictive insights and monitoring capabilities, businesses are able to realize value they would otherwise leave on the table by generating significant OPEX savings, improving their environmental impact, protecting employees and assets, and improving revenues through targeted understanding of weather's impact on demand and customer behavior.
What kind of "cutting-edge" technology powers Tomorrow.io?
We have created our own proprietary forecasting system, which we call weather intelligence. We are the only company running our own numerical weather prediction models and are going so far as to launch the first-of-its kind multi-sensor commercial weather satellite constellation to space later in 2022. The weather satellite constellation will be equipped with both radars and microwave sounders and will improve global weather forecasting by an order of magnitude, ensuring businesses can prepare for and truly mitigate the operational impact of weather. 
Stop Risking Climate and Start Securing Your Future
With climate risk mandates on their way, the time to act is now. As we've highlighted, it's one thing to disclose risk, but it's another thing to solve for that risk and turn threats into opportunities. The only way to ensure your operations are set to compete against our unforgivable climate is via automated predictive systems. It cannot be solved by humans alone. Imagine if your chief security officer said they didn't need systems to protect your company against cyber security threats. It's an unfathomable thought today, and the same is now true of weather and climate impact. 
As highlighted by the SEC climate risk mandate proposal: "When describing any processes for managing climate-related risks, disclose, as applicable, how the registrant:
(i) Decides whether to mitigate, accept, or adapt to a particular risk;
(ii) Prioritizes whether to address climate-related risks; and
(iii) Determines how to mitigate any high priority risks

." 
The third section, determining HOW to mitigate risk will be the deciding factor to the laggards vs. the leaders tomorrow. Learn more about how you can equip your organization with the world's most advanced weather and climate security platform today and ensure operational excellence during the next phase of our planet's climate evolution. 
The Intersection Between Sustainability and Operational Efficiency
While sustainability sounds great and is much needed for environmental purposes, can it also be used as a way to improve operating efficiency? The answer is yes. Here are two examples: 
Airline de-icing fluid:

Airlines need to de-ice their planes ahead of winter storms and specific weather conditions. Due to safety risks, however, planes cannot be de-iced unless winds are below 44 MPH. Furthermore, if a plane de-ices and then gets delayed during takeoff, the plane will need to be de-iced again to ensure safe operations during flight. By using

Tomorrow.io

, airlines are able to know exactly when to de-ice to avoid having to do so a second time, saving thousands of dollars and reducing the amount of harmful chemicals being put into the air. Additionally, airlines can ensure they are deicing their planes at the right times in advance of high winds to avoid situations where they are unable to de-ice, causing delays which directly hit the bottom line and customer experience.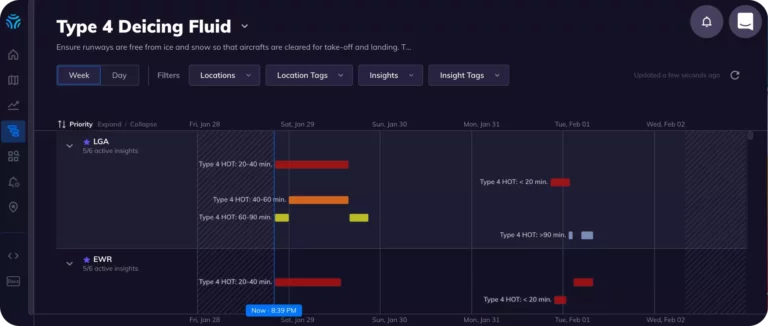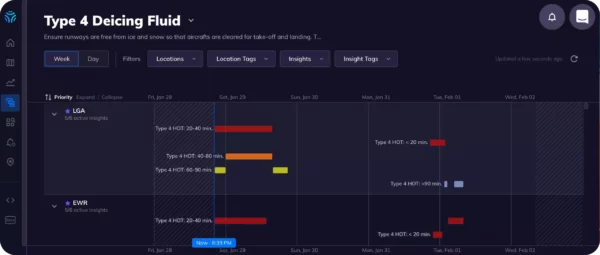 Mining operations:

I wrote about this earlier in the article, but to further drive home the point here, mines are being shut down if they are not operating in a sustainable way. Not only is the mine then incurring costly fines, but also putting neighboring communities at harm. By better understanding the impact weather will have on their operations in advance, mining teams can

ensure their operations stay on track

without significant risk. 
Final takeaways:
Every company on earth needs a weather and climate security platform.

The platform needs to be powered by cutting-edge weather intelligence. 

The result of implementing this system at scale will be more predictable operations that are able to adapt to any climate or weather event in advance, before it's too late.
The time is now.
Learn How Climate-Related Risk is Impacting Your Business