The mining industry faces increasingly complex challenges from the weather, climate change, and a drive to become more sustainable. But in a complicated industry like mining, restricting operations can cost millions of dollars and have serious indirect effects, like driving up the price of energy. 
This is what happened in China after unseasonably heavy rain meant the country had to shut mines in one of its top coal-producing regions. The land-locked province of Shanxi normally has dry weather, but after record-breaking rainfall, the provincial government ordered coal mines to take flood-proofing measures and make emergency plans to be "activated immediately in case of grave danger." As a result, the price of coal used in China's power plants surged to a new record high. 
Weather and changing climatic conditions will affect not just energy prices, but also mining operations, including the stability and effectiveness of infrastructure. As severe weather events continue to rise, organizations must consider impact on equipment, employee safety, the availability of transportation routes, along with the price of water and energy supplies. 
At the same time, mining companies are ramping up their sustainability initiatives and moving from local to global strategies. Implementing sustainability practices is challenging, but reducing the environmental impacts of mining is crucial both from a corporate social responsibility and governmental compliance perspective.
Below we'll look at the impact of weather and climate change on mining, including the sustainability opportunities, to understand how weather intelligence can help. 
Responding to the Challenges of Unpredictable Weather
Extreme weather systems, as well as everyday weather, can reduce operational effectiveness or stop mining operations entirely. Mines are usually located in remote areas and use multiple weather sources to make decisions. This makes it harder for organizations to interpret data and make informed decisions.
Mines often rely on public websites and weather stations to inform their forecasts. These only provide limited information and don't offer actionable takeaways for business operations. This includes contextualizing the effects of extreme weather and unexpected weather events, especially in places that don't often have a certain type of weather. 
For example, more than six Chilean mines had to halt or slow operations after a once-in-half-a-century winter storm hit a region that produces about a fifth of the world's mined copper. 
The risks of heavy precipitation include:
Land transportation route disruption
Degradation of roads
Disruption in delivery of input materials such as steel, timber, cement, hydrochloric acid, and cyanide, or consumables such as diesel, tires, and reagents
Tailings dam failure
Discharge of contaminated water into surrounding areas
Remediation costs
Increases in environmental liability
Impacts on community health and safety
If heavy rainfall leads to flooding, then this can lead to operational disruptions, which include mine closure, washed-out roads, and unsafe water levels in tailing dams. Experts observed 10 percent annual production losses from wet weather at an open-pit coal mine.
Extreme weather also affects different commodities in different ways. For example, iron ore and zinc are the most exposed to extremely high flood occurrence, at 50 percent and 40 percent of global volume, respectively. The location of mines also plays a part in the challenges companies face. These extreme weather events combined with sea-level rise can damage processing or transportation infrastructure located near coastlines.
Hotter and drier conditions may also increase the risk of wildfires that threaten facilities, prompting a rise in energy demand to cool underground mines. Rising temperatures could make it more difficult for mines to establish vegetative cover and will put stress on other environmental mitigation measures in some regions.
If there is increased erosion, this may affect slope stability near opencast mines, while rising sea levels can make coastal facilities harder to access overall.
Ensuring Employee Safety 
Extreme weather also has an adverse effect on employee safety. Rising temperatures can have the following effects:
Increase the incidence, prevalence, and geographic reach of heat-related illnesses and tropical diseases such as malaria, yellow fever, cholera, and schistosomiasis 

Inhibit operational decision-making

Increase the likelihood of injuries, accidents, and fatalities on mining sites

Decrease worker productivity

Reduce water available at mining sites for workers
Underground cooling systems may not be sufficient to handle the rising temperatures. Temperatures are also likely to rise in already hot places, like Australia and China, as well as parts of North and West Africa. This increase will also enhance the risk to employee health and safety. 
Flooding may make it difficult for employees to access transportation and use roads, making their journey to the mine more risky. If employees live in the area, more extreme weather events will also affect their families, property, and communities. Mines could see increased requests for practical and financial support for workers and their communities.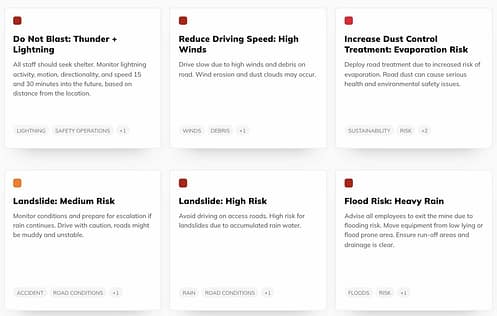 Disrupting Mining Operations
Climate change is increasing the risk of more frequent and intense natural disasters that may damage mine, transportation, and energy infrastructure. This, in turn, disrupts construction and operations. With the rise in unpredictable, extreme weather events, the supply of critical inputs to mining processes, such as water and energy, is likely to face greater constraints.
More frequent droughts and floods could limit the supply of water to mining sites. Mines located in areas that are already facing stresses on these natural resources will face even greater challenges:
In Chile,

80%

of copper production is already located in extremely high water-stressed and arid areas; by 2040, it will be 100%.

In Russia,

40%

of iron ore production is currently located in high water-stressed areas, which is likely to move to extreme water stress by 2040.

By 2040,

5%

of current gold production will likely shift from low–medium water stress to medium-high, 7% of zinc production could move from medium-high to high water stress, and 6% of copper production could shift from high to extremely high water stress 
Even locations that are not known to be vulnerable to water shortages are suffering. In Germany, a potash miner was forced to close two locations because of severe water shortages in the summer of 2018, losing nearly $2 million a day per site.
As water shortages and stresses differ according to the area, mining companies need to analyze projections on individual sites, rather than as a whole.
Rising temperatures can also cause fluctuations in energy demands and place a strain on transmission and distribution facilities. If mining companies are forced to ration energy, this could lead to a decrease in production and profits and an increase in commodity prices.
Warmer conditions and droughts will also reduce the amount of water that may be available for mining, processing, and refining activities. This will raise the cost of pre-use and post-use water treatment.
In terms of transportation, severe weather events could also affect routes, from road to rail to port operations.
Proactively Reacting to Climate Change
Climate change scientists predict that weather events will continue to intensify while becoming more frequent in the coming years, especially if we don't do more to reduce emissions. This will increase the risks for assets and employees. 
Damage caused by climate-related disasters could lead to higher insurance premiums or make insurers unwilling to provide insurance/reinsurance altogether. Also, future exploration may be restricted by expanded protections for biodiversity threatened by climate change and for forested areas that serve as carbon sinks.
The physical risks of climate change vary according to different locations and assets, and mines need to evaluate these risks accordingly. Mines must ensure they are operationally resilient when it comes to the effects of climate change. Steps to do this include introducing climate-proofing as a key part of their operational strategy.
Key questions mining organizations need to consider when planning and implementing practices include:
How can we make climate change integral to our business decisions?

How can we structure incentives and rewards to drive those decisions?
Forward-looking mining companies are already implementing more sustainable practices to adapt to climate change and reap the benefits. For example, Lithium Australia has developed a way to extract lithium using processes that are less energy-intensive and contaminating. Similarly, Northam Platinum has implemented a closed water circuit to ensure that 90 percent of the water used in its operations is recycled.
Mines should also be aware that preparing for and adapting to climate change presents business opportunities. Mining companies that address climate change through sustainable performance and emission reduction have valuations that are nearly 20% greater than their competitors.
Implementing Sustainable Mining Practices
Climate change is just one of the reasons that mines are looking for ways to become more sustainable. Reducing their direct and indirect carbon emissions footprint is also a critical goal. Mining is currently responsible for between four and seven percent of greenhouse gas emissions globally, and companies are facing pressure from governments, investors, and society to reduce these emissions. 
Some of the solutions that mining companies can consider include:
Change processes to improve energy efficiency

Switch to lower carbon electricity source

Electrify gas appliance

Electrify trucks

Use more fuel-efficient diesel engines

Switch fuel from diesel to hydrogen
Replacing fossil fuels with renewable energy sources, such as wind or solar farms would dramatically reduce carbon emissions, and with advances in technology, renewable energy is often cheaper.
For mines, moving to renewable sources of electricity is becoming an increasingly feasible possibility, but being able to harness these sources depends on being able to predict and act on the weather.
Wind, solar, and hydropower energy –– which are the main renewable energy sources used currently–– are susceptible to fluctuating weather patterns. They rely on climate-related factors such as sunlight, wind speed, and the availability of water. This has implications for the reliability and performance of the energy system.
Mining companies also carry out pollution-creating activities that affect their relationship with the communities nearby. Take blasting. If blasting is done under certain weather conditions, it can create a cloud of dust on top of the mine.
To minimize their impact, mines need the data and technology to be able to conduct a historical analysis that reveals when the best times for blasting are every season based on wind gusts. Once identified, historical data combined with real-time forecasts empower companies to plan blasting hours in advance and predict any weather anomalies.
Harnessing the Power of Weather Intelligence
If mines want to climate-proof their operations, they must leverage historic, current, and future scenarios to understand the implications of their operations. Having access to this data allows them to create more diverse response strategies and better understand the impact of climate change and the weather.
Mining companies need to be able to collect, analyze, and centralize data in a structured manner in order to holistically assess their operations and impact. Implementing better weather monitoring and adopting climate-conscious practices can improve operational efficiency, worker productivity, and most importantly, employee and community safety.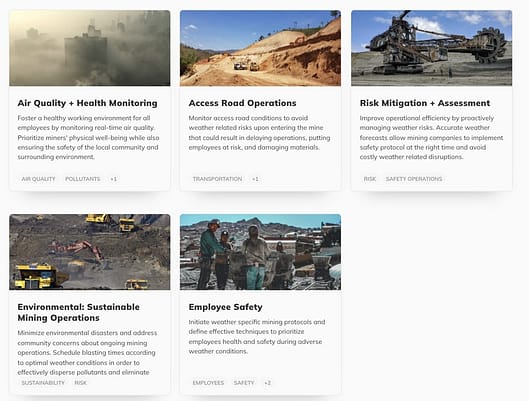 By using weather intelligence to put this data into operational context, mining companies can create strategies that take into account their geographical locations, mining techniques, and other commodities.
Weather intelligence allows these companies to proactively and effectively manage pending risk. With the right technology, they can create more effective plans that minimize and mitigate the disruption of adverse weather.
Leveraging on Tomorrow.io's Weather Intelligence
Tomorrow.io's weather intelligence platform provides reliable forecasts to help mining teams better plan in advance and run more efficient operations. Weather intelligence can help mining companies make the most of conditions to improve sustainability, keep workers safe, and protect assets, rather than being at the mercy of the weather. 
Using a combination of historical and real-time weather data, your team can generate actionable insights that enable you to better predict the weather's impact on your business.
Tomorrow.io's weather intelligence platform allows you to:
Foster a healthy working environment for all employees

by monitoring real-time air quality. Prioritize miners' physical well-being while also ensuring the safety of the local community and surrounding environment.

Monitor access to road conditions to avoid weather-related risks

upon entering the mine that could result in delaying operations, putting employees at risk, and damaging materials.

Improve operational efficiency by proactively managing weather risks.

Accurate weather forecasts allow mining companies to implement safety protocols at the right time and avoid costly weather-related disruptions.

Minimize environmental disasters and address community concerns about ongoing mining operations.

Schedule blasting times according to optimal weather conditions in order to effectively disperse pollutants and eliminate associated risks.

Initiate weather-specific mining protocols

and define effective techniques to prioritize employees' health and safety during adverse weather conditions.
With Tomorrow.io's weather and climate security platform, your mining organization can access the right information at the right time, generate invaluable insights, and make more informed operational decisions. See how Tomorrow.io can help your team today.
See How Tomorrow.io Can Help Your Mining Operations Today