To kick off ClimaCon 2021 this year, the team at Tomorrow.io came out with a loud and clear message:
Executives are now being held accountable for their climate resiliency strategy, or lack thereof 
For the C-Suite, weather intelligence is the new cybersecurity, but 10x bigger
The way to solidify your climate resiliency strategy is with Tomorrow.io, the world's only Weather Intelligence Platform™
Tomorrow.io's opening keynote video was an animated montage, showing a number of all too real examples from the past 12 months of the growing impact of weather, including its meteoric rise to being ranked as the #1 biggest threat by the World Economic Forum.
ClimaCon 2021 Kickoff Video:
We started with a simple question: Do you know how weather will impact your business tomorrow?
It's a simple, yet complex question and most executives would have to answer "no" in response. Given what we've already seen this year with the Texas ERCOT disaster and the Suez Canal, both costing more than $10B in damages, not knowing how the weather will impact your business tomorrow is equivalent to playing roulette with your company's future.
Weather is having an increasing impact on counties, cities, businesses, and individuals. We've seen it in the aforementioned events from earlier this year; we've seen it with a record number of hurricanes in North America last year; with air quality, wildfires, and floods inflicting damage and hazardous living/working environments for millions around the world. 
With all of these weather events increasing in severity as a result of an ever-changing climate, when will we see a big shift in the way businesses operate? The time is now, as evident from the ERCOT disaster and Suez Canal resulting in executives losing their jobs. Executives are now being held accountable for their climate resiliency strategy, or lack thereof. 
Outside of the "catastrophic" weather events that seem to be happening more and more, there are also general efficiency and safety issues to consider. Your operations, safety, and growth trajectories are at risk from the weather every day. Any operational delays you have from unexpected weather will slow down your ability to stay on schedule, can result in added budget needed to complete orders, and risks accidents on the job. Any and all of those things impact your ability to deliver on the operational expectations of your shareholders.
The State of Weather Today
To help put the state of weather in perspective, the opening ClimaCon keynote video enlisted the help of the World Economic Forum (WEF). The WEF recently compiled a list of the 10 biggest global risks facing the planet, and their likelihood to happen. Extreme weather and climate action failure ranked #1 and #2 in the top 10 global risk likelihood, while cybersecurity ranked just 9th out of 10. As we like to say here at Tomorrow.io, weather intelligence is the new cybersecurity, but 10x bigger – as validated by the WEF.
Our mission here at Tomorrow.io is to help countries, businesses, and individuals better manage their ever-growing environmental-related challenges.
There is no question that things will get worse for businesses before they get better – but that doesn't have to be true for ALL businesses. The leaders implementing weather intelligence TODAY are benefiting from a once-in-a-lifetime competitive advantage, and real-world examples of brands doing just that include Delta, Fox Sports, National Grid, Zomato, Kajima, Porsche, EDP, Indigrid, Uber, Ford, the NFL, and more.
ClimaCon brings together the best and brightest leaders on the front lines of innovation using cutting-edge technology. We are fortunate to have executives from NASA, the Bill and Melinda Gates Foundation, Raytheon, NOAA, and more, along with a flurry of forward-thinking, progressive, and sustainability-focused brands talk about why and how weather intelligence is the answer to our planet's #1 biggest risk.
So what are you waiting for? Join the weather intelligence revolution now.
Opening Message from Tomorrow.io
The ClimaCon keynote officially kicked off with Tomorow.io's CMO, Dan Slagen, and CRO Alan Hawley introducing the conference by recapping all of the changes that have happened since ClimaCon 2020, and there are 3 big ones:
We changed the name of our company from Tomorrow.io to Tomorrow.io, a name that perfectly suits our mission as a leader in weather intelligence. 
Tomorrow.io is going to space! We are building the first-of-its-kind proprietary satellites equipped with radar and launching a constellation into space to meaningfully improve global forecasting for every country, city, business, and individual on Earth.
Finally, we raised our Series D funding, bringing our total funding to more than $180M. The funding will allow us to move even faster as we continue to completely disrupt the industry building the world's largest weather enterprise for a changing climate.
Why are these 3 things so important in elevating the industry to its next level of capabilities across weather, air quality, and climate? We now know that CEOs and executives are now being held accountable for their climate resiliency strategy, or lack thereof. The next economic frontier is climate as more disasters are being reported than ever, and more than $4tn in assets are already at risk.
This brings us to the 3 strategic narratives that served as the core focus to not only the keynote, but of the entire conference in general.
1. Invest in a climate resiliency strategy now: 
The first is, why should CEOs and executives prioritize investing in a climate resiliency strategy now?
Cost:

There has never been a more efficient time to invest in a climate resiliency strategy than today. Your company is only going to grow and become more complex over time, which means higher onboarding and adoption costs by a significant degree of time and budget across your organization.

Risk:

Weather is only becoming more impactful more frequently. You can continue to operate your business without a climate resilience strategy as you do today, however, the costs will add up quickly when you understand the details. It's not just the major weather events you hear about a few times a year we're talking about anymore – odds are you're losing tens of thousands per week and millions per year due to a lack of weather intelligence. Additionally, you're exposing every aspect of your business each day to a catastrophic weather event that could cost you tens or hundreds of millions (in some cases billions), your job, or possibly the growth trajectory of your business.

Opportunity:

The CEOs and executives already implementing a climate resiliency strategy today are the industry leaders of tomorrow. Their businesses are de-risked, they're operationally optimized for the predictive impact of daily weather conditions, and they're both reducing annual costs and increasing profit margins by the tens of millions. The opportunity is enormous, much bigger than just your operations, it's every part of your business on a daily basis. 
2. Weather data vs. weather intelligence
Data doesn't solve your operational problems. In fact, too much data can create confusion. The ability to automate complex decisions is what actually gives businesses the intelligence they've needed for so long.
An example of this is from within the aviation industry, which is an industry that demands making extremely complex decisions every single day in real-time. Take de-icing for example. Questions around which de-icing fluid to use, on which plane, at what time can be a complex challenge with very real monetary, safety, and sustainability implications at risk. The formula to solve for de-icing includes a number of parameters, including wind speed, wind direction, temperature, dew point, time of day, solar radiation.
With weather intelligence from Tomorrow.io, our customers can easily ingest all of that business logic, feed it with hyperlocal data, and then have the output be an intelligent decision on which deicing fluid to use, on which plane, at the right time, and know this all 3 days in advance is what sets them apart. The cost savings on de-icing fluid alone for a company like JetBlue saves them $50,000 per airport per month. 
3. Focus on technology and innovation
Tomorrow.io is 100% focused on being the most forward-thinking and innovative company in the history of the weather industry. Take our space announcement as an example. We're not going to space because it sounds flashy and makes for great PR; we're going to space because we have found a way to solve a massive problem that challenges our planet every day.
Today, 75% of people around the world live outside of weather radar coverage. By going to space, we can not only address those needs, but also increase global revisit time by 50x. Yes, we have award-winning customer success here at Tomorrow.io and we partner with our customers every step of the way, but our true value is in our ability to unlock predictive autonomous, and automated decisioning for our customers through big weather data, proprietary models and observations, and the world's only Weather Intelligence Platform™ via SaaS and API. All of our technology is built in-house by our world-renowned data scientist team, and our mantra is to push the limits of the weather, air quality, and climate industry each and every day!
Keynote guest #1: Ginger Zee, Chief Meteorologist at ABC News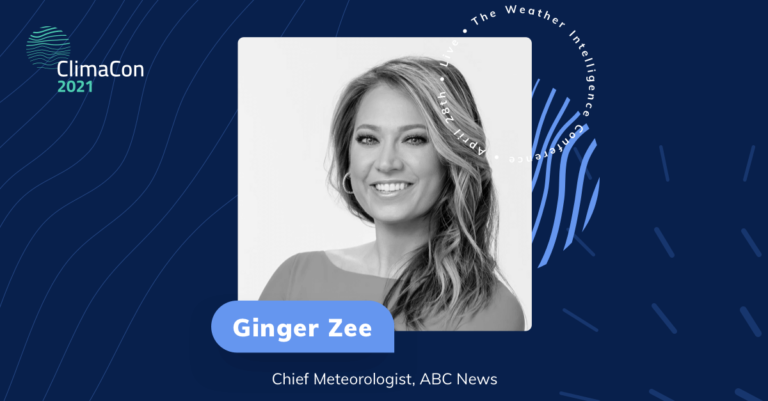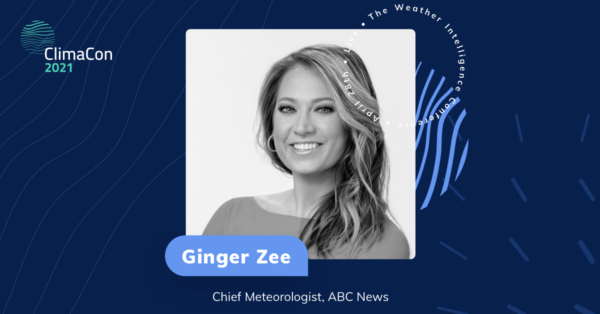 Our first guest to join the keynote this year was Ginger Zee, Chief Meteorologist from ABC News. Ginger is a talented meteorologist and journalist, and represents the exact type of leader we celebrate with our Women of Weather interview series on TomorrowNow.org.
Ginger first became interested in weather after watching the movie Twister! Yes, it's true. From there, she went to Valparaiso University where she would get college credit for storm chasing (students take note). Her first truly eye-opening weather experience was Hurricane Katrina, where she mentioned her "why" for becoming a meteorologist really evolved. 
"Weather and climate are about people, not just the science, the application to people." 
Ginger went on to highlight being in the eye of Hurricane Michael, a Category 5 hurricane where she was reporting and seeing homes twist off their foundation and damage everywhere. After the storm, she went around to meet people and this is where the story continued to get more and more important. 
Ginger started asking people why they stayed rather than evacuate, and the answers weren't your typical "I didn't think it would be that bad" but instead were much more eye-opening:
"I didn't have a car."

"I don't speak English."

"I don't have family to help get out."

"I have pancreatic cancer and couldn't be moved."
Ginger highlighted the fact that as a society, we knew that Hurricane Michael was going to be bad – that's why she and her team went there to report on the situation. But the question Ginger asked, which is the most important part of the session – perhaps of the entire ClimaC0n conference – was one that begs for change, demands change, and the driving force behind weather intelligence. Ginger asked… 
"Why is there not a rescue before the rescue?"
To hear all of Ginger's session, access the keynote here.
Keynote guest #2: Stephanie Durante, VP of Game Operations at the NFL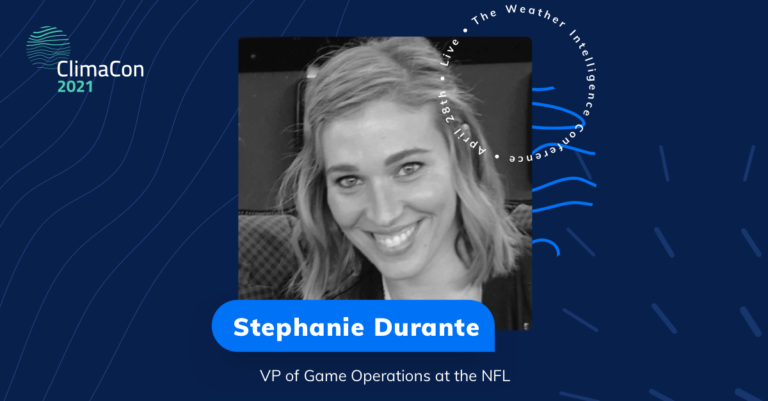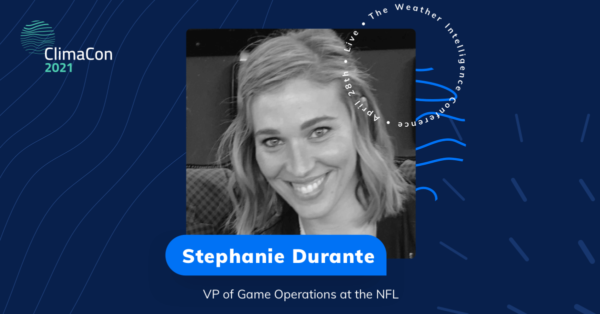 Our second guest of the day was Stephanie Durante, VP of Game Operations at the NFL. Stephanie and her team are fantastic partners and we are thrilled to be able to work alongside them each season.
Weather and air quality impact the NFL every day and week, and Stephanie works across the entire organization including stadium operations, security, broadcast partners, athletic trainers, equipment managers, team travel directors, and much more.
During games specifically, Stephanie talked about how she uses weather intelligence and the entire team at Tomorrow.io to communicate with referees on the field, camera crews, and stadium operations (both safety and parking lot). Regardless of if the weather is lightning or any other parameter, Stephanie uses Tomorrow.io as the single source of truth to make decisions in advance of impact with the stadium operations and broadcast teams.
Stephanie also highlighted the fact that the NFL is experiencing more weather events than in the past and is more focused on the weather than ever before, including: lightning, hurricanes, tropical storms, wildfires, AQI, snowstorms, ice storms…etc. The NFL is always looking for new ways to innovate and improve, which is why we are excited to see weather and air quality are top of mind both today and moving forward.
"We talk so much more about air quality index and wildfires over the past couple of years where it wasn't really a conversation 3 or 4 years ago."
To hear all of Stephanie's session, get access the keynote here. 
Keynote guest #3: Sai Yagnyamurthy, Head of Partnerships at Ford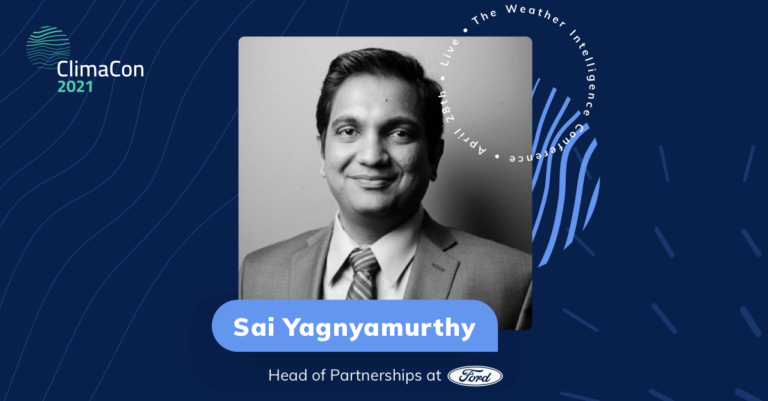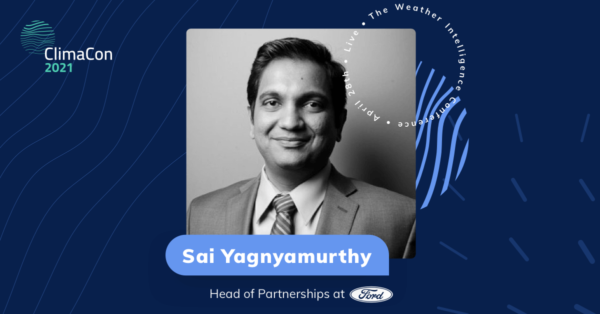 Our third and final keynote guest was Sai Yagnyanurthy, Head of Partnerships at Ford. Sai has a technology background and focus in his role at the Ford Motor Company, and has been working with Tomorrow.io during the past few years to innovate and drive a more intelligent and sustainable future.
Right from the start, Sai began by talking about how excited he was that Ford is driving towards an electrified future, highlighting the recent launch of the new Ford Mustang Mach-E. In addition, Sai went into detail on how weather impacts transportation in general, and the importance of understanding micro weather patterns for routing, battery range, supply chain operations, and moving goods on a global scale.
Air quality is also top of mind for Ford, and Sai talked about routing updates, alerts, and even driving restrictions connected to AQI ratings so that customers can be assured they have healthy air quality in the cabin, especially those with health issues such as asthma or respiratory conditions:
"We want to make sure people are getting the best air quality as possible, it is top of mind."
As for using weather intelligence, Sai's focus was on impact as opposed to just data:
"We want intelligence that can incorporate actions that can be taken vs. displaying a weather pattern or data that is coming through an API."
Sai's closing comments highlighted two things. First, the fact that Ford actually empowered their local dealerships in Texas to use electric vehicles to help power homes during the ERCOT disaster, which is representative of Ford's passion and willingness to help. Secondarily, Sai talked about why it is so important for Ford to be partnering and working with the most cutting-edge technology companies in the world, specific to Ford's partnership with Tomorrow.io…
"You are pushing the boundaries in every way possible, I have never heard of another company doing what you are doing, and you are improving the overall innovation quotient at Ford."
To hear all of Sai's session, access the keynote here.
That does it for this year's keynote! If you would like to learn more about weather intelligence and how you can solidify your climate resiliency strategy starting today, we can help. Our team includes industry experts here to work with you based on your unique challenges and goals. 
We thank you again for joining us at ClimaCon 2021, and you can access all of the videos from the conference here on our ClimaCon page. 
See you soon!