Update 7/20: 
The heat wave is starting to ease in parts of the Southwestern US early this week as clouds and precipitation develop Monday in Arizona. The increase in moisture is part of the annual reversal of winds, which usually begin in July, associated with the North American Monsoon. Moisture flowing northward through Arizona into southern Nevada and southern Utah helps produce clouds and thunderstorms that keep high temperatures from being as hot.
Instead of readings above 110, many of these areas will stay "cooler" in the upper 90s to low 100s. Not all parts of the Southwest will escape the heat, however, with sunny skies still keeping highs 105-115 from Yuma, Arizona, through the California desert and Death Valley.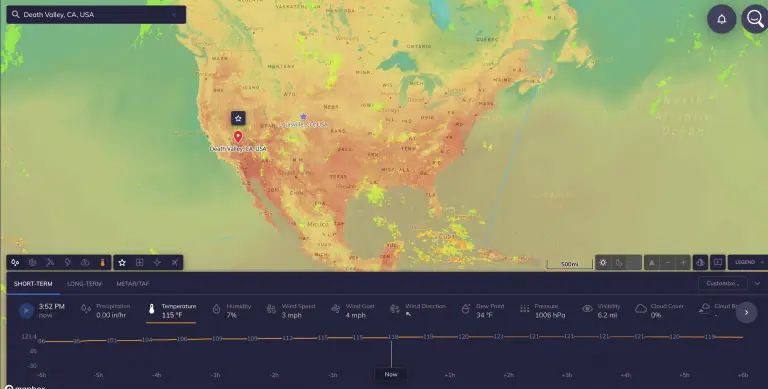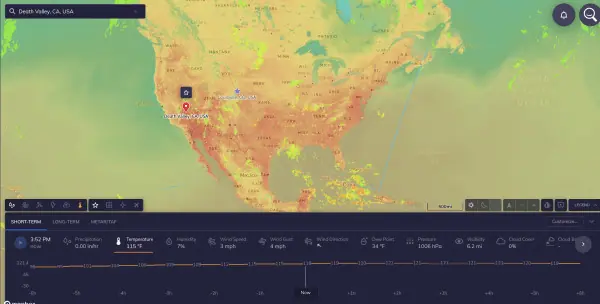 Meanwhile, hot temperatures have spread farther east across the southern tier of the US into the Southeast and Mid-Atlantic. Highs near 100 are expected in parts of Virginia, Maryland, and the DC area Monday through Wednesday, with only slight relief into the upper 90s for late week. Higher than normal humidity values with dewpoints in the 75-80 degree range are creating heat indicies 105-115 or higher in areas already facing the hottest temperatures.
______________________________________________________________________________
An intense heat wave hit the South and Southwest this week, with heat warnings and advisories in effect for 11 states from Southern California to Florida.
Arizona and Texas were hardest hit by far, with record-breaking temperatures recorded in multiple locations.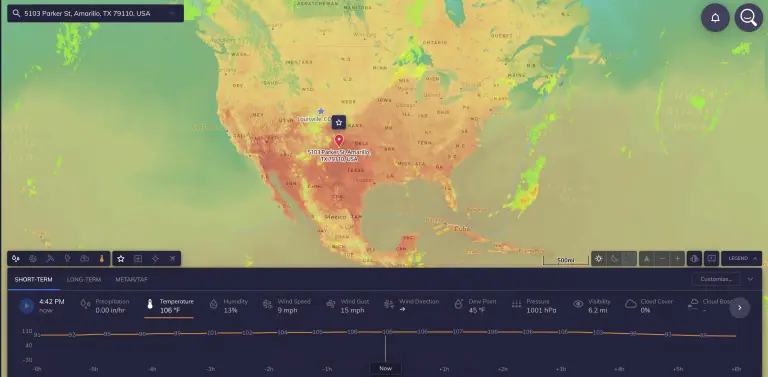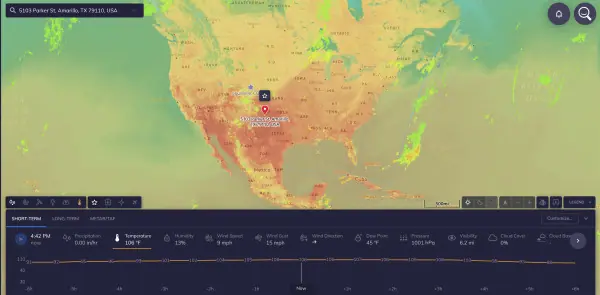 For example, Tuesday marked the 7th day in a row Amarillo, TX reached 100 degrees. Many parts of the TX panhandle have been 105-115 degrees F this week. A few highs of 116 were recorded from the West Texas Mesonet stations, the highest temperatures that Mesonet network has recorded in 20 years of existence. And the high temperature of 110 degrees in Amarillo on Monday was a new record high for the entire month of July.
The intense and record-breaking heat is expected to continue for at least another two weeks, with above-average temperatures dominating much of the country into August. Here's the Tomorrow.io forecast, with a focus on how this week's weather will impact your business.
The Heat Impact
While high temperatures can be uncomfortable, that's not the only impact. The high heat has wide-ranging effects for many people across the US.
Wildfire risk: The heat is greatly increasing the risk of wildfires throughout Southern California. The high temperatures can further dry vegetation and could lead to potential wildfires very easily.
Health risk: Heat is also the leading weather-related killer in the United States, and heat stroke and other risks are more likely when people cannot cool off at night. Because temperatures in the Southwest haven't dropped below 80 — even at night — in some locations, it can post a serious risk to people who lack air conditioning or who work outside. And with many places like public pools, theaters, and other indoor locations closed because of COVID-19, it's harder than ever for people to stay out of the heat.
The Business Impact
For business leaders, this heatwave can cause a number of issues that can impact operations, put employees at risk, or cause damage to valuable equipment.
Railway and Transport
Since intense heat can warp the metal train tracks, many rail companies always have to keep an eye on the weather. When temperatures climb above 95 degrees, many railway companies stop operations or delay trains until cooler parts of the day. This heatwave is clearly above and beyond the temperature allowed for operation.
Health and Healthcare
Because of the risks to health from the high heat, hospitals and healthcare facilities should be prepared for an uptick in heat-related illnesses like heat stroke. The humidity may also have an impact on COVID-19 patients' ability to breathe. Keep an eye on not only temperatures, but also air quality overall.
SmartHomes and Buildings
For companies in the smarthomes and buildings space, this heat wave may test your building operating systems. Air conditioning usage will likely skyrocket, as will other energy usage. It's important to keep an eye on the weather and how it impacts your buildings directly.
Need to stay on top of the weather for your business?