Air travel has become so routine in our modern world that it can be easy to forget you're hurtling 500 miles an hour in a metal tube 42,000 feet above the surface of the earth.
Millions of people do this every single day, but we've managed to make one of humanity's greatest technological achievements into something that is often unpleasant. Passengers rush to the airport in the early hours of the morning, wait in long lines to check bags, and take shoes and belts and jewelry off for a pat-down…only to sit around concourses with pre-packaged food for hours after weather-related flight delays.
Perhaps that's why so many airlines get a bad reputation for customer service — even though you're often dealing with circumstances out of everyone's control, like the weather, airport traffic, or mechanical issues.
When it comes to customer satisfaction and NPS scores, airlines are often playing catch up. But it doesn't have to be that way when it comes to the weather. Here's how weather intelligence can actually help airlines improve customer happiness and drive more repeat business.
Measuring Airline Customer Satisfaction with NPS
A common way companies measure customer satisfaction is through a metric called NPS, or net promoter score. An NPS score indicates how loyal a customer is to a given airline — measured through a single-question survey asking, "How likely are you to recommend [AIRLINE] to a friend or colleague? 
Respondents give a rating of 0 (not at all likely) to 10 (extremely likely) and the final percentage is calculated by subtracting detractors (the percentage of people who rated from 0-6) from promoters (the percentage of people who rated 9-10). This gives an NPS score from anywhere from -100 to 100.
The average airline scores a 39, which is on par with most of the travel industry (hotels often score 36, and travel websites have a measly 18) but much lower than many retail or technology brands (Starbucks, for example, scored 77, while suburban favorite Costco scored 79.)
Airlines have a long way to go to improve their customer satisfaction scores — despite investing more than $1.3 billion per month in engaging customers. While airlines have wowed passengers with the highest satisfaction scores in recent years, it's still not enough to build a customer base that will choose your commercial airline no matter the price or timing. 
Building a Better Airline Customer Experience
While there's plenty that airlines can control, like in-flight entertainment deals, meal offerings, and fees and policies, there's one aspect that dramatically impacts the customer experience that you can't control: the weather.
Snow, ice, turbulence, thunderstorms, high winds, and more can delay takeoffs and wreak havoc with scheduling. Not only do weather-related delays play a huge role in customer satisfaction, a flight delay of just one hour can cost airlines up to $4,500. 
Take JetBlue, for example. Like most major airlines, one of the biggest challenges JetBlue faces is how to operate safely and efficiently, especially in difficult weather conditions. The team uses Tomorrow.io to track specific weather insights that impact business operations and safety. In addition, automated alerts and team protocols go live before such weather approaches.
How JetBlue Uses Weather Intelligence
The crew at Boston Logan International Airport is no stranger to snowy winter weather. When snowstorms are in the forecast, no airline wants to mess around with dangerous conditions, which is why one February morning, every airline canceled regularly scheduled takeoffs until 11 AM — except for JetBlue.
That's because Tomorrow.io pinpointed the exact timing of the snowfall ending at 8 AM instead, giving them time to jump into action, running operations seamlessly and keeping their customers happy.
"I've personally witnessed Tomorrow.io pick up ground-level weather systems that no one else could observe. Since I've put the Tomorrow.io tool in the hands of our managers, I get non-stop requests from leaders who want access, from ops managers, de-icing leaders, to ground operations duty managers. This tool was designed with an understanding of the decision-making pressure airport leaders face every day. JetBlue is looking forward to expanding our use of Tomorrow.io's solution." Ian Deason, Senior Vice President of Customer Experience, JetBlue
JetBlue estimates Tomorrow.io is saving the operations team as much as $50,000 per month per hub, especially during months with volatile weather. More importantly, though, JetBlue is able to proactively communicate with customers, rebook flights with plenty of lead time and notice, and ensure that weather-related delays are handled so customers feel confident that JetBlue will take care of their needs — and get them where they need to go.
It's no surprise, then, that JetBlue's NPS score in 2021 is a whopping 68, nearly double the average score of other airlines.
Improve Your NPS with Tomorrow.io
Take control of the number one detractor to customer satisfaction for the airline industry: the weather. Reduce delays with 24/7 hyperlocal minute-by-minute operational impact insights based on historical, real-time, and forecasted weather. With Tomorrow.io, see exactly when, where, and how the weather is going to impact your airline in one simple dashboard, from deicing scheduling to lightning delays to snow accumulation.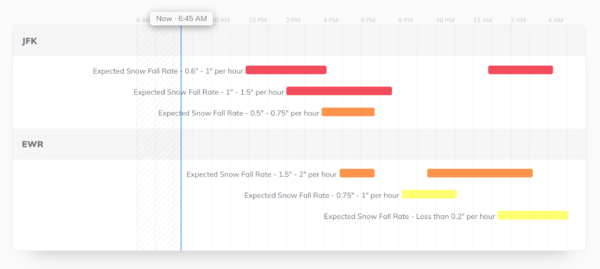 You can also get email or text alerts sent out to your entire team when weather parameters exceed safety requirements, making it fast and simple to get your whole operational team on the same page and working quickly to adapt to the weather. Even more importantly, you can proactively and quickly communicate any delays with customers, to minimize complaints and stay ahead. With weather intelligence, you can quickly improve your NPS score and see happier and more satisfied customers.