Update 6/8:
Tropical Depression Cristobal is located approximately 50 miles south-southeast of Monroe, LA and is moving north-northwestward at 10 mph. Maximum sustained winds have fallen below Tropical Storm criteria (>39 mph), with winds reduced to 35 mph. Heaviest rain today spreads over Arkansas and northern Mississippi, but bands of showers and thunderstorms occur at times farther southward to the Gulf Coast of Louisiana, Mississippi, and Alabama. Cristobal will
continue north-northwestward today into tonight, tracking over the Arkansas Ozarks; then turn north-northeastward later tonight into tomorrow, tracking across eastern Missouri and into western Illinois.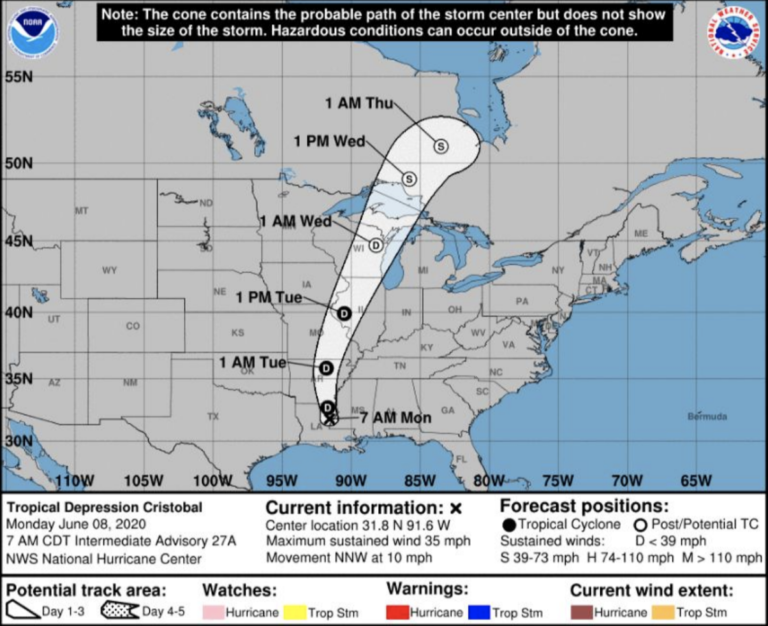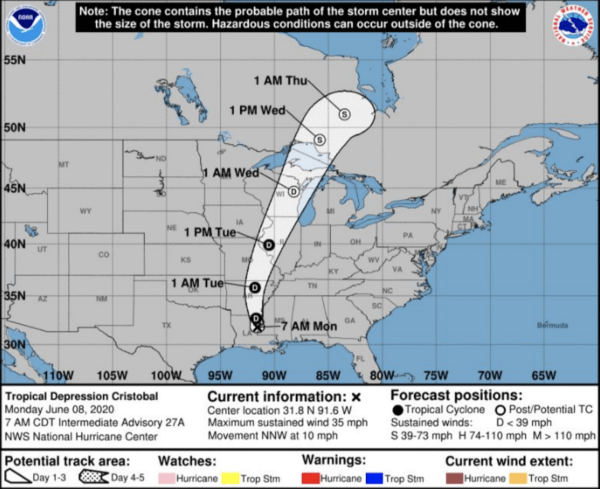 Cristobal then loses all tropical characteristics, and transforms into a post-tropical storm system as it approaches the Upper Midwest/Western Great Lakes region Tuesday into Wednesday. However, it will also merge with an approaching weather system and associated cold front, allowing for the remnants of Cristobal to restrengthen. A broad swath of 2-4" of rainfall will continue along the path of Cristobal/remnants of Cristobal as it continues into the Upper Midwest/Great Lakes on Wednesday. Localized higher rainfall amounts remain possible, especially over the Ozarks of Missouri and Arkansas. Wind gusts up to 40 mph likely
continue along the path of Cristobal today into tomorrow; then potentially 50+ mph across the Upper Midwest/Great Lakes after the remnants of Cristobal strengthens as a non-tropical weather system tomorrow into Wednesday.
Business impact: Businesses should prepare for potential flooding from the heavy rains, which could slow down shipping and transit times.
Update 6/3: 
The Gulf Coast from the Florida panhandle westward to the Texas/Louisiana border will be susceptible to 3-6″ rainfall from Saturday through Monday, as Tropical Storm Cristobal approaches from the south. Higher amounts of 6-10+" of rainfall possible across some portions of Mississippi and Louisiana (including New Orleans).
Landfall is currently projected Sunday evening along the Louisiana coast, with localized winds in excess of 60 mph possible near the center of circulation. Improving conditions expected by late Monday along the Gulf Coast, as Tropical Storm Cristobal tracks farther inland.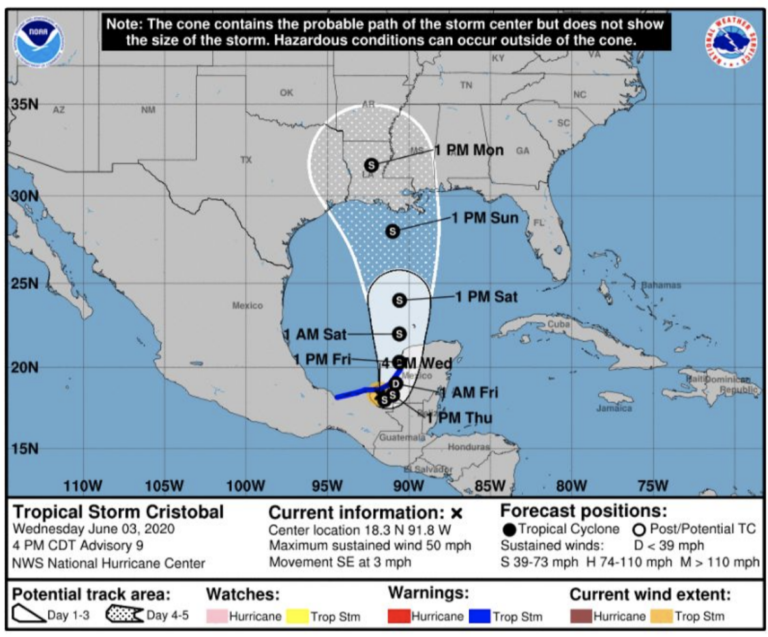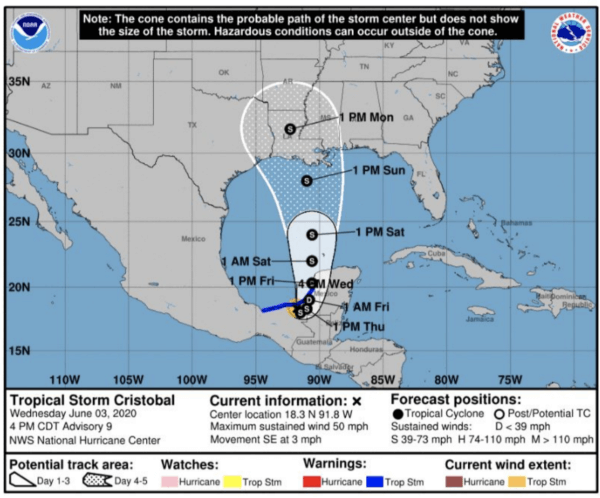 Impacts from heavy rainfall then focus northward on Monday and Tuesday, throughout the Ozarks of Arkansas into southern Missouri. Total rainfall amounts of 6+" will be possible here as well, which in combination with more complex topography, will be conducive to flash flooding throughout the Ozarks. Improving conditions expected for these areas on Wednesday, as the remnants of Cristobal then accelerate northeastward towards the Great Lakes.
Business impact: Businesses should prepare for potential flooding from the heavy rains, which could slow down shipping and transit times.
Tropical Storm Cristobal Forecast
Hurricane season has just begun, and there's already a storm developing.
The remnants of East Pacific Tropical Storm Amanda emerged over the Bay of Campeche off the Yucatan Peninsula of Mexico yesterday. As it moved, the storm re-intensified into Atlantic Tropical Depression Three.
Maximum sustained winds are 30 mph, and it is currently tracking west-northwestward at 7 mph. Some strengthening will occur over the next 24 hours, and it is forecast to develop into Tropical Storm Cristobal by this afternoon. The storm could make another brief landfall along the Mexican coast, before beginning to turn north towards the US Gulf Coast by the weekend as a tropical storm with winds near 50 mph.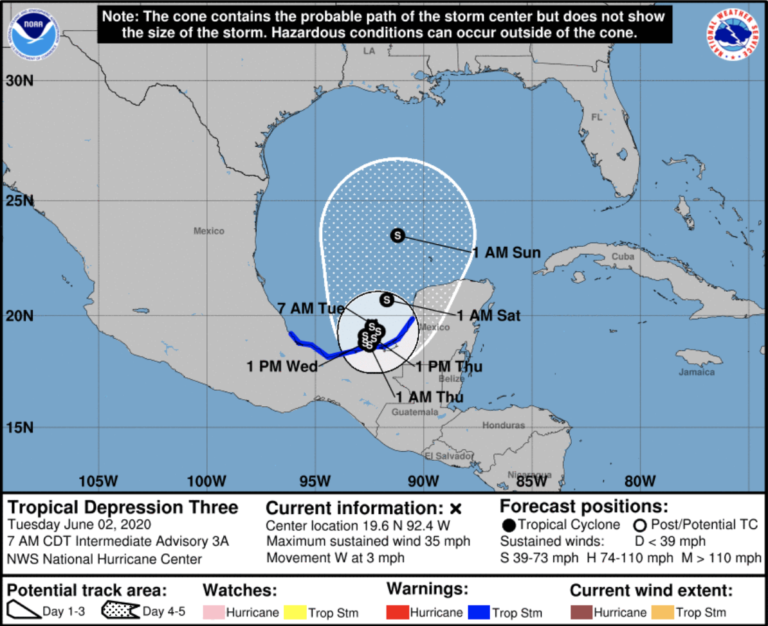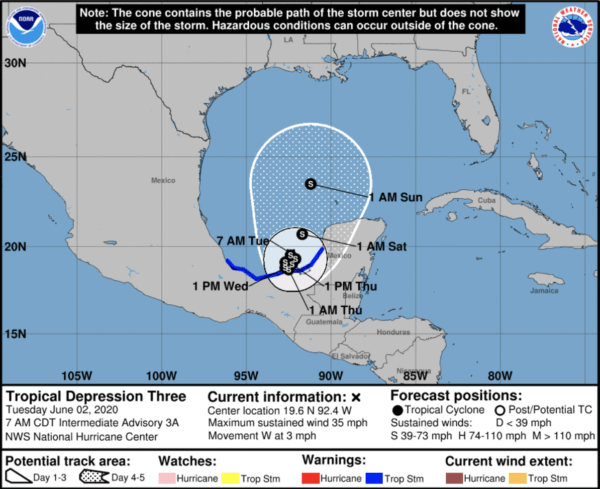 Business impact: The path of the storm can still shift dramatically, but businesses along the Gulf Coast should begin to prepare for the potential impact of a tropical storm.
Most at-risk industry: Oil and gas companies in the Gulf should begin protocols for potential high winds, rain, and storm surge to protect valuable assets.