How often do you check the weather forecast to see how it will impact your operations?
General weather forecasts can give you an overall picture of the weather, but not necessarily what's happening at your specific facility. When it comes to maritime operations, the weather dramatically impacts safety, security, and efficiency. 
There's a better way to make sure you and your team are prepared for anything that comes your way: weather intelligence.
"At ITS ConGlobal, Tomorrow.io was a daily — and sometimes hourly — tool that gets as granular as you need it to so teams can prepare and take action during any type of weather, from heat to air quality to severe storms. Knowing what your operation is going to be, being able to instruct your personnel in terms of what safety precautions to take, makes the work that much safer." – Bill Hamlin, former COO of ITS ConGlobal
How Weather Impacts Maritime Operations
There's already an enormous amount of logistics that go into moving ships from Point A to Point B safely. But that's only part of the story for any supply chain — whether a ship carries foodstuffs, medicine, consumer goods, or passengers, port authorities have to plan around weather to keep employees, equipment, and cargo safe.
"We had some very interesting weather events in my time at Norwegian Cruise Lines. We used various weather prediction systems and routing systems to keep both the ships and cargo safe and secure, and our passengers. Weather can change very quickly, so it's important to know what's coming," said Bill Hamlin.
Watch out for:
High winds, which can destabilize container loading and unloading and make it unsafe for cranes to operate
Extreme temperatures, which create condensation that adds moisture to the inside of containers, or puts sensitive cargo at risk of spoilage
Choppy waters, which make it difficult to load and unload or bring ships into port
Fog, rain, sleet, or snow create visibility issues, which can make it unsafe for your crew to operate heavy machinery or vehicles
Lightning, which poses hazards to crew members and shuts down crane operations
Storms, which create unsafe conditions and can create flooding, ice, or other obstacles that close the port entirely
Not only do weather events impact day-to-day operations — adjusting employee shift times, closing ports, or delaying shipments — it also impacts the bottom line. 2020 marked the 10th consecutive year with eight or more billion-dollar weather events at $95 billion in damages and closures. The 2020 Atlantic Hurricane season alone recorded 31 tropical depressions, 30 storms, and 6 major hurricanes, making it the most active in recent memory. 
Weather Intelligence Modernizes Maritime Operations
While major storms do happen, it's really the everyday weather that creates headache after headache for your operation. Weather intelligence helps you move from checking the weather forecast each morning and hoping for the best to proactively understanding weather patterns with predictive analytics.
"As an operator, if something impacts safety, efficiency, or cargo velocity, I want to know about it. Tomorrow.io is something that can protect people, facilities, equipment, cargo, and in my 35-year career, that's what matters most," explained Bill Hamlin.
Weather intelligence delivers accurate, actionable forecasts in an easy-to-use dashboard that lets you know exactly what's coming and when, so you can plan around the weather.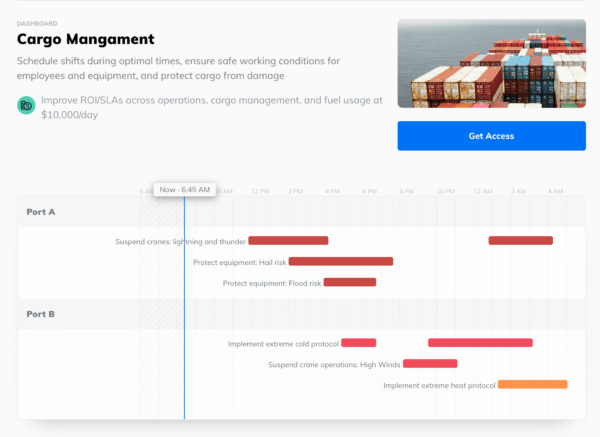 Weather intelligence fills in the details so you can call a customer and say, "Come tomorrow at 10:00 AM instead of 8:00 AM, once the wind calms down." Being able to communicate more effectively with your customers sets expectations around weather-related delays and makes operations more seamless for everyone. It turns what could be a negative touchpoint — say, arriving at the port only to have to wait around for hours until it's safe for the crane to load the container onto the truck — into a positive one, saving time and building a stronger customer relationship.
Regain Control of Port Operations
"Look, you can't control Mother Nature. But if you have a good idea of what's coming at you, you can communicate with your customers so you don't waste time and money and so you can keep equipment and people safe," said Bill Hamlin, ITS ConGlobal.
The more information you have to prepare, the easier it will be to keep maritime operations running smoothly. Tomorrow.io contextualizes weather data and forecasts that context, making it possible for you to understand weather patterns and predict not only the weather, but also the impact to your business every single day. Granular insights provide you with an action plan to maximize output and make quick decisions to proactively optimize your maritime operations.