SB Energy Corp., a Japanese wholly-owned subsidiary of SoftBank Group, grew out of the Fukushima disaster nearly 10 years ago.
After the nuclear meltdown caused by the Tōhoku earthquake and tsunami, Japanese leaders decided the country could no longer rely on such an unsafe source of energy. Japan pledged to become carbon neutral by 2050, moving away from nuclear power and towards renewable energy resources like wind and solar.
However, solar generation is always dependent on the weather. As companies like SB Energy expand and open new power plants, it's vital to have an accurate power generation forecast model, combining both forecast and historical weather data.
To achieve reliable power generation, SB Energy turned to Tomorrow.io to provide the in-depth weather data needed to run operations. Learn how weather intelligence is powering Japan's one of the largest solar provider.
A Distributed Solar Grid
The solar Japanese market has more than 60 GW, however, about 90% of solar sites are less than 2MW. In other words, there are tens of thousands of small and residential solar owners that produce solar energy on their own that goes back into the energy grid. 
Because of this vast distribution, there is a gap in predicting the load of solar energy to the grid. This causes Japanese utilities to waste a lot of energy and money to keep the grid on the safe side of supply and demand. One of the goals of SB Energy is to help Japanese utilities, power producers, and suppliers to better understand how much renewable energy will be produced from the small and residential solar to the grid and then better optimize other sources of energy.
The Importance of Historical Forecasts
Because solar power generation can be unreliable, the storage of energy is also key to successfully scaling up solar power across the globe. The challenge is to correctly balance the supply of solar with the demand for energy from consumers. This requires a deep understanding of historical weather data across a vast area of Japan.
Today, SB Energy uses historical forecasts (CBAM Hindcast) to train their AI model to predict future solar power generation. Furthermore, SB Energy then uses Tomorrow.io CBAM operational forecast, with the same model specifications as the historical forecast. 
By understanding the historical forecast and then using the same forecast model, they can more accurately predict the amount of energy likely to be generated not only by their own solar plants, but also by smaller solar providers across the region. With that data, SB Energy can better optimize the aggregated load to enable optimization of the grid network (an apples-to-apples approach).
The Power of Weather Intelligence
SB Energy is benefitting from a unique historical analysis of gridded weather data. Using hyper-local models for every single point on earth, the team is able to not only train their AI models on reliable weather data, but they can also run models with the same data. This ensures the team has clean data for every project.
For example, if you need data on winds at your wind turbine hub height which might be 120  meters above ground level, or Global Tilted Irradiance (GTI) for your solar plant you can get access to that granular data across the globe.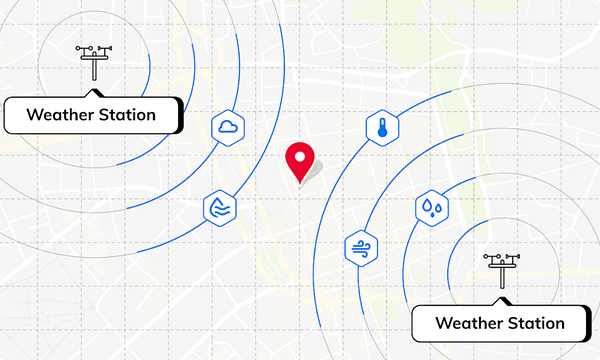 By combining deep historical data, powerful forecasting expertise, and a dashboard for easy operational decision-making, weather intelligence truly takes the guesswork out of solar forecasting and load balancing. 
See How Tomorrow.io Can Help Your Energy Operations