When it comes to driving, weather can make any route a bit hazardous. 
Whether it's rain, wind, freezing temperatures, or flooding, road conditions can quickly go from safe to risky to downright dangerous.
That's exactly why we've created a road risk scoring system to help drivers navigate through and around treacherous roads. 
This type of data is far more useful than the forecast alone. Rather than telling you there will be an icy rainstorm tomorrow in your area, the Road Risk Score alerts you to the specific level of risk at all points along your route in advance.
It's easy to see how this is helpful for drivers, but how can car companies, on-demand transit, and shipping and logistics companies use road risk? Here's what anyone on the road today needs to know. 
What Does the Road Risk Score Mean?
At Tomorrow.io, we created a unique, 5-point rating scale that lets drivers know what to expect on the road, up to 18 hours before reaching the impacted area. 
The risk score takes into account observed and forecasted weather, including precipitation intensity, precipitation type, frost likelihood, visibility, and more. The result is a score of 1 ("low risk) to 5 ( "severe or extreme risk").
Low Risk

: There is little-to-no discernible weather-related risk right now. Skies are generally clear, and there hasn't been precipitation lately.

Low-Moderate Risk

: You're probably looking at either some precipitation, like rain or lowered visibility due to fog or mist.

Moderate Risk

: There's probably a combination of precipitation, lowered visibility, and slick roads.

High Risk

: Visibility is likely to be low, precipitation is probably occurring, and roads are likely to be slippery with ice, frost, or snow.

Extreme Risk

: Visibility is bad, and precipitation is a given. Heavy snow is probable, and roads are likely to be slick. Alternatively, flooding could be present.
These levels of risk are calculated based on specific criteria for weather such as amount of rain, snow, or flooding. These numbers are also updated in real-time as the forecast changes.  
How Can You Use Road Risk?
A variety of industries can use Road Risk to improve operations, increase safety, and save money along the way. 
Using the Road Risk Weather API, you can add detailed weather data and the Road Risk Score into any app or platform. With Geofencing and Routes, you can understand the Road Risk in very specific locations that matter most to your business.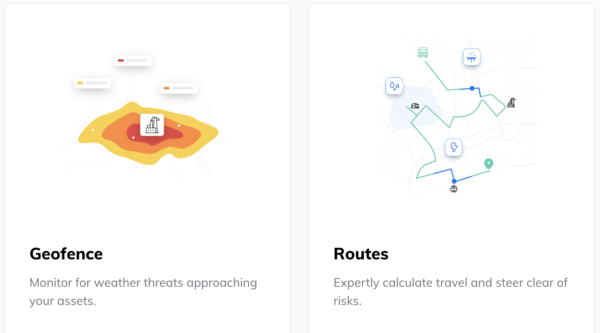 Road Risk By Industry
This data is clearly useful to many different types of businesses and can be customized to fit the needs of each. This includes: 
Automotive
In the automotive industry, makers and suppliers can receive real-time information that informs how cars react to certain conditions. For example, brakes on newer cars are often more sensitive to wet conditions, triggering faster braking when windshield wipers are on.
Similarly, Road Risk data can provide more data about a car's surroundings that in-car sensors can't directly measure. By understanding a sudden drop in temperature, for example, Road Risk can keep drivers safe as they drive along a route with a high probability for black ice.  
Drivers could potentially know about hazardous conditions far enough in advance to make schedule changes according to the weather, or even re-route while driving. This level of safety is also helping pave the way for the future of autonomous vehicles.
On-Demand and Technology
Similar to the automotive industry, on-demand companies can better estimate ETAs by avoiding known risks along any route. This includes everything from on-demand ride-sharing services to on-demand food delivery, and much more. 
By better understanding the Road Risk score, drivers and delivery services can avoid delays and get to the customers faster — keeping users happier and keeping customer complaints at a minimum.
Supply Chain and Logistics
Transportation and supply chain companies can also keep deliveries on schedule by choosing the most efficient routes to avoid dangerous weather. If you're delivering goods across the country, Road Risk scores can help truck drivers plan efficiently, avoiding dangerous weather conditions, and keeping deliveries on schedule.
It's easy to see that Road Risk offers a huge competitive advantage to many different industries. Whether you're in the automotive, on-demand, or supply chain space, you need to understand how weather is impacting the road along your route. So why don't you forget the forecast and instead focus on what matters most: Road Risk.