Something is very, very broken in the trucking industry.
Trucking companies lose 32 billion vehicle hours due to weather-related congestion each year
Weather-related delays cost trucking companies $2.2 billion to $3.5 billion dollars annually
Weather is responsible for roughly 1 out of 4 trucking delays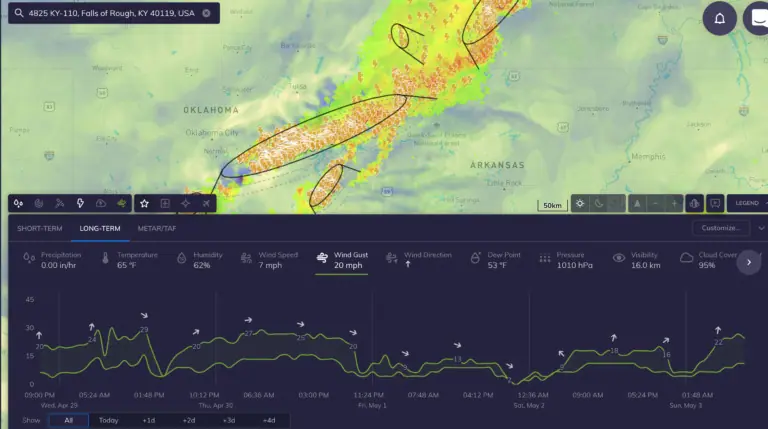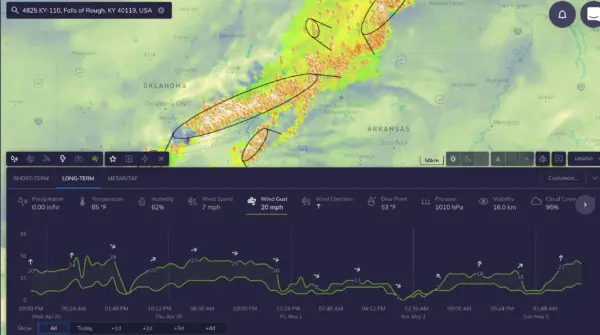 What? How has this become the standard? In the United States, trucking represents 6% (more than 10 million people) of all full-time jobs and moves 71% of all freight across the country. Yet, the industry is wasting 32 billion hours per year, at best losing more than $2 billion in revenue, and has come to treat delays with 1 out of every 4 trips as normal, and citing that nothing can be done. Are you frustrated yet? We are. To boot, these statistics are specific to North America, which only represents 20% of the global trucking industry, imagine the global impact!
The trucking industry is a staple component to any country's ability to move move and transport goods on a daily basis, and there's a substantial amount of revenue currently at stake. As reported by CNBC and mentioned earlier, the U.S. alone makes up 20% of the global $1.2 trillion global market with approximately $260 billion in annual revenue.
So what's the problem? The short answer is weather, but let's dig in.
Core Weather Elements Impacting The Trucking Industry
Let's start with accidents. The total economic cost of trucking accidents in the United States is more than $100 billion per year, with weather being the culprit 22% of the time. Of those accidents, roughly 90% happen in the first 5 minutes of bad weather, 73% occur on wet pavement, and 46% occur when it's raining. While elements like colder weather impact vehicle performance, additional elements such as rain, snow or fog impact visibility, and elements like ice produce road hazards that require longer brake times and increase control issues. Additional detail includes:
Snow and Ice: More than 50% of accidents are from snow and ice
Heavy Rain: Roughly 46% of accidents occur when it's raining
High Winds: The impact of high wind includes debris onto the road and decreasing stability
Fog: Low visibility impairs driving conditions and reduces decision time making capabilities
Severe Storms: Tornadoes, hurricanes, flooding, severe lightning and more make trucking routes dangerous and difficult to navigate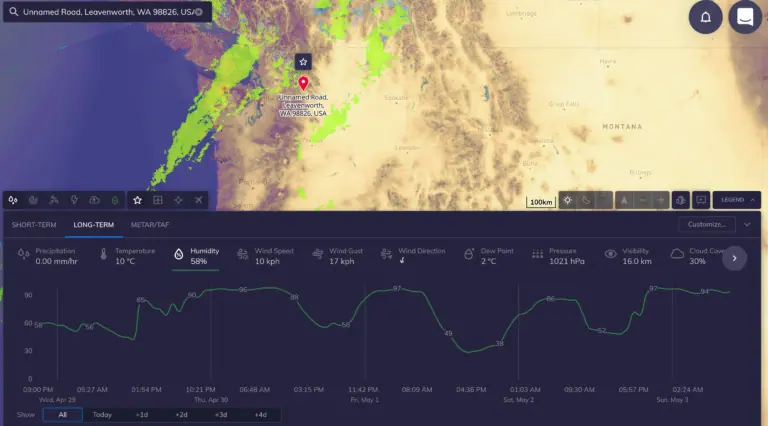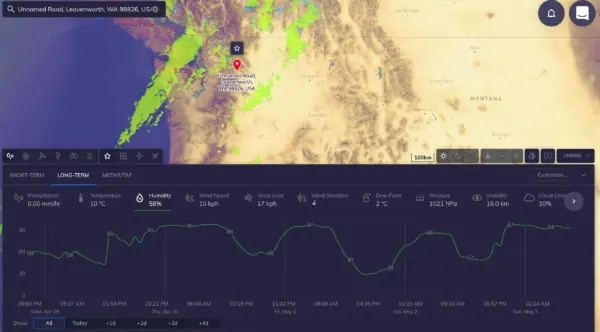 In addition to accidents, trucking delays are costing the industry billions and here are a few reasons why:
Slower speeds: Weather conditions such as snow and rain reduce average driving speeds, lengthening route times and delaying ETAs
Traffic and routing issues: Getting stuck on the wrong road at the wrong time adds expensive hours to trips
Closed roads: When natural disasters hit, roads can be shut down, costing up to $100M per day in losses
Cargo quality: In times of extreme temperatures, improperly managed cargo can get damaged or ruined entirely
Increased Costs: Before, during, and after weather events there's less truck availability which increases spot rates and adds to revenue losses from delivery delays
Forget The Trucking Status Quo
With more than 475,000 annual trucking accidents and 32 billion wasted vehicle hours due to weather, it's time for a fix. But what can be done?
The trucking industry suffers from too many changing and unexpected variables on a week-to-week basis to be able to monitor everything 24/7. From the weather itself to traffic to road conditions, things are constantly changing all across the country routes.
Automated predictive weather insights can help managers and drivers improve efficiency, reduce unnecessary costs, and take advantage of new revenue opportunities. As seen below, this is an example of Tomorrow.io's automated Insights Dashboard, which shows based on all your locations each day/week how the weather is going to impact operations. In addition, instead of providing you with a forecast, you can see real recommendations on what to do so ensure you make the best possible decision at the right time.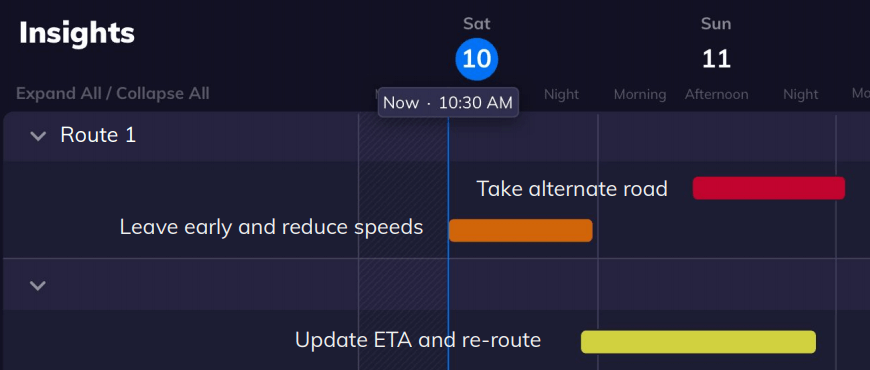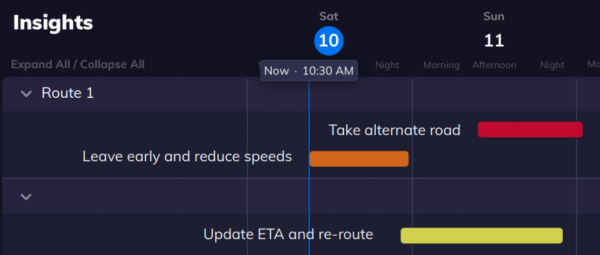 Here are just a few examples:
Better preparation, planning and re-routing: With Tomorrow.io, you can easily see how the weather will impact any of your trucking routes four days ahead of time. This way, you can plan around incoming delays and ETAs whether that means leaving early, late, or focusing on different routes. In addition to forecasted impact, you also get minute by minute alerts in real time based on any changes in future weather that will impact your routes. This way you have time to make decisions before it's too late. For strategic route planning, you can even use Tomorrow.io to run a historical analysis of your trucking routes to see how they've been impacted by any and all weather events in the past.
Improved safety: With road risk a constant source of concern for trucking companies, Tomorrow.io can be your guiding light. Whether the impact is from rain, flooding, ice, fog, or any other type of whether event you can use the platform to plan ahead of hazardous conditions or react in real-time to take extra precaution while still on the road. After-all, 46% of trucking accidents occur while it's raining.
Reduce damage and costs: While trucks range in cost from $30,000 – $100,000+, they're not cheap. Keeping your assets safe from damage is much easier when you know what type of weather conditions are coming so you can best plan around or avoid them altogether. In addition to the trucks, your operations teams can use Tomorrow.io to better manage cargo and reduce weather related damages like extreme temperature, icy roads, or high winds. Finally, with more efficient route planning you'll be able to optimize fuel, staffing, and labor costs.
Now that you've seen all the ways in which your trucking operations could be leveraging Tomorrow.io, let us learn a little bit more about your specific needs. Talk to one of our trucking logistics and transportation experts today so you can take control™ now! Whether you're looking to improve your operational efficiency, reduce safety concerns, reduce unnecessary costs, or take advantage of new revenue opportunities, Tomorrow.io's predictive weather intelligence platform has what you need. We're here to help you now!