Cold temperatures are headed for North and Central Texas Wednesday night into Thursday afternoon. Along with them is the possibility for a mix of freezing rain, sleet, and snow—the same conditions that had disastrous consequences for Texas's power grid back in February 2021.
After three severe winter storms swept across the United States on February 10–20, Texas power sources, which the state had failed to properly winterize, succumbed to freezing temperatures and were knocked offline. The failure left 4.5 million homes and businesses without power, prompted shortages of water, food, and heat, and caused 246 directly resulting deaths. 
This week's storm is predicted to bring milder, though still potentially dangerous, winter conditions. Dallas residents, for example, may see ice accumulation as high as .32 inches overnight on Thursday through the next day, which could cause power outages and transportation challenges.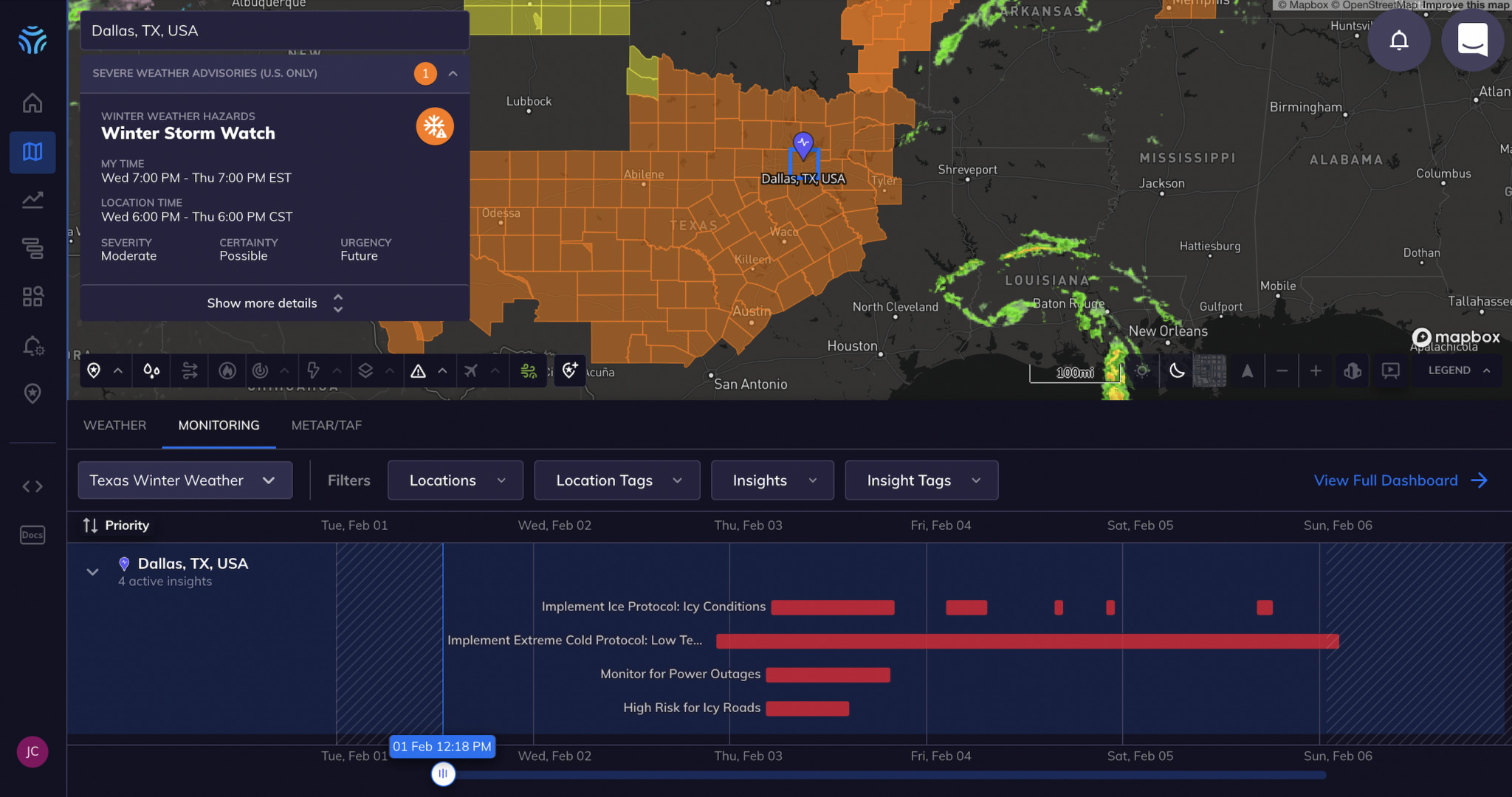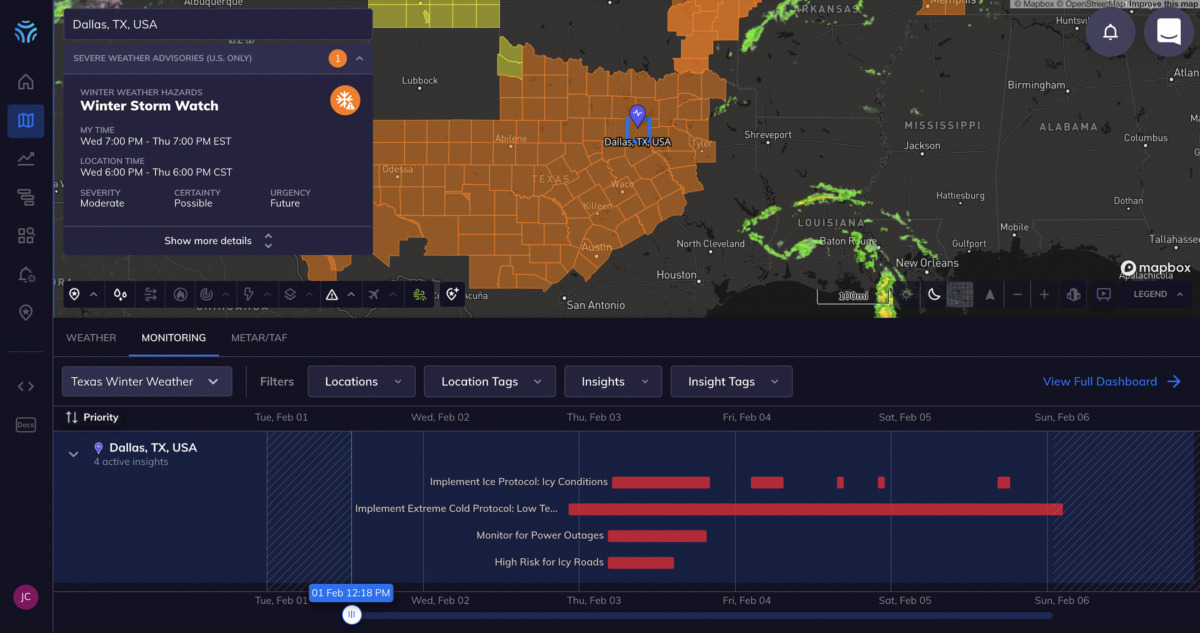 But just because these conditions are more moderate than those of last year's storm, doesn't mean businesses should wait to simply react to the impending freeze.
Here's what your organization needs to know to protect your employees, assets, and business as a whole no matter your industry:
Energy & Utilities
Cold temperatures and ice, in particular, present a number of threats to energy and utility companies, including:
A surge in heating demand

Damaged infrastructure from downed lines

Frozen gas lines
In Texas's case, the state forced power plants to winterize following last year's disaster, but natural gas companies weren't held to the same standard. This puts this power source in a particularly vulnerable position, as freezing conditions can have a significant impact on gas production and delivery.
How Weather Intelligence Can Help
Armed with lessons from February 2021 and, more importantly, the right technology, Texas energy and utility providers can take proactive steps to mitigate risk for this storm. 
By warning energy and utilities companies about these frigid conditions, technology like Tomorrow.io can provide highly actionable – and potentially life-saving – insights, letting you know to:
Send out preemptive alerts to conserve energy

Postpone planned outages and to return from outages already in progress

Increase staff to monitor performance

Bring generation online sooner

Deploy crews on stand-by in areas of high vegetation
Logistics
Next to energy, the logistics industry was brought nearly to a halt by last year's Texas freeze. Icy conditions caused a severe disruption to the supply chain resulting in a chain reaction of weather-related impacts, including:
Delayed cross-border shipments

Slowed warehousing and store operations

Severe food and grocery shortages

Diminished trucking capacity
How Weather Intelligence Can Help
While logistics delays may seem like an inevitable impact of winter conditions, technology can help providers adapt before storms hit. By monitoring ice accumulation ahead of time, for example, logistics companies can:
Consider alternate routes or temporarily delay operations until conditions improve

Alert drivers to proceed with enhanced caution 

Ensure that loads are tarped and covered properly
Aviation
Last February, airlines canceled more than 4,000 flights in response to the freezing temperatures and winter conditions.
Besides leaving passengers stranded, freezing temperatures and ice can threaten the aviation industry's safety and efficiency with:
Increased operational delays

Unsafe runway conditions

Reduced aircraft visibility

Increased drag on aircrafts
How Weather Intelligence Can Help
Airlines and airports in Texas who use weather intelligence will be better poised to minimize the negative impact of this week's freeze by using automated alerts, for example, to:
Maximize crew and passenger safety

Reduce costs associated with improper use of deicing fluid

Manage deicing procedures to ensure runways are free from ice and snow for take-off and landing

Lower incidents of equipment damage
On-Demand
Like with logistics, on-demand operations can be severely impacted by snow and ice, especially when accumulation is above .25 inches, as is expected in Texas tonight. Specific operational  risks include:
Delayed and inaccurate ETAs

Driver and passenger safety

Misaligned demand forecasting

Staffing and scheduling issues
How Weather Intelligence Can Help
On-demand delivery will certainly be impacted by icy conditions, but companies have other options than to simply be reactive once cold temperatures and ice appear. With a solution like Tomorrow.io, on-demand services can mitigate threats by:
Sending proactive safety alerts to drivers

Selecting safer and more efficient routes for couriers

Match the demand for food delivery by increasing the number of couriers

Prepare incentives that capture the correct amount of labor
Sports & Entertainment
In addition to creating extreme safety issues, the Texas's February 2021 freeze also forced many planned sporting and entertainment events to be delayed. The NBA, for example, was forced to postpone three Rockets' games due to the extreme weather.
While these consequences aren't typically life threatening, they still pose threats to sports organizations, including risks surrounding:
Fan safety and awareness planning

Cross-functional weather preparedness alignment

Missed opportunities with external clubs, agencies, and media groups

Reputation management around the handling of weather events
How Weather Intelligence Can Help
Planning for icy conditions means more than just considering canceling a game or event. With the right weather intelligence, sports organizations can take a more proactive approach to impending conditions. Including:
Notifying staff and fans ahead of poor conditions

Treating walkways and surrounding areas before a weather event begins

Stocking weather-appropriate gear and merchandise in retail locations
Insurance
Weather events like ice accumulation can often result in more insurance claims being filed, as a result of property damage, personal injuries, etc. Consequently, insurers may raise rates in order to make up for the increased costs.
This is especially true in areas like Texas, which aren't always properly equipped for icy conditions, and incurs more damages as a result.
How Weather Intelligence Can Help
Though less obvious than outdoor industries, for example, weather intelligence offers significant benefits for the insurance industry. With a tool like Tomorow.io, insurers can:
Alertspolicy holders of incoming weather events in order to reduce claims made

Access insights into how past events have impacted claims pad out
Learn how weather-related risk is impacting your business