Here at Tomorrow.io, we're laser-focused on helping individuals, businesses, and countries to better predict, prepare for, and adapt to the impact of weather. Our weather and climate security platform empowers teams to automate decision-making with actionable weather insights.
We know how much the brands that use Tomorrow.io care about making better weather and climate-related decisions. That's why we've created the Tomorrow.io Academy!
What is the Tomorrow.io Academy?
The Tomorrow.io Academy is our new learning platform of on-demand courses that cover all facets of enterprise weather operations. Designed to help you and your team advance your own weather intelligence, the Tomorrow.io Academy is your one-stop shop for leveling up your weather and climate security knowledge while honing how you put it into practice.
With expert-built courses, the Academy empowers your team to leverage Tomorrow.io to the fullest with education and insights into:
Tomorrow.io's products (including new and upcoming features)

Training and onboarding your team with Tomorrow.io

Industry trends and best practices for improved operations

Community conversations around weather and climate resilience
Our goal with the Tomorrow.io Academy is simple: to help the Tomorrow.io community develop, execute, and constantly improve its weather and climate security through automated, data-driven decisions. 
How does it work?
Tomorrow,io Academy can be sold to your organization upon contract signing or renewal. Once purchased, your teams will be granted immediate access through your account,  allowing you to enroll for as many courses as you'd like. The best part? You can work on each course at your own pace.
Each course is intended to be 60 minutes or less. Courses will include video, content, and knowledge check activities and assessments. The knowledge check activities will allow you to go through the steps of adding platform data, directly from the academy courses.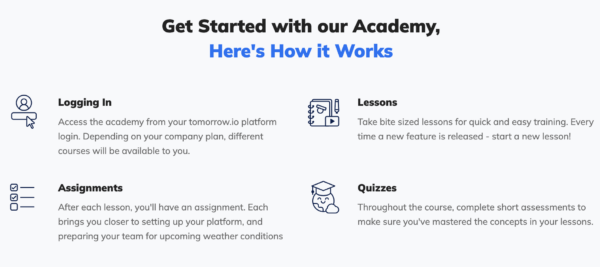 In the future, we will also release the opportunity for badging, allowing you the opportunity to redeem your course completions within our company store, and certifications to confirm your mastery in a topic.
What courses does Tomorrow.io Academy offer?
Get started with product setup and foundation product courses, as well as Tomorrow.io essentials, industry expertise, and weather topic/community mastery courses. Product courses are divided by product, and product role. 

How can I learn my own way?
Alongside Tomorrow.io Academy, we offer a variety of educational content in our HelpCenter, ranging from informative guides, to quick tutorials and FAQ's. Access to our HelpCenter is free, so visit it today! 
How can I provide feedback?
Yes! Sign up today, and you'll receive a survey asking for feedback on your experience soon. Specifically, we are looking for your evaluation of:
The depth of the material: Did it help you understand concepts and workflows within our platform? Were any concepts missing? 

The format of the material:  Did you watch the video, read the content, or both? 

The length of the material: How long did it take you to complete this course? 

The organization of the material: Did the order in which you took the courses, make sense? 
The follow-up survey will touch on these questions, as well as compare your confidence level of material after taking the courses, in comparison to your confidence level prior. Looking to make a course request? Use our learning asset request form here! 
How can I sign up?
We're glad you asked! Sign up using this form here, and our account team will follow up with you shortly. In the meantime, check out the courses and learning tracks we currently have available to start jumpstarting your knowledge today.
Want to See Everything Tomorrow.io Has to Offer?