From hurricanes and tornadoes to flash floods and sunny days, the weather impacts your business in ways most leaders don't even realize.
Heavy precipitation, for example, can cause major operational inefficiencies and put employee safety at risk, while good conditions can cause spikes in demand you're unable to meet without advanced staffing.
Staying ahead of these conditions starts with being aware of what's coming next—and besides using a weather intelligence tool like Tomorrow.io, that means understanding what certain weather terminology means.
Tomorrow.io Weather Glossary
General Terminology
Weather
Weather is the day-to-day meteorological conditions that happen in our atmosphere. Weather can change within minutes, which is why it can be difficult to forecast.
Climate
Climate and weather are often used interchangeably but are not the same. Climate refers to the long-term weather conditions in a certain area and over a specific period of time. The climate does not change quickly; it can take hundreds or thousands of years to see any differences.
Weather System
A weather system refers to the movement of warm and cold air across the globe, usually in a recurring pattern. Systems can be comprised of low pressure, which is associated with inclement weather, and high pressure, which typically brings more stable, pleasant weather.
Weather Condition
Weather conditions are the components that comprise the state of the atmosphere. The six main weather conditions are temperature, atmospheric pressure, wind, humidity, precipitation, and cloudiness.
Jet Stream
Jet streams are strong, fast-flowing air currents in the upper levels of the atmosphere. They form when warm air masses meet cold air masses and impact weather conditions, air travel, and more.
Weather Events
Anticyclone
Anticyclones are areas of high atmospheric pressure that bring hot, dry weather in the summer and cold fronts in the winter.
Anvil 
An anvil is a cloud mostly composed of ice particles. Otherwise known as a cumulonimbus cloud, an anvil has reached the stratospheric stability level of the atmosphere. It forms in the upper parts of thunderstorms.
Ball Lightning
Ball lightning appears during thunderstorms, taking the shape of glowing, electric orbs in the sky. It can appear in a variety of colors, from blue to orange to yellow, and is sometimes accompanied by a hissing sound and an acrid odor.
Blizzard
A blizzard is a storm that lasts 3 hours or more, with persistent winds/frequent gusts of 35 mph or more along with significant falling and/or blowing snow that reduces visibility to less than 1/4 mile.
Bomb Cyclone
A bomb cyclone is a large mid-latitude storm that forms when a storm's central pressure drops (i.e. "bombs out"), resulting in a rotating storm-like pattern. Often thought of as the equivalent of a winter hurricane, bomb cyclones typically form in cooler weather and intensify very quickly, resulting in heavy snow, rain, high winds and coastal flooding.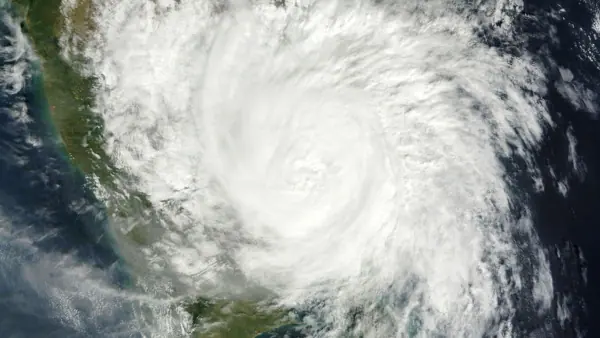 Frozen Drizzle
Frozen drizzle is a dangerous type of frozen rain. It's a light rain that falls in very fine drops, which freezes on contact with the ground or an object near the ground. It forms a glassy surface on the object or ground at the point of freezing.
Tropical Cyclone
A tropical cyclone, also called a hurricane, is a severe tropical storm with wind speeds in excess of 74 mph. Known as a "tropical depression" when wind speeds are 38 miles per hour or less, tropical cyclones are characterized by a low-pressure center and can produce torrential rains, high winds and storm surges. These storms are categorized by their severity on a scale of 1-5:
Category 1 –

Very dangerous winds (74-95 mph) will produce

some

damage, including downed tree branches, minor property damage, and short-term power outages. 

Category 2 – 

Extremely dangerous winds (96-110 mph) will cause

extensive

damage, including roof and siding damage for buildings, flying debris, and extended power outages from downed lines.
Category 3 –

Devastating

damage will occur with sustained winds of 111-129 mph, resulting in major damage to residential and commercial buildings, uprooted trees, and extended electricity and water shortages.
Category 4 –

Catastrophic

damage will occur

with

sustained winds of 130-156 mph. Buildings will see extreme structural damage, physical injusries from flying debris are likely, and most trees/power lines will be downed.
Category 5 –

Sustained winds of 157+ mph will cause

catastrophic

damage and near total destruction of everything in the storm's path. Serious injuries and fatalities are likely from debris, and power/water are likely to be unavilable for weeks or een months.
Nor'easter
A Nor'easter is a massive storm that forms within 100 miles of the East Coast of North America. Named for winds blowing from the North East off of the Atlantic Ocean, these storms are know for producing rain, snow, sleet, and strong winds.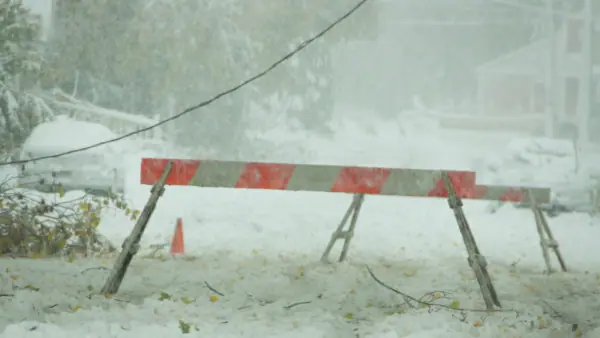 Polar Vortex
The polar vortex is a large area of cold and low-pressure around the North and South Pole. Always circling near the poles, the polar vortex weakens in the summer and strengthens in the winter, often causing frigid air to break away from the polar region and drift down into Canada/Northeastern U.S.
Alerts & Risk Mitigation
Watch
A weather watch means there is a risk of weather hazards in the near future, which could pose a threat to life/property. During a watch, conditions are favorable for severe weather, but it's important to note that a watch does not mean the severe weather that it is necessarily occurring yet. Also, not all watches produce warnings. 
Warning
A weather warning means that a weather hazard is occurring, imminent, or likely. In other words, severe weather is happening now, developing as we speak, and is minutes away. This weather hazard poses a threat to life and property. 
Weather Intelligence
Weather intelligence is technology that provides predictive and actionable insights, allowing businesses to adapt to weather-related challenges at scale both in real-time and in advance of business impact. While traditional weather forecasts explain what weather conditions may be, weather intelligence tells you how to act based on conditions.
See How Weather Intelligence Can Help You Take the Guesswork Out of the Traditional Forecast