This was originally published in FastCompany in July 2023 
How Tomorrow.io is rewriting the rules of weather forecasting.
As heat waves scorch the American South and wildfire smoke blankets both coasts, it's hard not to think or talk about the weather. "Weather events are simply becoming more volatile and extreme and more frequent," says Shimon Elkabetz, founder of climate tech company Tomorrow.io. "And if we don't start managing this risk and put systems in place, it's gonna get out of control."
Tomorrow.io is trying to help countries and businesses manage climate change-related challenges by rewriting the rules of weather forecasting. Through artificial intelligence and machine learning, the company provides precise forecasts tailored to specific locations, working with such industries as aviation, logistics, agriculture, and renewable energy to optimize operations and mitigate weather-related risks.
Elkabetz became familiar with the importance of weather predictions through his military background as an aviator. "We learned firsthand the limitations of weather technology," Elkabetz says. "The accuracy wasn't good."
During his time in the Israeli Air Force, Elkabetz learned that traditional meteorological decision-making was inadequate for the challenges he faced. "But we never imagined that we were going to start a company around it," he admits. After moving to Boston and completing his education at Harvard, Elkabetz teamed up with cofounders Rei Goffer and Itai Zlotnik (who attended MIT) to conduct extensive research and made three crucial observations that showed that the industry was ripe for disruption.
First, weather technology was predominantly controlled by government agencies, presenting a unique opportunity for privatization. Second, enterprises rely on meteorologists from legacy companies, signaling the need for digital transformation to provide scalable decision-making support. Lastly, they recognized an absence of companies focused on improving weather technology.
They saw climate change intensifying weather events and understood the urgency of climate adaptation. In 2016, Elkabetz, Goffer, and Zlotnik founded the company (originally called ClimaCell) and secured initial funding, driven by a mission to address the critical gaps in weather technology and climate adaptation.
The importance of understanding and anticipating the future weather has never been more dire. "Climate security," Elkabetz tells Fast Company, "is the new cybersecurity."
The Final Frontier
Elkabetz believes that the key to solving the climate crisis is "climate resilience," powered by weather intelligence. And that, Elkabetz says, is why Tomorrow.io has gone to space.
In April, Tomorrow.io successfully launched the Tomorrow-R1, what the company calls "the world's first commercially built weather-radar satellite." It's currently in orbit at 500 km (about 310 miles) above Earth, carrying radar designed for "near real-time scans of precipitation and atmospheric profiles for any point on Earth." In June, the company announced the launch of its R2 satellite, which is also currently in orbit.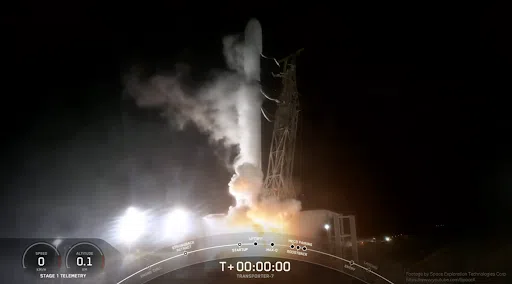 It didn't come cheap. Activate Capital led the company's successful $87 million Series E funding, joined by new investors RTX Ventures, Seraphim, and Chemonics, along with existing investors, including SquarePeg Capital, Canaan, ClearVision, JetBlue Ventures, and Pitango Growth.
Dan Slagen, Tomorrow.io's chief marketing officer, calls the company, "the SpaceX of weather" because as a commercial company, it can send satellites into space faster and more efficiently than the government can. In fact, Tomorrow-R1 and R2 both launched on a SpaceX Falcon 9.
Luke Peffers agrees. He should know. He worked for the government for years before becoming Tomorrow.io's chief weather officer. His time in active duty in the Air Force, helping operate and maintain the U.S. Atomic Energy Detection System, taught him a thing or two about the pace of government innovation versus private innovation.
Peffers says that Tomorrow.io uses models similar to what the government uses, but that the company works in a way "that the government is jealous of." A big part of that, according to Peffers, is that the technology is platform agnostic. "So we can bop around and follow technologies on the compute platform." These models, he says, "are highly computationally expensive to run." Tomorrow.io's goal is to be nimble enough to follow deals. "So you run the models fast enough, but in an inexpensive way."
Forecasting the Future
In addition to the satellites, Tomorrow.io has apps for businesses and individuals, and there's even a ChatGPT plug-in that uses Tomorrow.io data and generative AI to predict the weather. But for Elkabetz, it's the potential to mitigate climate change and possibly work to lessen climate inequality that inspires him.
In the seven years since founding the company, he says that his perspective has changed. He has three kids "and a lot of grey hair."
Now, the CEO takes a more holistic view, as the experience of raising children has deepened his commitment to Tomorrow.io's mission. "I'm more proud of what I'm doing," says Elkabetz. "Because not seeing your kids because of work comes with a lot of bad feelings and FOMO. At least I tell myself that I'm doing something that my kids will be proud of when they grow up and learn exactly the impact of what my company is doing."