Power outages cost the U.S. economy more than $150 billion each year.
In addition to almost all consumers, every industry from healthcare to education suffers whenever power is down. This type of impact puts utility companies in the spotlight for operational excellence, and demands strategies that rely on predictive intelligence in order to make the right decisions at the right times.
Consider National Grid, a 22,000+ employee multinational electricity and gas utility company with a $200 billion market cap. When asked to comment on predictive weather data and insights, their Chief Technology and Innovation Officer, Lisa Lambert said "Weather is important to us for disaster planning and for responding and recovering from storms." Lambert went on to say: "When we can get precise information about what weather will be doing in an area, we can improve readiness and reduce costs." 
National Grid uses predictive weather insights to gain:
Real-time data for asset utilization
Access to up to the minute precipitation and fire index
Asset specific weather insights
As a utility company, you need more than just the weather forecast. You need it well in advance, and you need the forecast to show you the operational impact that the incoming weather will have on your business so you can adapt that information to your financial and operational advantage. Additionally, you need to be able to understand historical patterns across all of your assets and be able to monitor risks including wildfire, air quality, floods, road risk, and lightning.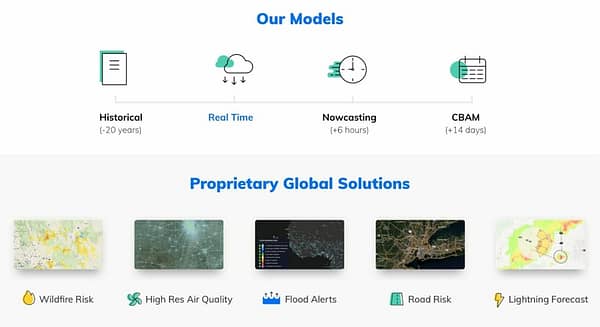 Utility Operations and Weather
For utility companies, there are a few key areas of focus most impacted by the weather where cost savings and efficiency are critical, which include:
Operational Performance: Understanding how to best factor upcoming weather into areas of strategic operation such as utility load management, or drone usage for data collection, safety, and security measures
Asset Utilization: How to protect and maximize assets from upstream to downstream is a daily challenge for utility companies. This includes equipment, pipes, power lines, machinery, buildings, all of your hyperlocal locations…etc, which in aggregate are valued at hundreds of millions or billions of dollars depending on the company.
Storm Preparation: The utility industry is broadly exposed to a number of weather elements including snow, ice, rain, flooding, winds, wildfires, lightning, and more. Understanding when these storms will hit, where down to the street level, and when is key to be able to plan for the expected impact and implementation of response protocols.
Crew and Safety Risk: The last thing any utility company wants to do is put workers in hazardous situations that could have been avoided or simply planned better. This includes everything from road risk to vegetation management as teams respond to varying levels of demand, outage issues, and maintenance.
Air Quality Monitoring: For specific storms like wildfires, understanding the external impact of air quality is both valuable to customers and workers who are potentially needing to work in areas with hazardous air quality. Knowing the expected conditions allows for managers to better prepare and equip teams to keep them safe from unnecessary harm.
The Weather Elements Impacting Utility Operations
There are a seemingly endless number of weather elements that can impact the day to day operations for utility companies, but let's use wind as an example. Below, you can see high winds automatically tracked for a given day, with speeds varying by more than 30 MPH from one hour to the next.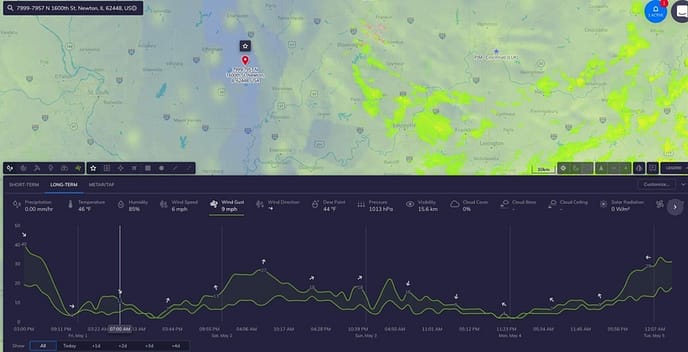 While you can also track wind gusts and wind direction, the important takeaway here is that you can enter in the exact wind parameters that impact your business and automatically manage the process.
Next, you can see an example of a dashboard highlighting when specific operations like flying drones can take place so you can schedule them in advance and not worry about weather damage.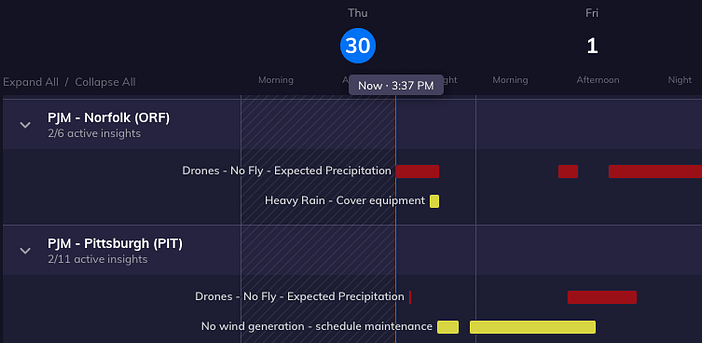 Finally, whenever upcoming weather is going to impact your operations, you can get automated alerts via email or text to team members with messages and protocols. Below is an example of an alert for power lines at risk of impact from the weather, which will get sent out to specified team members 3 hours before the impact arrives.
Use Cases for Predictive Weather Intelligence
By using a predictive weather intelligence insights dashboard, you can forget about focusing on the forecast and shift your attention to optimizing operational plans from a centralized system across any or all the following, and more:
Improve Operational Efficiency: See days in advance and in real-time how upcoming weather will impact demand
Reduce Outage Time:

Pr

e-position crews where outages will

have the largest financial impact
Enhance Generation Forecasting: Get high-resolution data providing 10x granularity for generation forecasting
Load and Power Curve Optimization: Better adjust and prepare  for upcoming weather-driven supply and demand
Cost Effective Drone Operations: Plan flights around optimal weather conditions to avoid damages and unsuccessful flights
Strategic Dispatch: Anticipate demand based on forecasted weather and interruptions
Minimize Asset Damage: Save millions on preventative maintenance and avoid significant unplanned damage
Vegetation Management: Save millions by optimizing team needs and schedules around weather conditions
Mitigate Crew and Safety Risk: Ensure employees are working in safe conditions to avoid hazardous situations
Alerts, Messaging & Response Protocols: Automate communication throughout the company and across teams to improve accuracy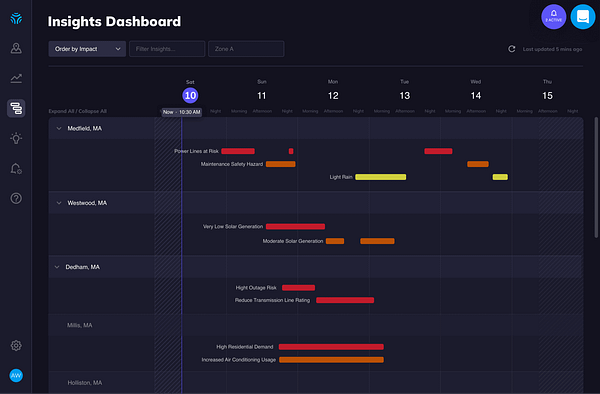 As you can see, using weather to strategize operational plans in advance can have a significant impact across your team and organization. Automated weather insights can help you make decisions, streamline communications, increase efficiency, reduce costs, and maximize revenue.