Ever feel more apt to order food when it's raining? You're not alone.
For many of us, bad weather makes delivery services the obvious choice over venturing outside to the grocery store or restaurant. In fact, 56% of consumers say they'd like to be able to preschedule food delivery when bad weather is on the way.
And this phenomenon isn't restricted to food delivery alone. From grocery services and courier fleets to same-day shopping and micromobility providers, what's going on outside has a direct impact on consumer interest in on-demand services.
But without accurate data on weather-related fluctuations, on-demand providers are unable to optimize operations, meet surges in demand, and keep customers happy based on conditions.
The Risks of Incentive Management Without Weather Intelligence
Without the right technology, on-demand businesses are forced to wait until a weather event happens to respond to a surge in demand.This opens your business up to missed opportunities and damaging brand experiences:
Inability to Meet Demand Surges
Having enough staff available during bad weather to meet demand surges represents a massive market opportunity for all on-demand services.
But without the right technology, on-demand companies have no way know exactly when demand is going to surge and level off. This leaves you unable to fulfill customer demands fast enough to capitalize on the weather-related interest and solidy your market position.
Customer Satisfaction
Your buyers expect access to a driver's location in real-time, especially when they ordered time-sensitive goods. Static order tracking and a notification system that only lets customers know if your delivery has been dispatched isn't enough to satsify today's consumer.
Late deliveries lead to customer annoyance-even if it's because of a seemingly acceptable reason like poor weather or a lack of drivers on the road. This may cause them to cancel their order or switch to one of your growing number of competitors.
The Power of Weather-Based Incentive Management
Finding ways to respond to demand fluctuations appropriately in order to reduce costs, increase operational efficiency, and increase customer loyalty is essential. And ultimately, this means staying one step ahead of the weather. 
Traditional weather forecasts lack the specificity and actionability needed to accurately predict demand, track delivery times, and, ultimately, understand the cause of delays. While you may be able to see traffic on your drivers' routes, for example, you wouldn't be able to understand the cause of the traffic, which may be a weather-related disruption. Without this information, you wouldn't be able to update customer ETAs or increase incentives in other areas to make up for the delay.
Unlike traditional forecasts, weather intelligence technology allows you to integrate hyperlocal weather data into your on-demand workflows in order to adapt to incoming weather conditions by incentivizing team members to start driving, for example, before it begins raining.
Understanding demand, knowing how many couriers you have available, and being able to work out whether the weather will affect their route means you can offer up more accurate ETAs and maximize your revenue.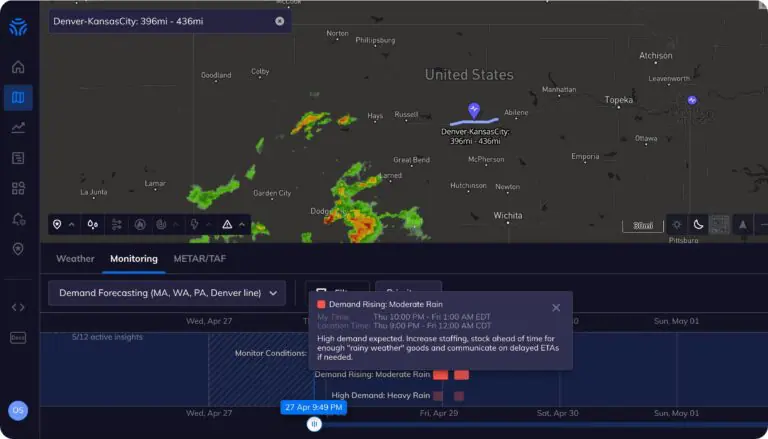 Examples of ways to use weather intelligence for better incentive management include:
Letting drivers know when there is likely to be a "bad weather surge" and incentivizing them to drive during this time with special promotions or gamification

Sending customers push notification for "longer than usual ETAs" to encourage hungry diners to order sooner and miss the dinner rush

Communicating with product suppliers faster than their competition to ensure they have the necessary stock during the surge
Ready to Make Smarter Weather-Related Decisions for Your Incentive Management?
See How Tomorow.io Can Help