We'll be monitoring Tropical Storm Florence and providing forecast updates to this post as the storm may quickly become a hurricane. Tomorrow.io's meteorologists will be providing updates and alerts to our customers within the danger zone. You can watch this space if you're looking for updates. Tomorrow.io is a NWS Weather Ready Nation Ambassador.
September 9th, 2018 | 8:00 AM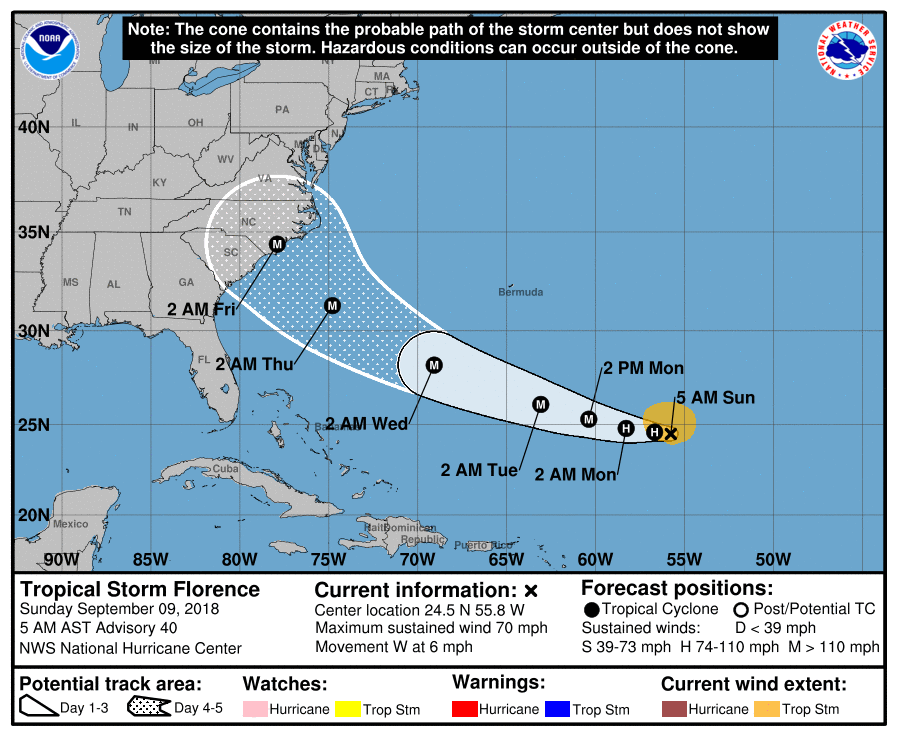 Tropical Storm Florence is currently located at 24.7N,55.7W, about 650 miles SE of Bermuda. Winds have been measured at 60kt, and the system has consolidated significantly over night. Intensification is under way, and is expected to accelerate over the next 12-24 hours, with Florence likely to be re-classified as a hurricane today.Satellite imagery reveals that Florence has become well-organized, with a tight core of convection over the center of rotation, and moderate banding. Convection has yet to deepen tremendously, though upper-level outflow has become well-developed, indicating improved shear conditions. As the system tracks westward into a deep layer of warm waters and continued favorable upper-level wind shear, rapid development is expected. The storm is expected to reach hurricane strength today, followed by steady strengthening through the next 72 hours. There will be little to hold it back from reaching category 3 by Monday evening, and most guidance indicates good potential for category 4 by Tuesday night.
The system is expected to track south of high pressure in the north Atlantic, and will continue at a slow pace through today. By Monday, a building ridge of high pressure will allow for Florence to accelerate and turn towards the west-northwest. There is good consensus in model guidance for the forecast track through Tuesday night/Wednesday morning, with increased spread after that. At this time, greatest impacts will likely be between northern Florida and Cape Hatteras, though it should be noted that Florence is expected to have a large radius as the system nears the eastern seaboard, with storm force winds potentially extending about 150 miles from the center. Therefore, impacts will likely be fairly widespread regardless of actual landfall location.
September 8th, 2018 | 12:00 PM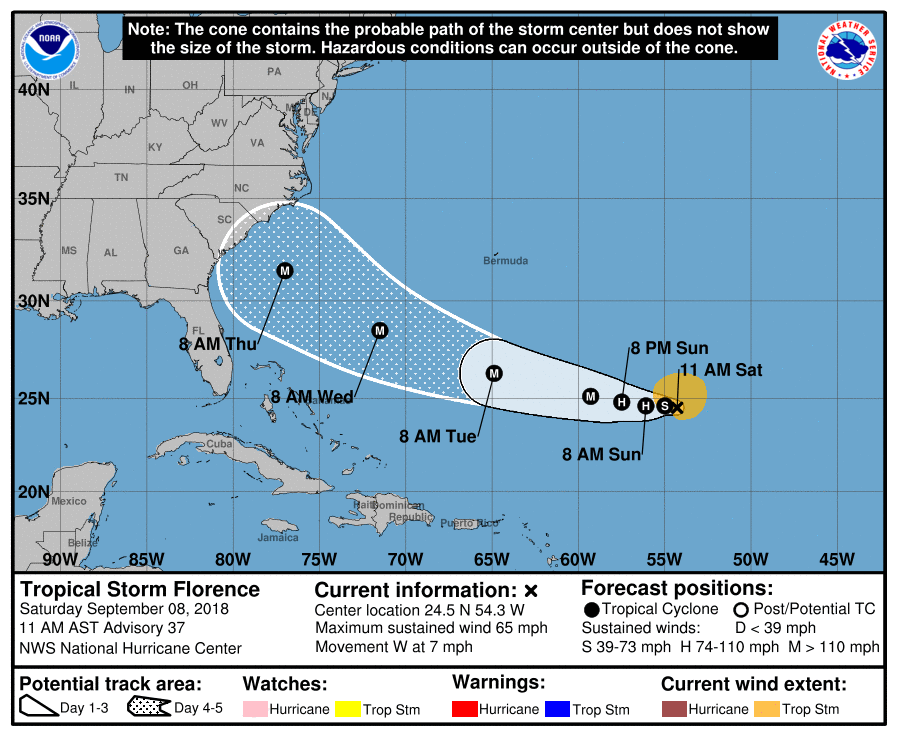 Tropical Storm Florence is currently located at 24.5°N, 54.3°W, about 720 nautical miles  SE of Bermuda. Winds remain at 55 kt gusting to 65 kt, but its structure on satellite has improved over the last 24 hours and it will likely begin to intensify again soon. Motion continues to be west at 6 kt.
Judging by satellite presentation, shear has reduced its influence over Florence considerably, which will allow the storm to again improve its vertical development to reintensify into a hurricane. We expect it to become Hurricane Florence again by tonight or Sunday morning. After that, there is a narrow path of low shear that the storm is expected to take as it moves west, and if it stays in that path it will likely become a category 3 or stronger storm by Tuesday morning.
Models are moving into increasing agreement with regards to Florence's path, which will be moving west through the weekend and take a more west-northwesterly trajectory early next week. By Wednesday morning, it will be about 450-500 nautical miles east of Cape Canaveral as a major hurricane, with a northwest motion vector that threatens much of the eastern seaboard. Any interests from Florida to Long Island  would be wise to keep an eye on track updates for the next few days as the storm comes closer and landfall details become more certain.
September 7th, 2018 | 12:00 PM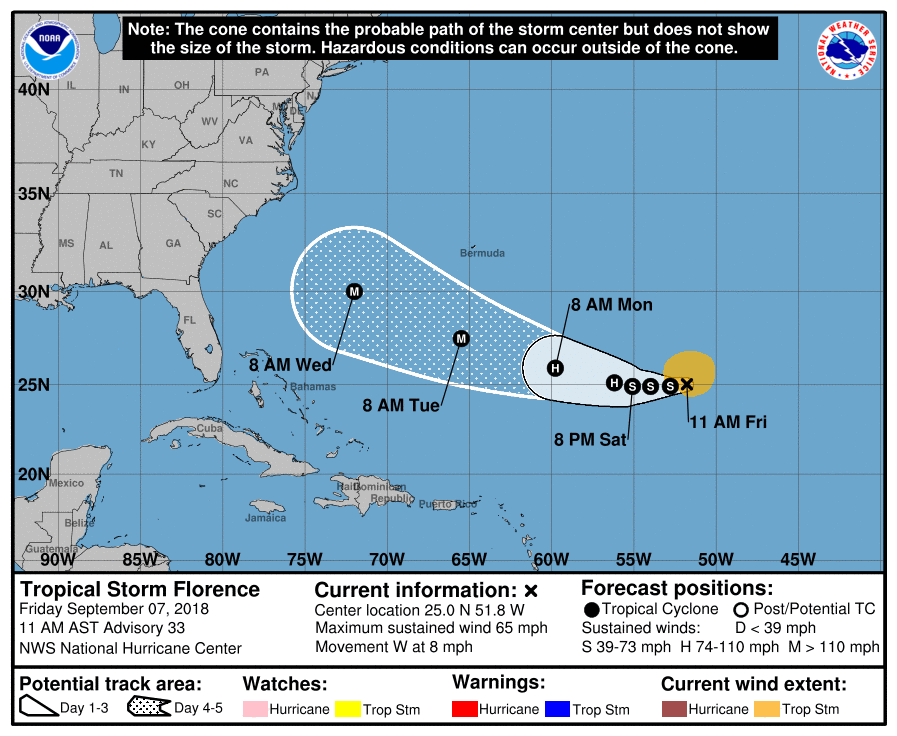 Tropical Storm Florence is currently located at 25.0°N, 51.9°W, about 820 NM SE of Bermuda. With winds of 55 kt gusting to 65 kt, it has weakened significantly in a high-shear environment over the past 24 hours. It has also slowed its northward trajectory, and is now moving nearly due west at 6 kt.
The high shear environment will subside as the storm moves west, which will allow the storm to reintensify. It should regain hurricane status (65 kt winds) by Saturday afternoon, and eventually could become a major hurricane (category 115kt winds) again late Monday or early Tuesday.
We expect the westward motion to continue through Monday, before it picks up a northern component again and begins moving northeast. By Tuesday morning, the storm will be about 240-280 NM S of Bermuda, and this is where the models begin to diverge and the track becomes more uncertain. Generally, guidance continues to steer Florence west to northwest towards the Mid-Atlantic coast, approaching Friday of next week.