Update 7/27: 
Hanna is now weakening as it tracks inland, and has been downgraded to a tropical depression with winds near 35 km/h and gusts to 45 km/h. Expect these winds to weaken further over the next 12-24 hours as Hanna dissipates into a remnant low. Heavy rain is still expected from the system going forward, however, as it remains over northern Mexico through the next 24-48 hours.
Expect upwards of 50 mm (2 inches) of rain throughout Coahuila, Nuevo Leon, Tamaulipas, and San Luis Potosi through Tuesday evening, with localized areas of 150-200 mm (6-8 inches) possible in Nuevo Leon and Coahuila near Saltillo and Monterrey. Further localized areas of 50-100 mm are possible in Durango, Zacatecas, Nayarit, and Sinaloa as the system progresses westward over the Sierra Madre Occidental and continues to dissipate through Tuesday night.
Urban flooding is still expected on Monday afternoon/evening at the Monterey Metropolis area. Severe to very severe River flooding are expected at the Rio Bravo, from Monterey, all the way to the east coast. The flood peak is expected tomorrow, July 27, but very high water and flood conditions in the Bravo river will remain until July 30.
____________________________________________________________________________________
Recently upgraded from a tropical depression, Tropical Storm Hanna is slowly moving through the Gulf of Mexico, picking up strength.
Maximum sustained winds are currently 40 mph, but as Hanna continues to move across the ocean, it will strengthen, with winds likely near 60 mph by landfall tomorrow. Current projections have moved landfall a bit south of the Port Aransas/Corpus Christi area.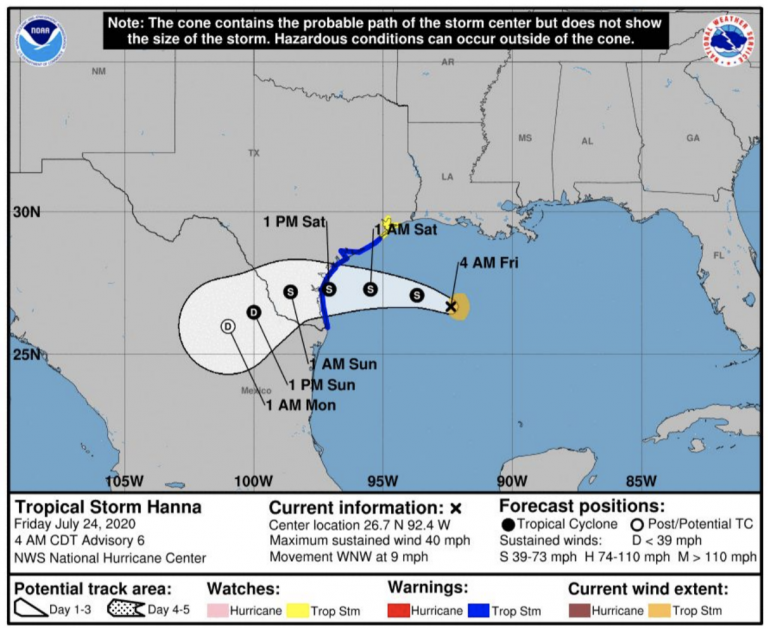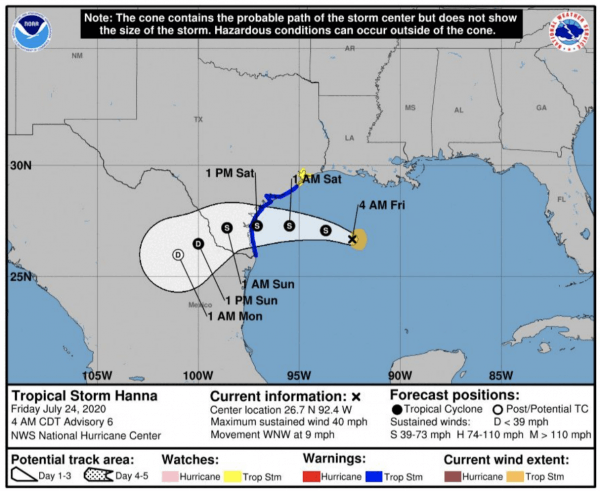 Broad rainfall impacts are likely to impact the western Gulf Coast, with potential for more than 10 inches of rain possible in parts of South Texas. Hanna is expected to push inland through the afternoon Saturday and turn more to the west-southwest during the day. The storm will likely weaken to a tropical depression Saturday evening, then dissipates further Sunday and Monday as it tracks across the international border into northern Mexico.
Even though Tropical Storm Hanna is expected to remain to the south of New Orleans and Houston, both cities are likely to receive periods of heavy rain with rain bands along the edges of the tropical storm. Widespread rainfall amounts of 3-6" are expected from southern/southeastern Louisiana, including New Orleans, westward along the Gulf Coast to near Houston. Higher rainfall amounts of 4-8" are expected farther southwest along the Texas Coast toward Port O'Connor and Corpus Christi, with localized amounts of 6-10" possible.
These rainfall amounts will lead to potential or flooding, especially along the central and southern Texas Coast and inland west of Corpus Christi toward Laredo. Locations along the Texas Coast are also likely to see tropical storm force winds in excess of 39 mph later Friday night into Saturday.