Tomorrow.io's Comprehensive Bespoke Atmospheric Model (CBAM for short) has now expanded into Latin America, bringing unparalleled model fidelity to a region currently lacking in high-resolution numerical weather prediction data from existing public and privately available modeling sources. 
This underserved region will now have access to meteorological insight into the current and predicted state of the atmosphere, including temperature, precipitation, winds, visibility, and much more out to 54 hours.
The model will be updated 4 times per day at a resolution of roughly 4 km for a large portion covering much of South America, with an additional outer domain with a resolution of 12km covering the entire South American continent and a large portion of Central America. These resolutions far surpass other models currently available. 
Here is why we've decided to invest strongly in LATAM and provide the power of CBAM for all our Latin American customers.
The Value of CBAM in Latin America
The new model advances forecast skill based on the best state of the science modeling techniques and drastically improves the resolution of the forecast data in an area currently relying on global models that are too coarse to derive meaningful insights from and receives little attention from other weather providers. 
Our LATAM CBAM model produces better forecasts than the global publicly available models. The model captures more localized effects of complex terrain and topography, land/sea breezes, and other features that aren't resolved by the coarser models. 
Below, you see a graphical depiction of the LATAM domain boundaries below shows the 4 km (right) and 12 km (left) model extent, along with the input model topography.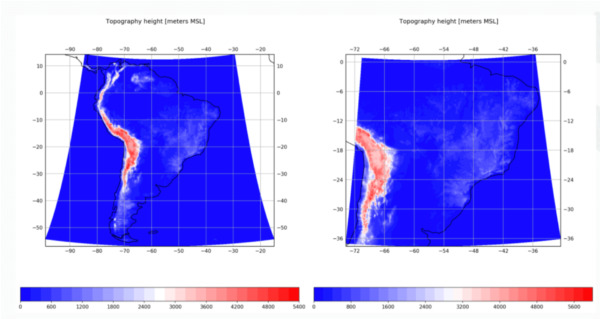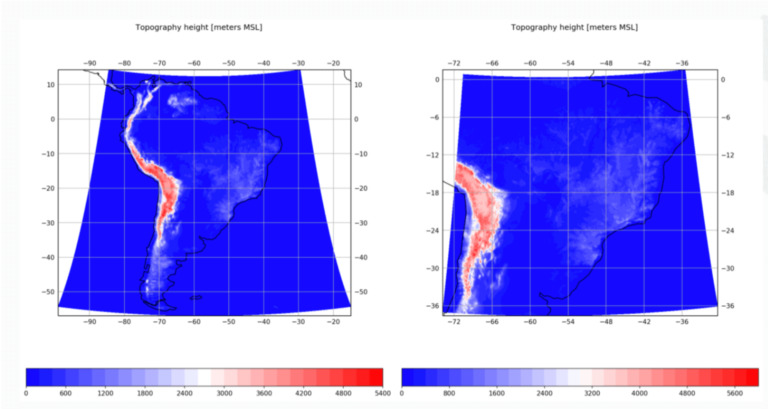 CBAM LATAM Use Cases
 This new model will assist in the operational planning and efficiency for some of the region's largest economic drivers, such as mining and agriculture. From ports in Chile to rail operations in Brazil and snow accumulation high in the Andes, this novel modeling approach will improve the bottom line for all of these applications, as well as airport (ground/dispatch) operations across the region. 
Not only can users expect the added benefit of better weather forecasts that more accurately depict the diverse physical geography of the region, but the new data is also fully integrated into the platform's visualization, insights and alerting capabilities. 
The CBAM LATAM modeling domain is a major advancement and pivotal piece of the ever-expanding capabilities of Tomorrow.io's cutting edge global 1F (aka 'One Forecast') advanced Numerical Weather Prediction (NWP) system.
The LATAM model leverages proprietary observations to fill spatial and temporal gaps in publicly available weather observations. This advanced data assimilation process ensures that the model has the most accurate initial conditions available to simulate a better weather forecast. LATAM integrated directly into 1F, which is one of the cornerstones of Tomorrow.io's Weather Intelligence Platform. 1F with the LATAM model combines the best external and internal modeling capabilities from across the globe seamlessly into one unified platform. As we bring online new higher-resolution modeling domains the entire 1F system benefits.