Cutting-Edge AI & ML Synthesizes Millions of Data Points into Concise Insights 
Boston, March 23, 2023 – Tomorrow.io, the world's leading weather intelligence and climate adaptation platform, today announced the industry's first weather and climate generative AI. The interactive product, nicknamed Gale, is a premium feature that will be used by select customers within Tomorrow.io's platform leveraging generative AI for specific use cases that can be customized to user needs and goals.
In an era of numerous generative AI product launches across industries, Gale the Weather and Climate AI stands out as the first dedicated to weather and climate. Gale addresses the challenge that global businesses and governments face in processing vast amounts of weather and climate data, enabling them to easily identify key trends, risks, and opportunities and share their insights with their teammates and colleagues.
"With the launch of our new generative AI assistant, "Gale," users can effortlessly convert the myriad of climate and weather insights the Tomorrow Platform is renowned for into a succinct, visually appealing, and shareable outlook " said Cole Swain, VP of Product at Tomorrow.io. "This is just the beginning of an exciting journey for Tomorrow and our customers. The emergence of generative AI has unlocked a new chapter in the way our team sees customers engaging with critical weather data. We envision a future where our users are making confident decisions around their weather and climate operations in ways previously unimagined." "
Directly within Tomorrow.io's weather intelligence platform, users can incorporate any customized set of inputs based on location, 40+ weather parameters, frequency, intensity, and more to highlight the most important trends based on operating goals. The ability to quickly analyze millions of data points in an instant empowers smarter decisions for proactive climate adaptation and resilience. Gale summarizes  the underlying details of the weather events Tomorrow users have set the Platform to monitor for across their operation and compresses all of these details into one easy to read synopsis.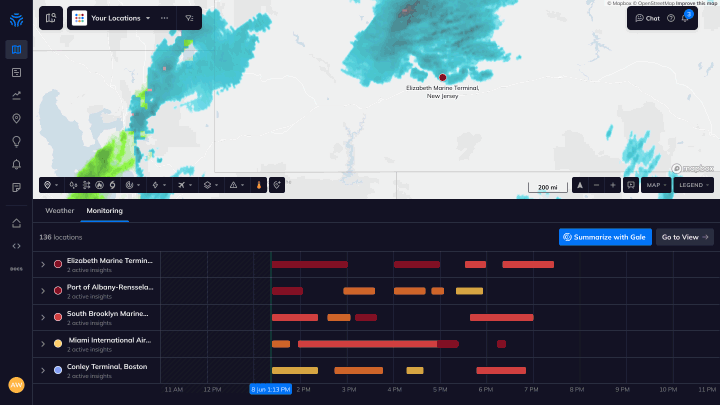 Itai Zlotnik, Co-founder and Chief Customer Officer at Tomorrow.io, commented, "It's not always easy for companies to make the right decision when it comes to the forecast. Weather decisions are hard to make in the face of endless weather data, and it's even more challenging for users to grasp its impact on their operation . Gale's magic lies in making weather more accessible to those involved in the decision making process. Gale's unique ability to analyze and summarize weather impact allows our customers to make smarter decisions by leveraging the industry's first fusion of weather intelligence and AI."
Designed for enhanced team communication, Gale automatically filters and prioritizes weather data based on factors like location, severity, and frequency of weather events, and combines it into a summarizing outlook equipped with shareable, business-driven insights.
To learn more about how generative AI is rapidly advancing weather technology and join the waitlist for Gale, visit Tomorrow.io.
See Weather Intelligence in Action Today