The partnership unites weather intelligence with proactive air purification technology
Boston, April 21, 2021 – Tomorrow.io, the world's only Weather Intelligence Platform™, announced today, its new partnership with CabinAir, the company pioneering air purification solutions for cars, trucks, and vehicles of all kinds with the world's most advanced air purifier technology. The partnership will integrate Tomorrow.io's Weather Intelligence Platform with CabinAir's Nordzone technology indicating levels of in-cabin air quality and now adding Tomorrow.io's outdoor air quality. The partnership will allow drivers and passengers to determine which air is safer for them, indoor or outdoor. Most people are not aware that one of the most polluted venues in our daily lives is actually the cabin of our car. This is due to pollutants quickly building up in the car due to the flow of exhaust from the vehicles ahead as well as from fine particles from brake wear, tire wear, road surface wear and more. Making matters worse, a car's interior is itself a source of volatile organic compounds (VOCs) released by materials such as rubber, plastic, foam and leather.
"More than 90% of the global population is exposed to unhealthy levels of air pollution each year," said Dan Slagen, CMO of Tomorrow.io. "Drivers need to know well in advance what risks lay ahead so they can ensure their own safety, in addition to the safety of their passengers, and by collaborating with the team at CabinAir we can reduce harmful exposure for people all around the world."
CabinAir is the leader of technology for healthy in-cabin air: The Nordzone System removes up to 10x more of harmful airborne pollutants such as viruses, bacteria, exhaust smoke and ultra-fine particles, compared to traditional solutions. 
The Nordzone System is equipped with the world's most advanced air purifier along with providing Bluetooth connectivity to an air quality monitor, so the car owners can supervise the air quality from the comfort of their mobile. 
Starting from today, the users of the Nordzone System will also be able to compare in-cabin air quality with outdoor air quality index, powered by Tomorrow.io's Weather Intelligence Platform. So not only will drivers and passengers have excellent in-cabin air quality, now they can also plan for "healthy stops" along the road and compare outdoor and indoor air quality.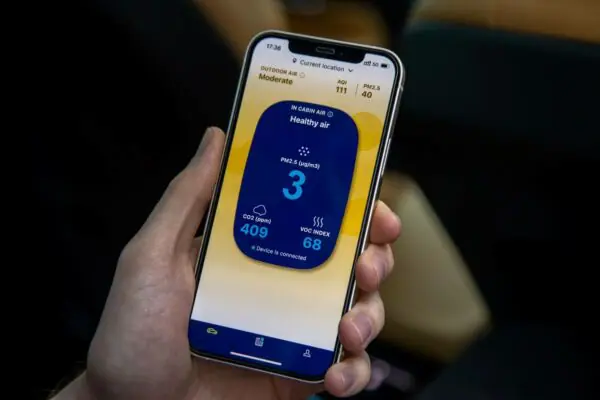 "The awareness around air pollution has expanded in the past few years, but most people don't know that the in-cabin air in their car might be much more polluted and dangerous for their health" said Daniel Hagström, CEO and Co-Founder of CabinAir. "With people spending more and more time in their cars, this obviously affects health. "We want to bring healthy air to all of you stuck in traffic every day. Combining Tomorrow.io's hyper-local outdoor air quality index with our Nordzone technology creates an opportunity for drivers to protect themselves and their loved ones from any unnecessary exposure."
The partnership will be kicked off at ClimaCon, The World's largest weather intelligence event. Tomorrow.io will be hosting CabinAir's CEO and Co-Founder Daniel Hagstrom in a panel titled The Pollution of Air Quality Data on April 28th at 10:00am ET. Registration is free and can be completed here.
About CabinAir:
CabinAir aims to improve the health, safety and wellbeing of drivers and passengers, by producing industry leading in-cabin air purification solutions for cars, trucks and other vehicles. CabinAir was established in 2016 as a subsidiary of Blueair, one of the world's leading producers of air purification solutions for home and professional use. Based in Stockholm we are now an international fast expanding team of passionate and committed employees with factory and R&D in Shenzhen and sales offices in Shanghai and Los Angeles.
Media Contact: Mira Marcus | PR, CabinAir | [email protected]
About Tomorrow.io:
Tomorrow.io is the world's leading Weather Intelligence Platform™. Fully customizable to any industry impacted by the weather, customers around the world including Uber, Delta, Ford, National Grid and more use Tomorrow.io to dramatically improve operational efficiency. Tomorrow.io was built from the ground up to help teams predict the business impact of weather, streamline team communication and action plans, improve productivity, and optimize profit margins.
Media Contact: PR for Tomorrow.io: | [email protected]