As the Northeast US braced for historic Hurricane Henri to make landfall this week, many cities and utility companies were doing their best to plan ahead. Ensuring additional crews are on standby to replace downed power lines and drainage systems can handle the incoming deluge of rainwater were critical plan-ahead steps to mitigate the damage and impact from the storm. And the more time they had – the better they could track every precise movement of the storm and the precipitation it would bring – the better prepared and safer they could be. 
That's the value of forecasting precipitation with accuracy, days out ahead, in not just urban planning but for many companies across different industries. In aviation, sports and outdoor events, and construction, efforts to plan and schedule usually comes down to the weather, and more specifically being able to forecast precipitation like lightning and rain accumulation. 
With these two latest forecast data product additions to the Tomorrow.io weather intelligence platform, users can now better plan days in advance and improve their lead-time awareness in making operational decisions. This will lead to not only tremendous efficiency improvements but also reduce the safety risks of having crews working in close proximity to lightning storms.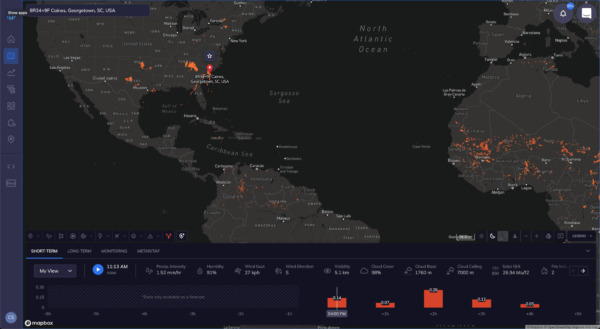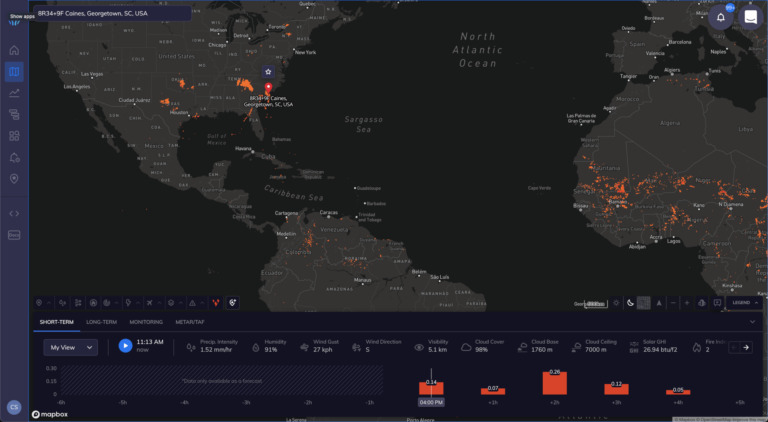 The new Tomorrow.io lightning flash rate density forecast product shows predicted lightning strike density in hourly intervals, up to 90 hours in the future, for any location globally per square mile or kilometer. When paired with the existing 15-30 minute lightning threat forecast cones for more short-term and immediate forecasting and directional movement, Tomorrow.io continues to deliver the most innovative and accurate lightning forecast data possible.

For users managing sports facilities and outdoor events, construction sites, or aviation and transportation operations, avoiding lightning is one of the most important considerations. Having employees or customers caught out in lightning is a massive safety risk. From an operational efficiency standpoint, scheduling a crew to work days in advance only to run into a lightning storm ends up being a big waste of money and everyone's time. Use Tomorrow.io's lightning flash rate density forecast to plan ahead further with greater confidence. 
Similarly, knowing not just that it will be raining but how much rain will fall is not just critical but necessary – and the preferred method for digesting rain data – for certain industries and companies. Rain accumulation in Tomorrow.io pairs with the existing instantaneous precipitation rate detailing how fast it is falling to let users know how much rain has accumulated in a given area over a given timeframe, as far ahead as the next 4.5 days.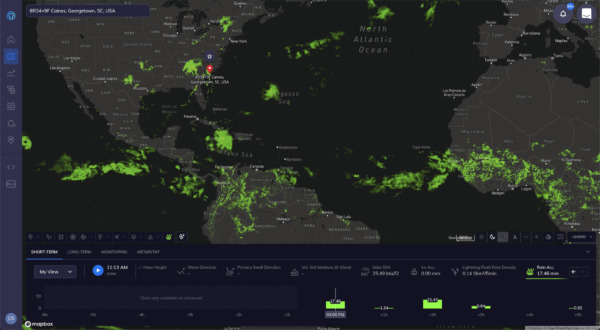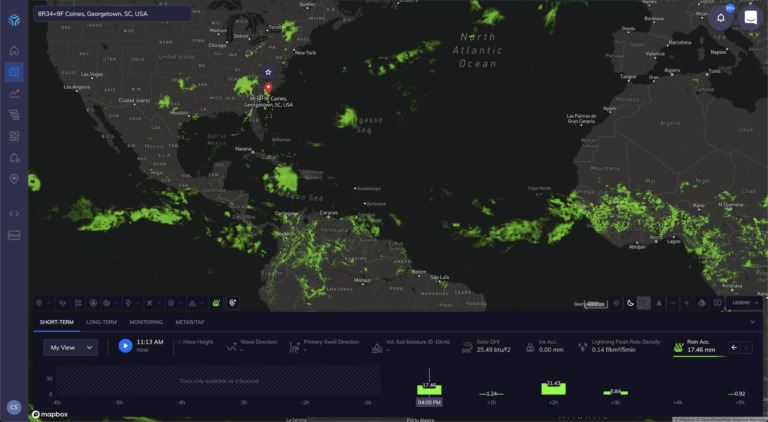 This lets them make important decisions to inspect a railroad line, avoid specific roads and routes, dispatch crews and equipment for clean-up, or even predict user demand and behavior. And in the case of a situation like an incoming hurricane or tropical storm, the storm drainage systems in most cities and municipalities can only handle so much rain before emergency measures must be taken. Knowing exactly how much rain is incoming relative to the limits they can handle is extremely powerful forecast information. 
Both lightning flash rate density and rain accumulation are broadly available across the Tomorrow.io platform (maps, timeline, insights, alerts) and the API.