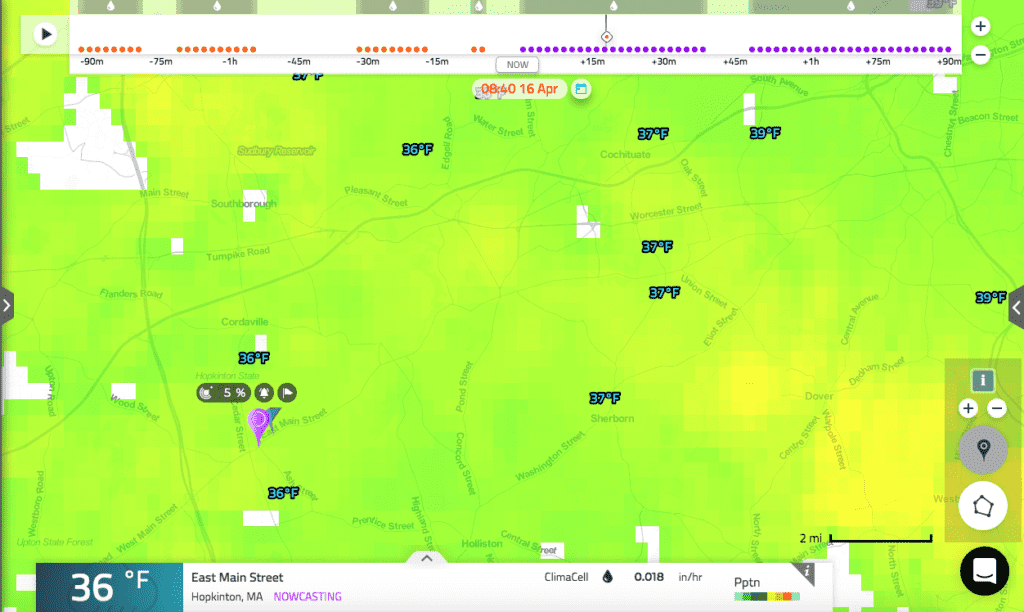 The 2018 Boston Marathon will bring the most rain we've seen in at least 25 years, which will keep the organizers glued to their forecasts and runners soaked. We're expecting nonstop rain for Marathon Monday, with steady light to moderate rain in the morning becoming moderate to heavy in the afternoon. In total, over an inch of rain could fall throughout the day.
At race start in Hopkinton, temperatures will be in the upper 30s, which means the rain may be uncomfortably cold for runners but on the bright side, ice does not look to be a threat. Temperatures will steadily increase to around 50°F at the finish line. Adding to the discomfort for the runners, they will likely be experiencing a headwind throughout the race. 15-20 mph east-northeast winds will increase to 20-25 mph by the time most of them make it over Heartbreak Hill.

Back in 1993, the official total (at Logan Airport) was 1.36 inches on Patriot's Day, and it's difficult to know just how bad the rain was along the course route. Today, in 2018, hyper-local forecasting is a reality and that means we can both observe and predict the weather minute-to-minute at any point along the race course. We think this marathon could be even rainier than '93, and parts of the course will likely see upwards of an inch an a half of rain on Monday. This will cause an additional challenge for runners (as if running a marathon weren't tough enough) and those hoping for a course-record will have to contend with headwinds in addition to heavy rain.
As for the organizers, emergency managers will have their hands full monitoring the forecast in order to stay ahead of any public safety issues – especially ones related to the weather.  We've set up alerts along the marathon course so stay tuned for real-time updates about the weather throughout the day.