Using intermodal transportation has a ton of benefits; it's scalable, flexible, cost efficient, quick, and reliable. As you only use one container for the entire journey, it's also an ideal way to transport perishable and delicate items and meet quality, health, and safety objectives. 
But intermodal is also a more complex mode of transport that requires extensive planning and precise logistics. The protocols and processes are complex. Ensuring goods reach their destination in their original condition and in a timely manner is no easy feat, especially when you factor in unpredictable and uncontrollable weather.
On-time delivery is crucial, and your customers don't like unexpected delays or unclear ETAs. Yet coordinating the movement of goods from sea to truck to rail when contending with severe weather can cause significant delays and costs if not managed properly. 
There have been many examples of extreme weather severely affecting all types of transportation methods. For example, the 2019 North Atlantic hurricane season had:
18 named storms
6 hurricanes
3 major hurricanes
To put this into context, this is well above the average of 12 named storms per hurricane season, and only eight other seasons since 1851 have had 18 or more named storms. And that's just tracking the most extreme storms — let alone the day-to-day weather you encounter normally.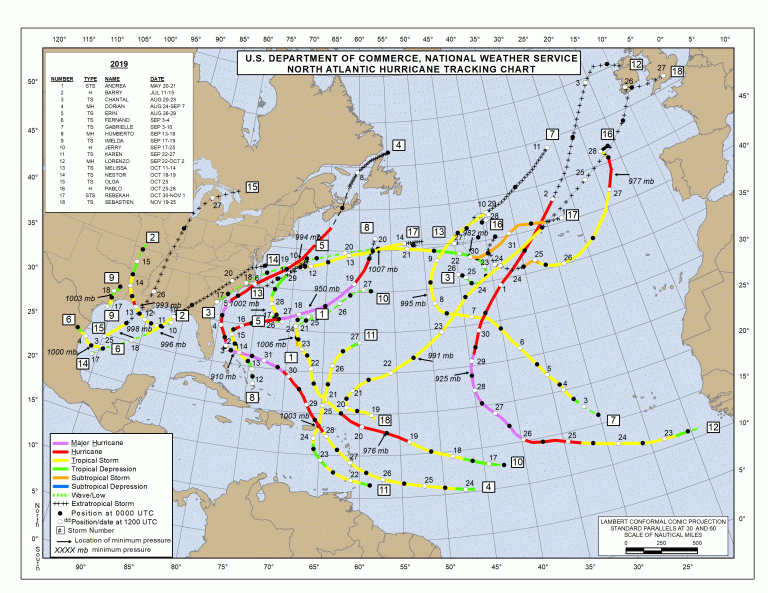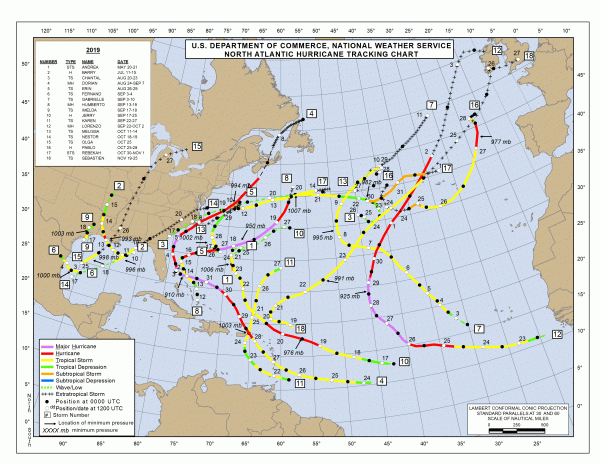 Storms knock shipping off track
Take the example of United Parcel Service (UPS). As one of the largest users of intermodal rail services in North America, its business relies on the delivery times promised to customers. This requires the timely transportation of parcels by rail, truck, air, drones and more. 
Yet 2019 got off to a difficult start. The company failed to meet its delivery targets for the first two quarters, and it was mostly down to a factor outside of their control: the weather. There were major snowstorms, heavy rains, tropical storms, mudslides, and floods, which caused track outages, train reroutings, and traffic congestion. 
UPS Vice President of Corporate Transportation Ken Buenker explained: 
"I'm in my 36th year at UPS and I've never seen so many weather impacts. There would be storms in the East and then points in the West would get behind because of flooding."
If winter storms can knock Amazon's shipping off kilter given its massive distribution network, then no company can expect to be immune from the effects of extreme weather and the impact of weather day-to-day. 
Business disruption across the board
The benefits of intermodal can quickly become its downfall when you factor in weather disruptions. 
Intermodal transportation relies on the efficiency of the railroad, the flexibility of trucking, and the speed of maritime transport. But using multiple forms of transport means more points of delay, more supply chain disruption, and a massive headache trying to coordinate it all. 
Container shipping
Representing roughly 90% of global trade, shipping is a highly complex business with tightly run schedules and little room for error.  Yet reliability has long been an issue, with Trans-Pacific and Asia-North America West Coast schedule reliability falling below 40% in 2019. One of the major contributing factors is the uncontrollable force of the weather.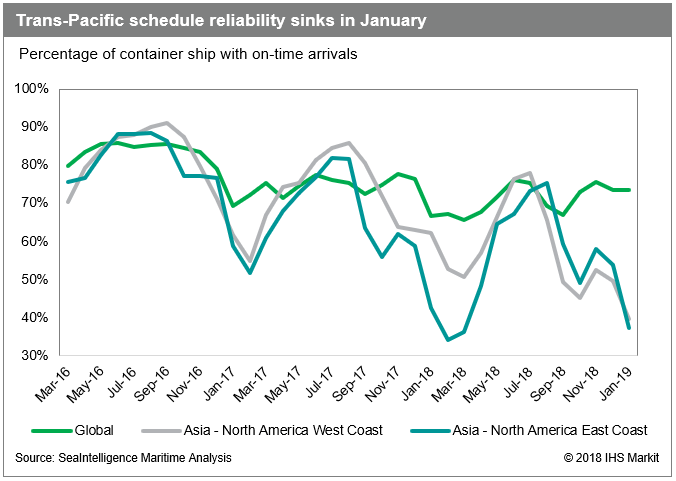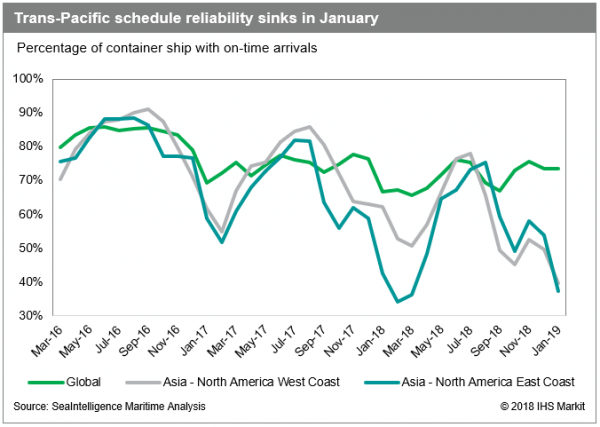 While most cargo ships can withstand extreme weather without having to alter their schedule, hurricanes and cyclones can make it too dangerous to sail. The Port of Houston was forced to close for six days in August 2017 due to catastrophic rainfall caused by Hurricane Harvey. Poor weather does not just lead to delays in delivery, it also has a significant financial impact. 
When cargo ships are not able to sail due to stormy weather, they often have to increase their speed on their subsequent journey. The faster a ship sails, the more fuel it uses, and the more it costs to make the journey. If the ship has to deviate from its route and increase its journey time, this leads to further delays and even higher fuel costs. You also have to pay to store containers for the extra time they are stuck in port.
These delays affect the supply chain, especially if you have to transport the goods onwards via another mode of transport when they arrive at their destination port. Ultimately, this leads to a delay in delivering goods to customers. Extreme weather events also extend to fog, snow, floods, and changes in sea and water levels, which can lead to stoppages and delays and disrupt supply chain operations.  
Despite these disruptions, many intermodal transport operators and ports still don't have access to the necessary and actionable weather data to mitigate risk. According to a survey from the United Nations Conference on Trade and Development, the majority of ports and maritime transport operators have been impacted by weather/climate-related events, including extremes events, but there are important gaps in terms of relevant information available to seaports of all sizes and across regions. There's a lack of accurate, up-to-date, accessible, and actionable  information. 
Port operations
Port operations also bear the brunt of extreme weather. High winds mean port operators often have to suspend crane operations due to safety concerns.
Here are some examples of what happens to cranes and the cargo they are lifting when exposed to extreme weather: 
A strong wind can destabilize a container when it is being lifted and the crane operator may be unable to control it. These loads weigh many tonnes and can cause severe damage if they hit equipment or structures.

There is a risk of dropping heavy cargo. If this happens, the ship will likely suffer significant damage or it may even sink.

Wind can cause drag forces on ships. Accident risks are higher when a container and a ship are moving drastically in relation to each other.

Seaports keep equipment and cargo in close proximity to the crane to maximize the space available. This can result in collateral damage. 
Monitoring wind conditions is crucial in ensuring that cranes can be operated safely. However, most weather forecasts only provide general data for the area and do not include short-term severe weather events. Take wind gust data for the Port of New York on April 29th. Look at the spike as illustrated by the green line below. On that day, wind gusts unexpectedly spiked from the low 20 MPH to as high as 50 MPH throughout the morning and day.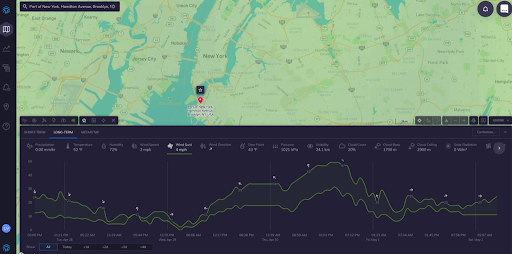 If you knew those wind gusts were going to hit ahead of time, then you could plan ahead and avoided any unnecessary risk or damages. But your average weather forecast wouldn't have picked that spike up. 
That's why real-time, impactful weather intelligence is crucial for the intermodal industry.
Railroads
Railroads are the world's most productive, safest, and lowest cost freight system. Yet they are not exempt from the impact of extreme weather events. In the first 13 weeks of 2019, overall rail volume was down 1.3% YoY  — roughly $1 billion dollars in losses — with most railroad executives blaming the dip on harsh weather. 
In February 2019, heavy rain in Northern California knocked out service along the historic Feather River Route between Oakland and Salt Lake City. Weather also disrupted operations in several other cities in California, Nevada, and Utah. Mike Trevino, a spokesperson for railway company BNSF, said, "We have about 14 trains right now that are rerouted as a result of that outage. So the trip times for those trains will be longer, I don't know exactly how long, but they will be longer."
Here are just some of the ways that weather and climate factors affect railroads: 
Intermodal crossing points, such as grade crossings and waterway/railroad trestle intersections are vulnerable, as are remote stretches far removed from observational networks

Precipitation and fog lead to decreased visibility of signals to locomotive engineers

Flash floods lead to washout of tracks and consequent derailment

Seasonal floods from rivers may make some track segments impassable

Warping of tracks due to uneven thermal expansion in the summer, and a build-up of snow and ice on the tracks in the winter can lead to decreased speeds and derailment

Extreme cold causes brittle track and track separation

High-speed crosswinds can influence the stability of railroad locomotives and cars
Railway operators often have to shorten trains and operate at lower speeds to make it easier for trains to brake and reduce the possibility of damage or risk to life.
Yet currently railway companies often operate using general wide area hazard forecasts. When extreme weather is highly localized, it can be difficult to forecast events such as wind gusts in a precise way. This either leads to speed restrictions across a wide area, or the failure to forecast extreme weather events that lead to damage or derailment. It also hinders railroad operators and crews' ability to make speedy decisions to avoid and recover from local weather events. 
Trucking
Hurricanes and other extreme storms don't just affect the shipping industry. When a storm makes land or is even close to the coastline, land transportation is at risk. Icy temperatures, snow, and freezing rain can also result in problems for freight transportation.
Each year trucking companies lose an estimated 32.6 billion vehicle hours due to weather-related congestion, while the estimated cost of weather-related delays to trucking companies ranges from $2.2 billion to $3.5 billion each year. Weather is responsible for roughly a quarter of total trucking delays.
Take the infamous Midwest snowstorms of early 2019. Portions of interstate highways in Minnesota and Iowa remained closed for up to four days. The closures affected more than 300,000 vehicles per day and left hundreds of truck drivers stranded. It's important to use the most actionable weather information available not only to keep goods moving but also to ensure the safety of drivers. And it's not just cold weather that can put a spanner in the works when it comes to transporting goods by trucks. 
Perishable and delicate products require temperature control, which normally means converting to refrigerated trailers in the summer months. Using refrigerated trailers is more expensive than dry trailers, but the risk of the produce arriving damaged can be costly. It's a case of balancing your seasonal budget with goods arriving on time and intact. 
If you decide against refrigerated trailers, then you need either reroute to avoid heat waves or areas where the thermometer soars in the summer or you need to get your shipments out ahead of time. You need to be prepared. This involves monitoring the impact of forecasts ahead of time so you can identify high-risk weather events, and to take a proactive strategy to minimize risk, avoid service disruptions, and mitigate rises in costs. While some trucking companies have implemented ETA prediction solutions, these are often unable to take into account dynamic events, such as the weather. 
Why you need predictive weather impact software
Preparation is key, but to properly prepare, you need to have an idea of what's ahead and what you can expect from the weather. Predicting the future is impossible. Unlike Marty McFly, we can't travel forward in time to see what's ahead and whether there will be a major storm next week. 
But weather software can predict with a high degree of accuracy what the weather will be like at a given time. We're not talking about producing weather reports like the ones you see on TV in the morning when you're eating your cornflakes; we're talking weather intelligence software. 
Weather intelligence is much more than a forecast — it's the forecast put in context for your business. It provides actionable insights into the weather today, tomorrow, and in the coming weeks.
While existing map data can show you when there is traffic on the route right now, it can't tell you future impact — that not only will there be a massive storm tonight, but this will be the impact on traffic and here's what to do instead. This data is incredibly useful for your operations, since you can proactively adapt to the incoming weather conditions instead of constantly reacting in the moment. 
If you're aware of potential weather problems in the area your shipments will be moving through, you can better anticipate possible delays and longer delivery times, and take action to mitigate or prevent these delays. For example, if there's a strong gust of wind going in a specific direction on its way in a certain area, you can update your schedules, choose to divert your shipment through another port, or choose another method of transport to avoid crosswinds. If there's a snowstorm on the way, you can send your shipment early or alter the route to avoid the disruptions. 
Tomorrow.io's weather intelligence platform for intermodal operations 
With the right tools, you can forget about the forecast and focus on improving specific operational use cases. So, how can weather intelligence software help you better run and plan your intermodal operations? 
Here is what weather intelligence software can help you do: 
Monitor weather impact such as wind direction or lightning historically, in real-time, and forecasted
Plan routes around weather to reduce delays
Trigger the right alerts, notifying drivers of hazardous weather
Protect valuable assets to avoid weather-related cargo damage
Minimize end-to-end disruptions through better, proactive decision-making
Optimize labor scheduling by scheduling crew and shift work during ideal weather conditions to avoid waste
Track winds to specific MPH and direction to start, stop or suspend crane operations
Get 24/7 hyperlocal minute by minute weather insights down to the vessel 
Tomorrow.io's Predictive Weather Intelligence Platform can do all that and more. The software and API integrations can directly alert organizations as to the business impact of the weather and the actions to take to prepare in advance. 
With Tomorrow.io's pre-built operational dashboard templates or customized automated dashboards, you can manage nearly every aspect of incoming weather and ensure you take the proper action needed to avoid any damage.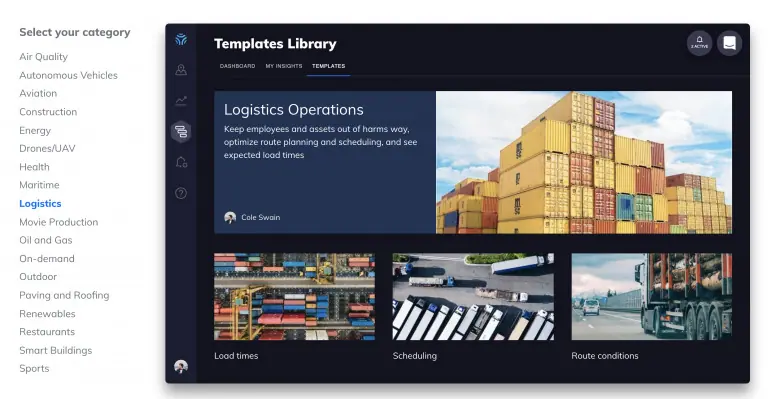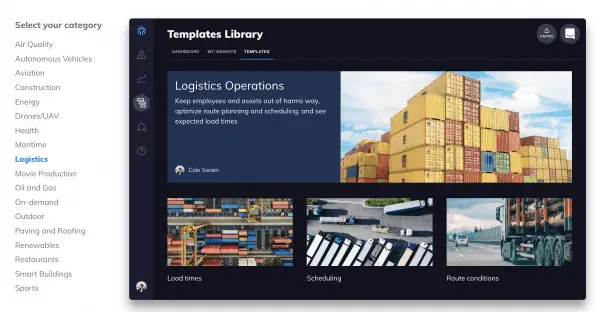 The Tomorrow.io Insights Dashboard takes all of your internal weather-related action plans or procedures and visually displays them across a 4+ day timeline. Instead of scrambling to adapt to the weather, you'll have time to prepare, automate, and adapt, all while following your specific guidelines or protocols for employees. Even better, you can turn those insights into actions with alerts — going out via email or SMS — to the right teams that need to know. This is critical for team communications.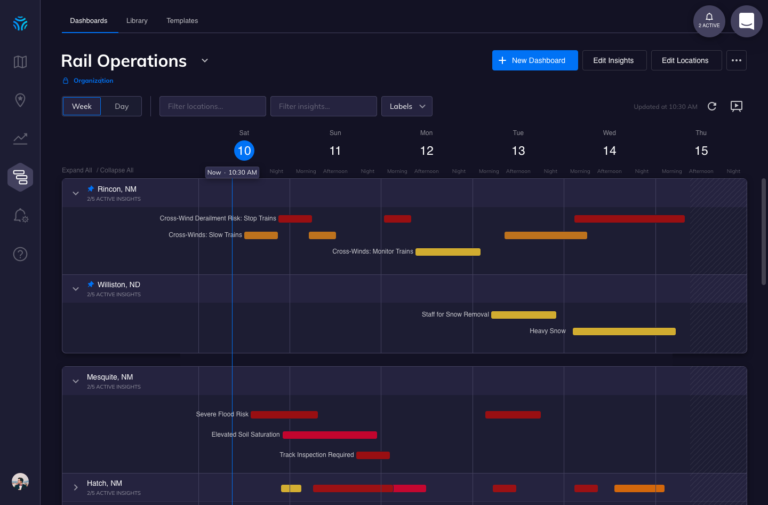 Using the ClimcaCell platform, teams also automate employee communications and protocols to ensure one source of truth with automated messaging and alerts and ensuring everyone is getting the same information from the same place at the same time.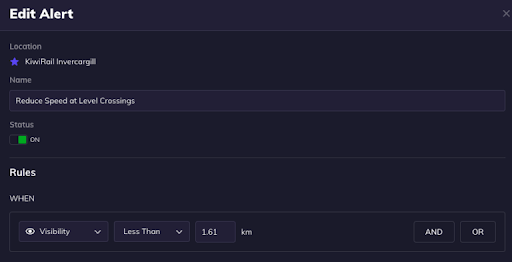 Nick Johnson, Maps & Technology Partner at Uber, has this to say about the company's implementation of weather intelligence software:
"With the support of Tomorrow.io, we're providing even more accurate ETAs based on insights from their on-demand forecasts. We're excited about this partnership and the integration with our platform."
ITS ConGlobal takes control with Tomorrow.io 
Weather intelligence can help you stay ahead of the weather rather than being at the mercy of Mother Nature each day, and ITS ConGlobal knows that more than most companies. ITS ConGlobal is a leader in the intermodal industry with more than 120 locations across North and Central America. The company is leveraging Tomorrow.io's predictive weather intelligence platform to optimize their operations at scale.
"Weather and its influences on our business is an input to our operating plans, and the decisions we make every day," says Brant Ring, CEO of ITS ConGlobal.
Tomorrow.io's Predictive Intelligence Software helps ITS ConGlobal transport goods from their origin to their destination in the most efficient, cost-effective, and safest way. With Tomorrow.io, you can forget about the forecast entirely and focus on what matters most: the impact on your business.