It can happen in a flash. From damp roads, to puddles and ponding, to rapidly rising water that carries vehicles away, inundates buildings and basements, destroys crops, breaks bridges, and tragically drowns people and animals. 
The atmospheric setup varies from one flood to the next, but the result is always the same: Too much rain in too little time.
A new study in the journal Nature finds that the global population exposed to floods grew by 58 to 86 million people from 2000 to 2015. 
"This represents an increase of 20 to 24 per cent in the proportion of the global population exposed to floods, ten times higher than previous estimates," according to the study. "Climate change projections for 2030 indicate that the proportion of the population exposed to floods will increase further."
That projection is alarming given the latest examples from July alone of extreme floods that are increasing in frequency and intensity worldwide:
More than 300 people died during last month's flooding in eastern China due to drownings in basements and garages, collapsed houses, flooded subway cars and tunnels, and other flood-related impacts. The city of Zhengzhou received almost eight inches of rain in one hour, and over 24 inches in one day, nearly the city's average rainfall for an entire year

according to The Washington Post

.

Also in July, more than 200 deaths in central Europe were blamed on the worst flooding there in decades, with more than six inches in less than 12 hours. For example, the German city of Reifferscheid received 8.1 inches of rain in just nine hours as

reported by CNN

, in an area where the average rainfall for all of July is only 3.45 inches. AIR Worldwide estimates

insured losses could approach $6 billion

.

Fortunately, there were no reported deaths in flooding that ravaged New York City multiple times in July, but the intense rainfall was enough to gridlock traffic and flood subway platforms, "​​leading some commuters to wade through waist-deep toxic water." Police had to

rescue over a dozen stranded motorists

.
There are a number of steps people, businesses, and organizations can take to prepare for flooding including purchasing flood insurance, landscaping to improve drainage, turning off gas and electric services, and clearing debris from gutters, downspouts, sewers and culverts (like city workers did as flooding developed in Bountiful, Utah, in early August). Ready.gov provides recommendations on what people should do before, during and after a flood, while the Federal Emergency Management Agency provides a playbook with tabletop exercises for how organizations can prepare for a flood.
But you can only prepare for a flood if you know one is on its way. 
With the increasing threat of and vulnerability of society to flooding, there are a number of efforts underway in both the public and private sectors to mitigate the impacts of flooding through a combination of better forecasts, better preparation, and better communication.
National Water Model
The National Oceanic and Atmospheric Administration's National Water Model, which became operational in 2016, simulates observed and forecast streamflow over the entire continental United States. The model complements National Weather Service river forecasts at approximately 4,000 locations and expands water forecasts to 2.7 million streamflow locations where traditional river forecasts did not previously exist. 


The model has demonstrated incremental improvements in flood forecasts, including for the catastrophic flooding in Ellicott City, Maryland, in 2018. Further improvements are expected when the next-generation National Water Model becomes operational, which is currently planned for 2024.
Precipitation Prediction Grand Challenge
2021 is now the sixth consecutive year with 10 or more billion-dollar weather and climate disasters in the United States. NOAA's Precipitation Prediction Grand Challenge (PPGC) recognizes that "a key to reducing these impacts is to be able to anticipate when, where and how much precipitation will fall," and notes that "although temperature forecasts have generally improved greatly over the last few decades, precipitation forecasts (at all timescales) have not."
Through an integrated research-to-operations effort, the PPGC aims to increase the rate of improvement in precipitation forecasts from 15% per decade to 30% per decade in five years, and from 30 percent per decade to 50 percent per decade in 10 years. The PPGC will inform and support the activities of NOAA's Earth Prediction Innovation Center (EPIC), a program established to advance weather modeling by facilitating a community-development approach and will also align with NOAA's Artificial Intelligence Strategy and Cloud Strategy.
FEMA Risk Rating 2.0
Most residential and commercial property insurance policies don't cover damage from flooding. Homeowners and businesses wanting to protect themselves from the financial risk of flooding must purchase a separate policy through insurance companies or agents. The vast majority of flood policies in the United States—more than five million—are provided through the National Flood Insurance Program (NFIP), which is managed by the Federal Emergency Management Agency (FEMA). NFIP rates are currently determined by an outdated methodology that results in "policyholders with lower-valued homes paying more than their share of the risk while policyholders with higher-valued homes are paying less than their share of the risk," according to FEMA.
Starting in October, FEMA will introduce a new pricing methodology called Risk Rating 2.0, which FEMA calls "a transformational leap forward" to ensure rates are more fair and equitable. Risk Rating 2.0 will incorporate more factors into determining the cost of flood insurance for a given property—including flood frequency, multiple flood types (river overflow, storm surge, coastal erosion, and heavy rainfall), distance to a water source, property elevation, and the cost to rebuild—such that rates will more accurately reflect the flood risk specific to the insured property.
Better Flood Forecasting
At Tomorrow.io, we are supporting or directly partnering with the above efforts to improve forecasts of and preparation for floods:
Weather intelligence does far more than a typical weather forecast. It puts the forecast in context for your specific business or operations. Tomorrow.io's

Weather Intelligence Platform

can monitor many locations at once for any combination of weather conditions that impact the operations of a business or organization. For example, a shipping and logistics company can get alerted when and where to reroute trucks due to predicted flooding. The platform can be tailored to drive decisive actions for virtually any industry.

Later this summer, Tomorrow.io will launch a new flood index to help businesses and organizations identify areas at risk for minor, moderate, significant, major, and catastrophic flooding up to five days in advance, even in areas without many hydrologic observations. The index, which accurately predicted last month's flooding in Europe and China during a pre-launch verification analysis, is calculated using a mix of publicly available and proprietary hydrologic models, including NOAA's National Water Model, as well as 40 years of historical analysis of runoff and streamflow.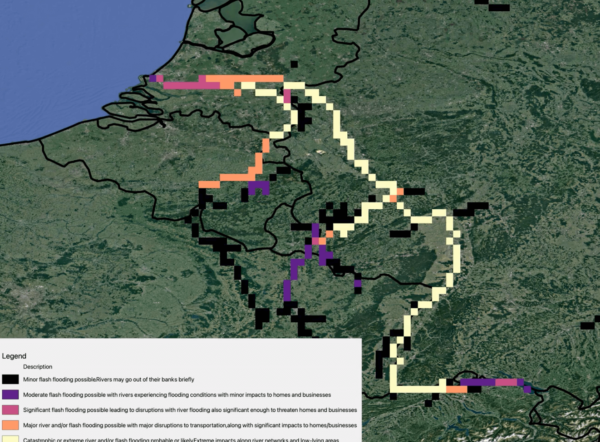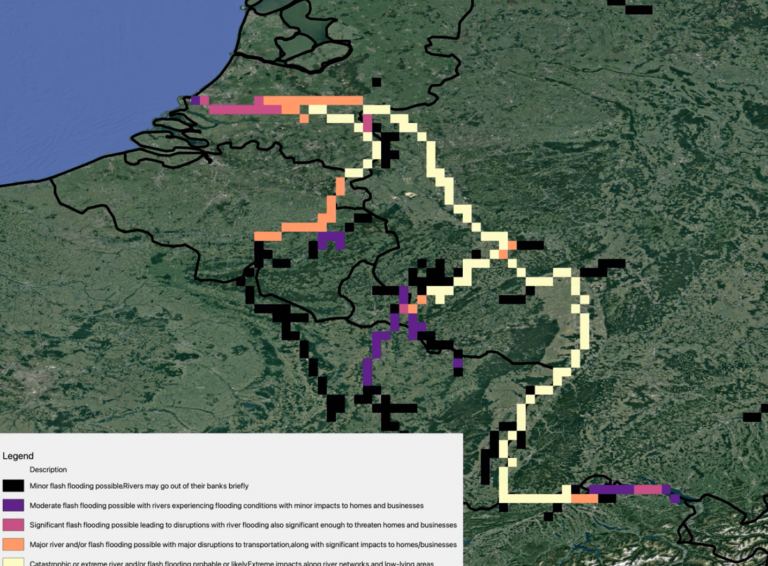 To make our flood index and all of our forecasts and alerts even more accurate in the future, Tomorrow.io is also launching a constellation of small satellites equipped with precipitation radar starting late next year. The operational constellation of approximately 32 satellites will for the first time provide global, high-resolution measurements of precipitation updated every hour, improving weather forecasts especially for floods and hurricanes, and enabling reliable weather forecasts for the 5 billion people worldwide who currently live outside of traditional ground-based radar coverage.