With more than $100 billion in annual revenues across the air cargo industry, the top 25 air freight companies alone are responsible for flying more than 170 billion freight tonne-kilometers each year. While the industry is responsible for thousands of companies and more than 350,000 employees, the largest 10 players in the space include FedEx, Emirates SkyCargo, UPS Airlines, Cathay Pacific Cargo, Korean Air Cargo, Lufthansa Cargo, Singapore Airlines Cargo, Cargolux, and China Airlines Cargo.
But where are these massive companies located? Geographically, the percent of air freight activity spread across the globe:
Asia Pacific: 36%
Europe: 23%
North America: 23%
Middle East: 13%
Latin America: 3%
Africa: 2%
The air freight industry is facing more demand than ever before, and weather can easily slow shipping down. When it comes to the impact of lightning, hail, snow, or even high winds, air freight companies must adjust and adapt quickly. This is exactly why weather intelligence is becoming even more important to the air freight industry.
The Cost of Weather on Air Freight Operations
The one thing these companies all have in common is their daily fight against the weather on a global scale. Consider some of the following statistics currently facing the air cargo industry:
Every minute a plane is delayed costs roughly $75
Total delay costs are more than $1 billion per year
Unexpected weather causing choppy air and turbulence costs carriers in the U.S. alone approximately $100 million per year
On average, U.S. carriers waste 160 million gallons of fuel due to course and altitude changes due to weather
Cargo damage consistently costs millions in both financial and procedural headaches
In addition, the Bureau of Transportation Statistics most recent report showed that weather is the reason for 33% of delays.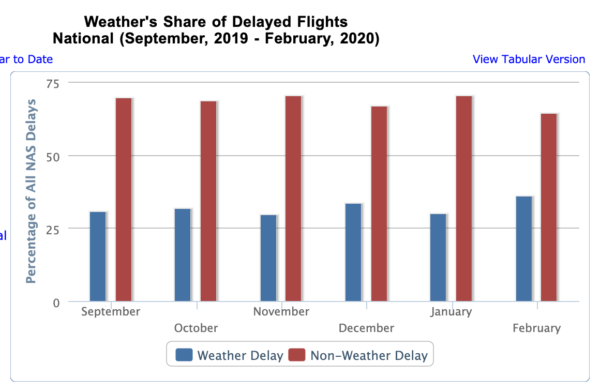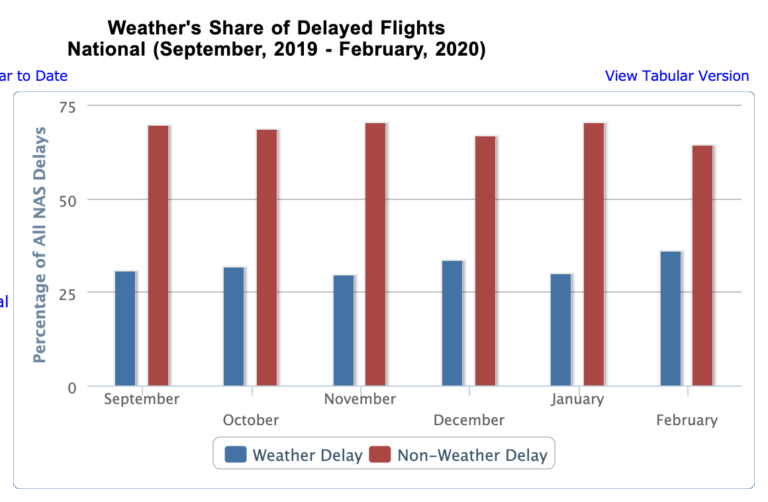 The costs of weather is enormous and constantly has air freight companies asking: who is going to help us answer and finally solve this billion dollar problem? Let's review some of the main cost culprits facing air cargo companies these day which are compartmentalized across fixed and variable costs:
Fixed Costs:
Aircraft: These planes on average cost more than $100 million
Cargo handling equipment: This includes all the lifts, docks, and handling systems
Variable Costs:
Delays: More than $1 billion in cost per year
Labor: Accounting for 35% of operating expenses
Maintenance: While costs vary, something as simple as hail damage to the exterior to a plane can cost $100,000 for a new paint job
Deicing: $4,000 per job
Fuel: Hundreds of millions in cost
Cargo damages: Losing or damaged cargo has an enormous impact on revenue. An example from Ralph Lauren is if the company loses $100,000 shipment, it would take an additional $1.46 million to pay for the cost of the lost shipment, roughly 15x.
Core Weather Elements Impacting The Air Freight Industry
The main weather elements impacting cargo plan operations include things like lightning, high winds, precipitation, visibility, cloud cover, and extreme temperatures. Due to the unexpectedness and frequency of some or all of these weather elements depending on your location, each of these factors have to be monitored individually 24/7 — a nearly impossible task for any operations team.
Additionally, teams not only need to know about incoming weather, but also what it means for their operations and what decisions need to be made which even more difficult. Let's say for instance, your weather forecast is showing a 50% chance of lightning, what do you do? Debate with colleagues when the lightning might strike and where?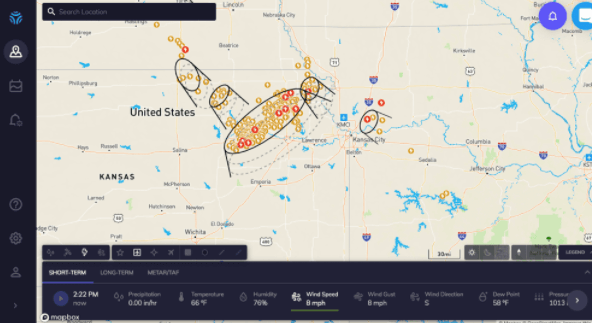 The problem is that most people are using different weather data providers or apps to get their information, and ultimately people will be more conservative if they don't know what information to trust. It may sound like a good thing, but the compounding financial impact of being incorrect time after time each month is what produces the more than $1 billion in unnecessary costs and delays.
Teams need help understanding the upcoming weather, what is means for them, and what decisions need to be made. That's why using Tomorrow.io's fully automated weather intelligence platform is the answer. Our platform monitors weather data from hundreds of millions of data points, automatically connects the impact of that upcoming weather against your operational protocols, and visualizes all of the your decisions for you in an easy-to-use insights dashboard.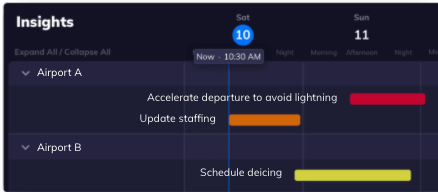 Using Predictive Weather Intelligence to Save Hundreds of Millions
It sounds like a lot of savings, we know. But given the impact of weather across your entire day-to-day operations, the advantage of using a decision-based weather platform that performs like a workflow tool has a compounding impact. Tomorrow.io is no stranger to helping airlines cut costs and improve efficiency, and here are a few recent stories as to how we've helped major airlines operate better amidst volatile weather:
$2 Million

in Cost Savings For Airline in a Single Event:

In April, a storm produced 10" of snowfall. The storm included 50 MPH winds and lightning.

Tomorrow.io predicted when a major airline should operate during lower wind speeds, in addition to scheduling deicing and closing ramps during lightning.

Tomorrow.io correctly predicted not only the type, timing, and amount of precipitation, but was also the

ONLY

provider to anticipate strong winds and cloud-to-ground.

$15 Million

 

in Cost Savings For Airline in a Single Event:

A rare and unexpected late winter storm. For the first time since 1982, more than 5" of accumulated snow fell on a single day in April.

Tomorrow.io correctly predicted 5-8″ of snow while

EVERY

other provider erred regarding snow, accumulation amount

, intensity, and timing: "no more than 1" of accumulation at most." Tomorrow.io provided an accurate warning more than 30 hours before the storm occurred, saving 231 real-time cancelation and 40 diversions.
Here are a few other ways you can use Tomorrow.io for specific business uses cases:
Improve on-time performance: By knowing the impact of the weather in advance, you can optimize your staffing needs to be more cost effective and better plan for loading and unloading. Additionally, you can confidently schedule deicing crews without waste, arrange gate preparations, vendor needs, ensure TARMAC rule compliance, and significantly reduce delays.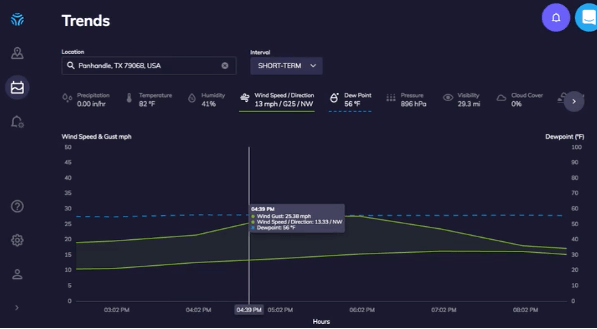 Reduce delays and improve flight planning: See exactly how and when weather events will hit so you can either speed up certain departures or push out flights to avoid unnecessarily large windows of caution. You can also use Tomorrow.io to select the safest routes, understand alternatives, reduce fuel consumption, keep expensive cargo unharmed, and make the best decisions both on the ground and in the air.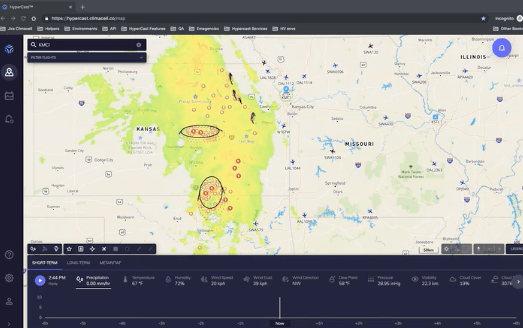 Increase safety and asset protection: Get specific recommendations on when to take actions like closing ramps, securing expensive ground equipment and aircraft to avoid damages or putting staff in harms way during strong winds. Another benefit includes the ability to see incoming storms such as hail to avoid expensive damages to aircraft.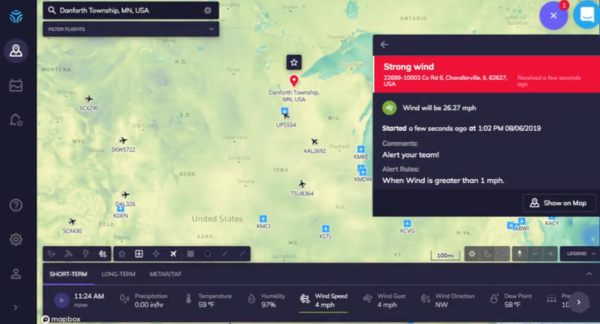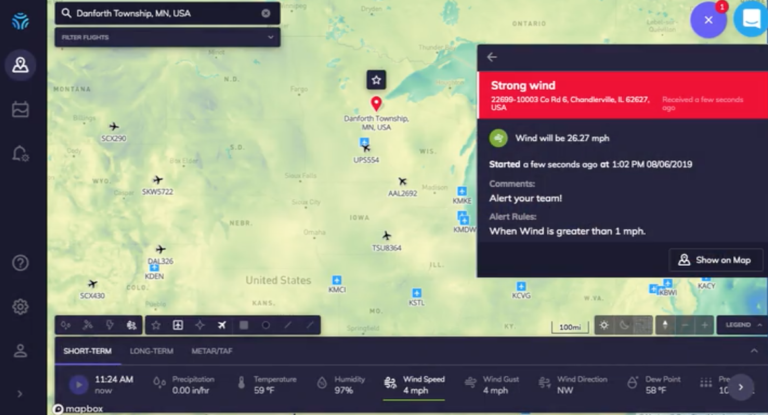 Centralize a single source of truth for weather communications: Avoid miscommunications by sending out alerts and messages to ensure every team member is working from the same weather and operational data. With Tomorrow.io, you can send updates via text, email, slack…etc and notify all stakeholders and key decision makers.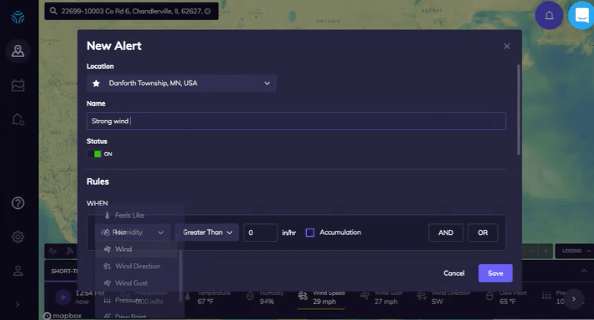 As you can see, the way you use predictive weather can improve your entire operations and cost model. You don't have to accept your current annual costs due to the weather as "standard" operating procedures.
Learn how Tomorrow.io helps Delta, United, JetBlue, the United States Air Force and more.