In early February of this year, winter storm "Landon" swept across the U.S., leaving over 250,000 homes and businesses without power across the country. The ice storm left more than 120,000 Tennessee residents without access to their utilities, with some waiting several days for crews to resolve the outages. 
While extreme weather events affect an alarmingly high number of people every year, they're more common than ever, leaving detrimental consequences for those inadequately prepared to lose essential power and resources. But how about the utility crews that work diligently to restore community resources at utility substations?
But how about the utility crews that work diligently to restore community resources at utility substations?

Utility substation crews consistently work around electrical equipment and machinery that generate enough power to have fatal consequences. Depending on the substation, they work in almost every weather condition – often near artificial and natural hazards. It's a job that requires extensive training and in-depth knowledge of the equipment to mitigate potential safety risks. It's no surprise then that when inclement weather damages utilities, crews face an even higher level of danger.
With climate change fueling extreme weather events that challenge our resources – and projections of more frequent and prolonged outages in the coming years – how can energy and utility companies minimize the risks for utility crews and ensure a more reliable grid?
Actionable Insights: A Key Component of Utility Substation Crew Safety
In the past, utility substation crews have relied on weather modeling and forecasting services that simply don't provide the insight needed to keep utility crews safe and provide reliable power during extreme weather events. Coupled with compounding climate change issues, energy and utility companies face scrutiny at every corner – leaving gaps and opportunities to provide utilities at a higher standard without jeopardizing the safety of local utility crews. 
Tomorrow.io's weather and climate security platform fills industry gaps by delivering fast, reliable, and hyper-accurate weather data that easily integrates into existing processes – driving actionable insight that fosters utility crew safety and a more reliable grid. Nearly every industry utilizes technology to streamline processes, automate time-consuming tasks, and increase revenue. With Tomorrow.io's proprietary forecast models and a soon-to-launch constellation of radar-equipped satellites, there's never been a better time for energy and utility companies to jump on board.
But, how does Tomorrow.io's weather platform deliver actionable insight that directly impacts utility worker safety? Watch to learn how that platform can easily enable your team to prioritize crew safety.
In the energy and utility industries, hazards to maintenance and repair crews are a daily occurrence. Icy roads threaten teams in transit to make repairs; strong winds create hazards for those who must execute tasks near trees and unstable structures; electrical storms deliver an obvious risk to those working around highly-conductive materials – the list goes on.
With Tomorrow.io's customizable insight dashboard, energy and utility companies can prioritize crew safety by monitoring conditions, triggering actions, and sending automated alerts to utility crews who otherwise may not have access to critical weather information. Customers have access to dozens of pre-loaded insight parameters created by industry-leading experts, including wind staffing protocols, resource allocation and maintenance, winter operations, and more. These pre-loaded insights give companies a quick and reliable way to ensure substation crew safety upon integration into their systems, providing immediate assistance to ensure operational safety.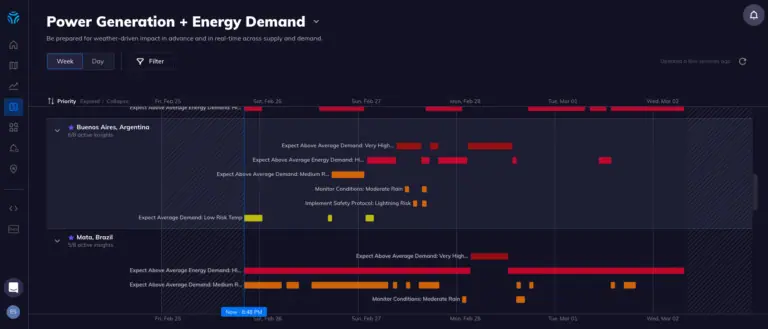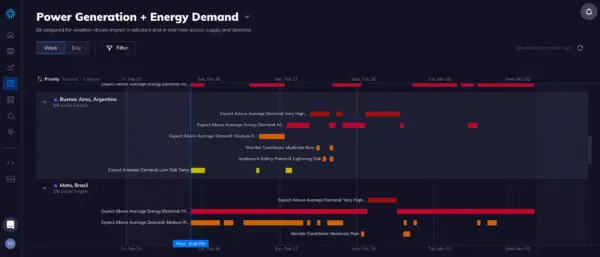 Suppose, for example a utility company wanted to monitor ice accumulation in rainy Oregon over the winter months. In that case, they could set a parameter that triggers an automated action when ice accumulation surpasses a threshold – immediately alerting active crews via SMS or push notifications so that teams can implement safety protocols. By utilizing automated AI-driven technology, companies minimize their operational risk to crew safety, reduce the potential for financial loss, and increase efficiency in nearly every scenario with accurate and reliable weather data available in real-time, 24/7. 
Improving Crew Safety with Weather and Climate Security
According to data collected by the US Energy Information Administration (EIA), U.S. citizens experienced more power interruptions in 2020 than any year prior. Of the eight hours of power loss per household, up to 75% was due to weather-related events – including snowstorms, wildfires, and hurricanes. Although we may not be able to directly alter the extreme weather events we face on a daily basis, we can bring innovative technology to our processes that improve and transform the way we operate – all while minimizing costs and prioritizing the safety of those at risk.
See How Tomorrow.io
 Can Help Your Business