Red Sox fans are a bit disappointed today.
It's Opening Day, but the game had to be postponed to tomorrow because of intermittent rain throughout the day in Boston.
This raises the question: how do Major League Baseball teams make difficult decisions like this around the weather? How do you decide to postpone entirely, rather than just have a rain delay?
It's much more complicated than you may imagine.
You not only have to trust the weather forecast is accurate, but also have a clear operational plan to immediately take action if the weather is going to negatively impact the game.
This is exactly where weather intelligence can make a massive difference for sports and outdoor event operations. Here's how you should be thinking about the weather to better operationalize your organization's response to the weather.
How Weather Impacts Sports Operations
As anyone in operations knows, there is always a plan in place for any situation – even bad weather on Opening Day.
"The decision to postpone our first game of the season was not made lightly," Red Sox President Sam Kennedy said in a statement. "The built-in off day was created for just this purpose and tomorrow's forecast for sunshine also factored into our decision."
While there are some domed baseball stadiums (six to be exact), most MLB teams play outdoors. That means the weather is always a factor. Teams have to decide whether they need to:
Cancel or reschedule the game
Implement a rain delay of a few hours
Roll out the tarp to protect the field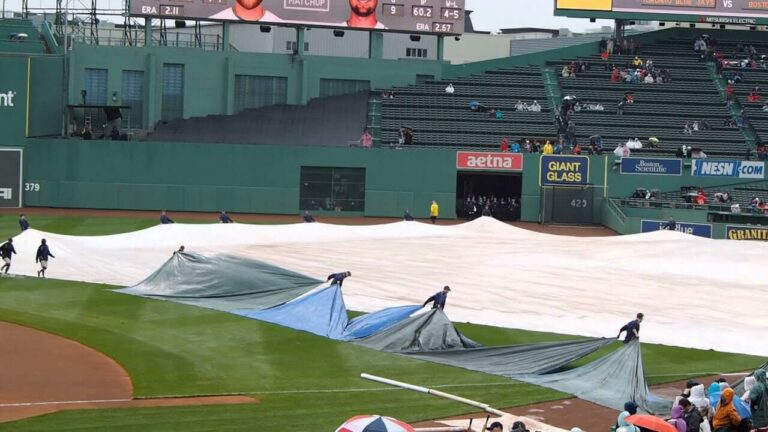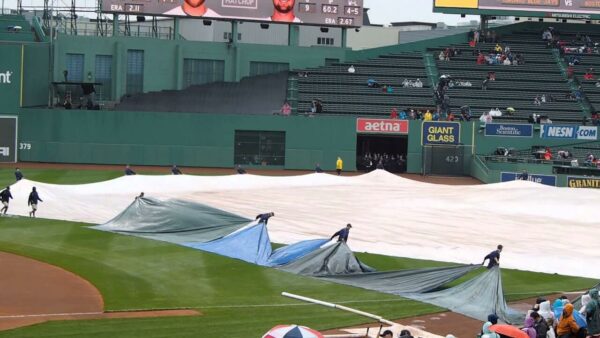 Each of these decisions costs serious money in staffing, ticketing, and much more. Rescheduling the game generally is the most expensive option, while a rain delay and rolling out the tarp costs less. At the same time, a rain delay can annoy fans who are sitting around waiting for hours for the game to resume. And if the forecast is off and the rain continues, it could be a terrible experience for fans who wait, only to have the game be completely canceled.
There are a lot of variables to carefully balance and weigh to best serve the team, the fans, and the staff. So how do you do it all?
Game Management and Weather
The best operational leaders can create a plan that can be quickly implemented when weather parameters exceed specific metrics. Is there going to be heavy rain throughout the day? Is there a risk of lightning that could put player's safety at risk? Rather than waking up and checking the weather report each day, a weather intelligence platform can immediately trigger your operational plans via emails and text messages to your entire team.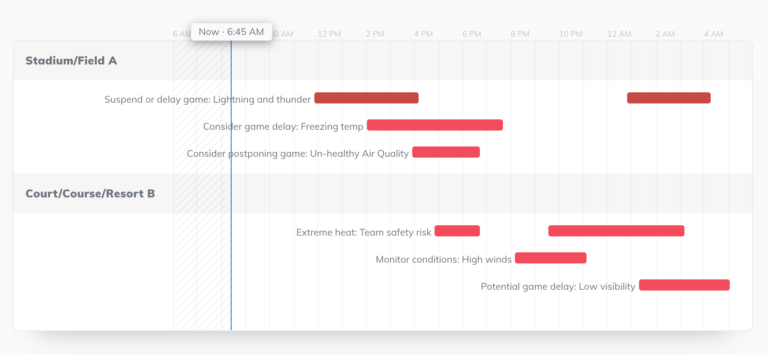 Above you can see a dashboard that could quickly let you know that the weather could be a risk for the game. This includes all of the weather parameters that could possibly matter to your operations plans, including temperature, precipitation, lightning, air quality, wind, visibility and more.
Get Smarter with the Weather
Even if the game does go forward, there are other types of weather management that you may not be considering that could directly impact play during the game. For example:
Wind direction impacts lefty/right batter optimization
High winds can lead to more home runs
Intense heat or cold can change how the bat impacts the ball
There is so much about weather that impacts daily operations for sports teams that you may not be incorporating into your operational plans. This is exactly why you should consider a weather intelligence platform.