In 2019, the popular Yahoo Weather API shut down, leaving a significant gap in the market. Many developers used the free weather API from Yahoo to build their apps, widgets, and more, but they had to find a new source for weather data.
That's exactly what Tomorrow.io hopes to offer developers today: a great Yahoo weather API replacement for your weather needs.
While there are many great free weather APIs available, there are a variety of features that some have, and others do not. From in-depth weather data to map layers and more, you have to carefully analyze the next weather API you choose to build with. If you start a project and run up against some serious limitations, you may have to start over again on another platform entirely.
So what's the right choice?
We argue that Tomorrow.io is the best option on the market as a replacement for the Yahoo weather API.
As you determine which alternative to replacing the Yahoo Weather API, this blog will explain why Tomorrow.io's weather API is the solution and dive into what you should consider when choosing the right replacement for you.
What Factors to Consider When Choosing a Weather API Replacement
If you're just looking for basic weather data like temperature, precipitation, and humidity, there are many APIs out there that offer the data you're looking for.
You can create a weather widget, for example, with just the simplest weather data on the market.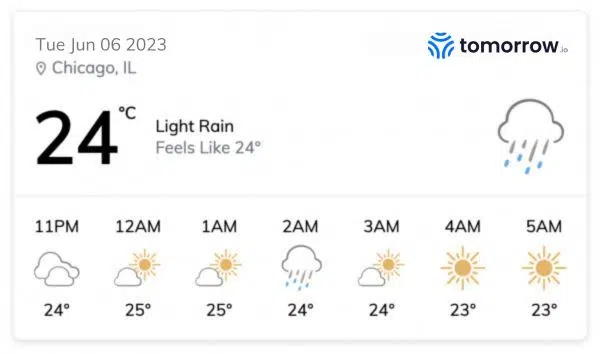 Most weather providers simply pull in existing governmental data from sources like the National Oceanic and Atmospheric Administration (NOAA). But there is more weather data out there.
When you're seeking a Yahoo weather API replacement, you want to consider more than just current weather data for temperature, precipitation, and humidity. You want to ensure you're getting the most robust weather data available and you should consider additional features.
Current Weather Conditions and Data Sources
A good weather API should provide real-time data on the current weather conditions and employ a diverse range of reliable data sources, more than just existing governmental data. 
Tomorrow.io stands out with its unique approach, integrating traditional weather data sources with advanced sensing technologies, including cell towers, data satellites, weather stations, and even connected vehicles. With the recent launch of Tomorrow-R1, the world's first commercially built weather-radar satellite, Tomorrow.io's data collection capabilities are increased tenfold and will only continue to grow with the growing constellation of sats. This constellation will provide global real-time precipitation mapping, effectively enhancing the accuracy and comprehensiveness of data available to users for nearly every point on Earth. 
Accuracy of Forecasts
Forecast accuracy is vital in an API. Inaccurate weather predictions can have severe implications, especially for businesses in weather-sensitive sectors such as agriculture, logistics, and outdoor events planning.
Tomorrow.io stays ahead of accuracy with advancements in Unified Precipitation, leveraging cutting-edge satellite data and machine learning to provide highly accurate real-time and nowcast (0-6 hours) global precipitation. Based on comparisons with similar satellite-based products, this solution offers 48-61% better precipitation intensity accuracy, delivering forecasts you can truly depend on.
Accessible Weather Maps
Accessible and detailed weather maps are a crucial feature of any weather API. They offer a spatial representation of weather conditions, assisting users in understanding and predicting weather patterns over a given area. Tomorrow.io's weather API works with interactive weather maps to show you various data layers for a comprehensive understanding of current and forecasted weather conditions.
Severe Weather Alerts
Timely alerts for severe weather are essential in safeguarding people and operations. Utilizing a weather API that is connected to early warning systems will protect individuals and businesses. In fact, the United Nations have recently launched an initiative to get the world on early warning systems, making the need for it within an API crucial. 
Cost and Calls per Day Limits
When selecting a weather API, cost and usage limitations are essential considerations. These factors influence the financial feasibility and operational sustainability of your weather-based application. APIs, like Tomorrow.io, offer a variety of pricing tiers and usage limits, making them suitable for a range of users – from individual developers working on passion projects to large businesses with heavy data requirements. 
You can easily get started with a free version of a weather API and use your limited number of calls.
Why Use Tomorrow.io's Weather API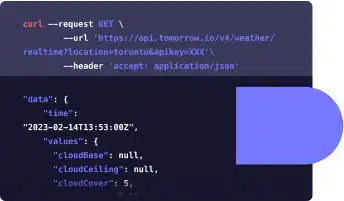 At Tomorrow.io, we collect weather data differently and have launched our own weather-radar satellite into space, marking the start of a constellation of more than 20 satellites that will bring us proprietary weather data for global weather forecasting. 
Tomorrow.io combines traditional weather data sources alongside new sensing technologies, including cell towers, not used by anyone else. This data has the following advantages over data from traditional weather APIs, including:
Unlike other APIs, Tomorrow.io's numerical data and map layers offer hyper-local, minute-by-minute weather data that allow you to build almost anything. When you see how much more data you can access, you may realize you can build something different or more ambitious than your original project.
What does that mean? The Tomorrow.io API offers data in a variety of formats and timeframes, including:
Tomorrow.io also provides data you might not expect to get from a weather API, including: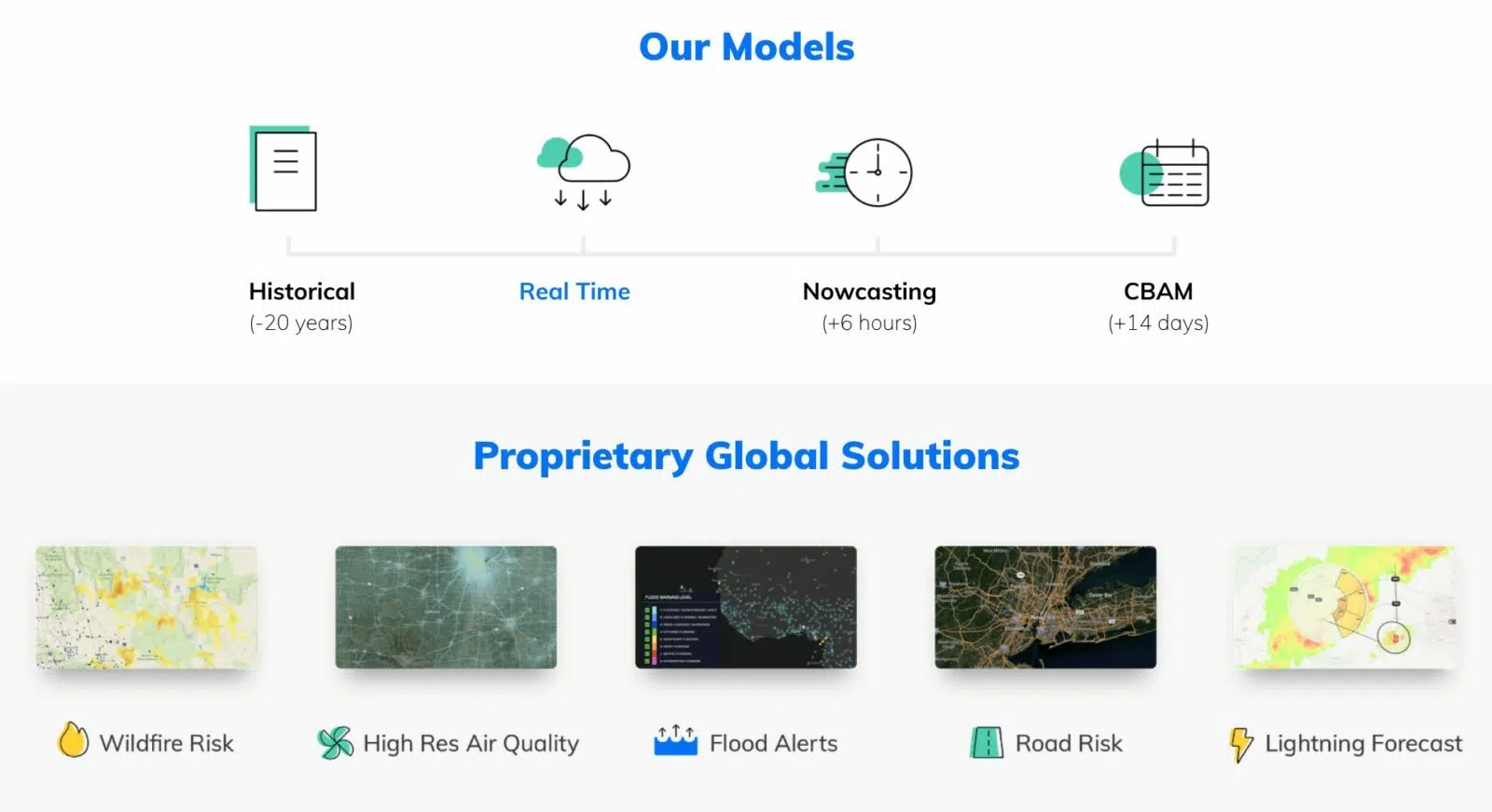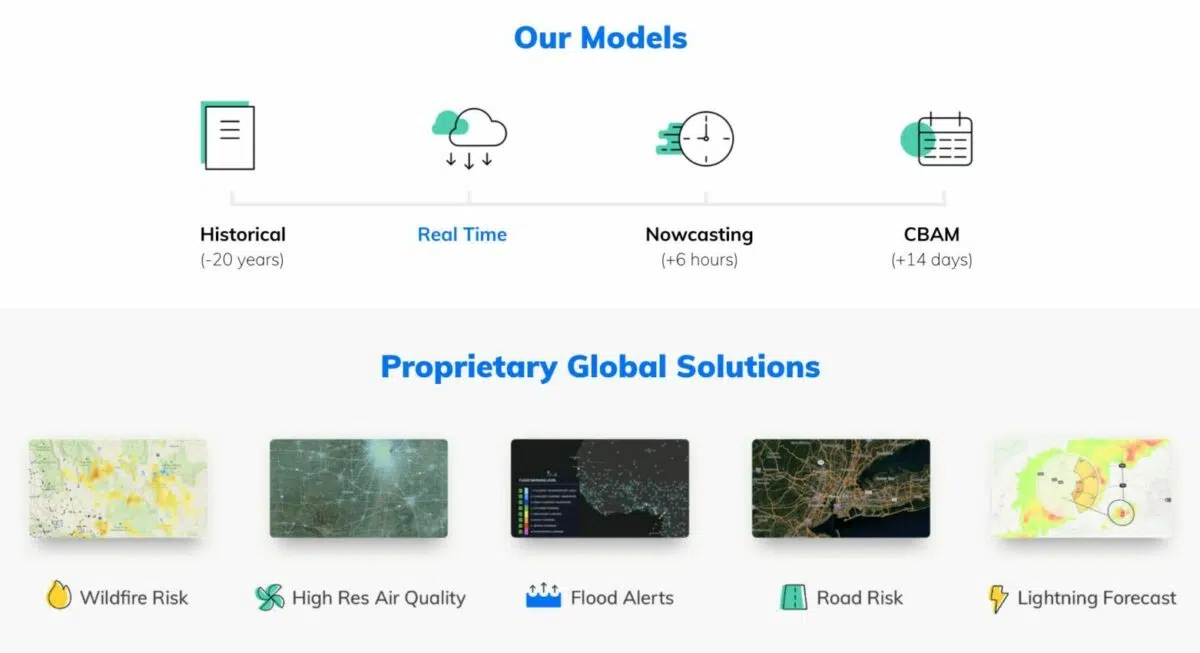 With this complete suite of weather data and solutions far beyond your standard daily forecast, the options really expand. You can build even more interesting weather projects than you may have imagined with this type of data.
Build more with a better Weather API
No matter what you're building, you need quality weather data that is easy to work with. That's why the Tomorrow.io weather API is built on AWS, Autodesk, and REST API using JSON for the requests and the responses, with HTTPS support. 
Not sure where to start? Tomorrow.io offers in-depth weather API documentation with a ton of information about how to use our API to build your project. There are also multiple pricing tiers available, from our free weather API up to enterprise, depending on your data needs.
But more importantly, you can do so much more with more in-depth and localized weather data. The use cases become far more interesting when you have a different kind of weather API like Tomorrow.io. For instance, you could:
The limit of what you build is really on you — not the replacement for Yahoo weather API that you choose. Whether you're looking to build a simple weather app or add an interesting pollen feature to your app, you have all the data you need to succeed.
Ready to start building? Get the Tomorrow.io weather API today.