This month's train derailment in East Palestine, OH, has shined a spotlight on the rail industry.
Though not caused by a weather disruption, the incident underscored the devastating results of derailments—over half of which are caused by weather.
Thanks to their safety and reliability, U.S. railroads transport more than two million carloads of hazardous materials. When one runs off the tracks, this results in devastating and far-reaching consequences.
Though there is currently no surefire way to guarantee protection against all possible natural forces at play, there are some steps railway operators can take toward mitigating weather-related derailments:
Monitor Potential Hazards Using Advanced, Hyperlocal Tech: Traditional weather forecasts only provide a vague prediction for a broad area. As extreme weather becomes more frequent and intense, an advanced solution like weather intelligence is key to predicting and planning for hazardous conditions. Operators can then automate warning systems and alert crews about potential weather risks along their routes before acting accordingly.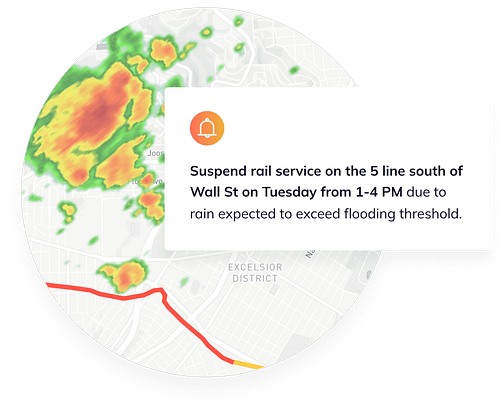 Prioritize Infrastructure Upkeep: Keeping track components up-to-date is crucial for passenger safety and reducing delays caused by unexpected maintenance shortfalls due to broken-down infrastructure. Railway operators should ensure continued diligence when preventing avoidable wear and tear damage caused by extreme temperatures or weather events by creating specific preventative measures tailored to their location's climate conditions if needed.
Train With Extreme Weather Conditions: If a railway operator operates in an area with unpredictable or variable climates, they should consider investing in training simulations involving extreme conditions such as heat waves or heavy rains so crews will have practice dealing with potential issues early on before they become life-threatening problems on the tracks or in yards.
Implement Reliable Backups: Regardless of the preventative measures instituted above, some level of disruption will inevitably occur. Always have backup plans established ahead with operation centers continuously updated in case unexpected events take place, causing disruption on their routes, which could minimize potential delays associated with certain occurrences mentioned before if large portion happened outside normal operational time window then waiting until following day shouldn't have taken place due complications faced right away making restoration even longer process than anticipated originally.
Start Reducing Your Risk of Weather-Related Derailments Today