For the millions of on-demand drivers working through snow, rain, fog, and flooding, weather can slow down business.
As road conditions worsen, on-demand drivers face increased demand, but dangerous weather decreases safe driving speeds and poses safety risks.  
Braving bad weather doesn't only come down to a driver's preparedness. On-demand companies are key stakeholders in developing safety responses and ensuring supply-side inventory.
Risks Without Warning
The weather's impact on the on-demand industry was on display during the January 2022 snowstorm in Virginia. As heavy snow and ice storms slammed the east coast, multiple tractor-trailers jackknifed on the lanes of I-95 in Virginia, bringing both directions of traffic to a slippery halt. 
In that traffic jam sat a rideshare passenger on his way home from the airport. The passenger and his driver had no choice but to wait on the impassable highway. In the nine hours to follow, the passenger  racked up a $600 Uber bill, which the company later refunded with an apology. Still, that didn't change the passenger and driver's harrowing experience, or change the fact that a lack of preparedness could have been worse for all involved.  
Ultimately, avoiding the weather isn't possible for on-demand drivers or their passengers, but mitigating the associated dangers and delays is key. 
Keeping Drivers a Step Ahead
Most on-demand drivers personally check the weather forecast throughout the week, but a quick glance at temperatures and precipitation in the morning isn't nearly enough to provide a comprehensive view of what's to come. A scalable weather intelligence solution like Tomorrow.io can help.
With Tomorrow.io, on-demand operators can alert drivers to incoming snow accumulation, precipitation intensity, and visibility at the hyperlocal level so they can plan for a safer ride.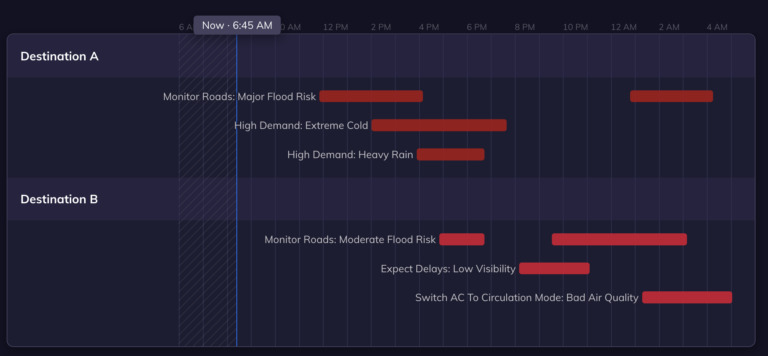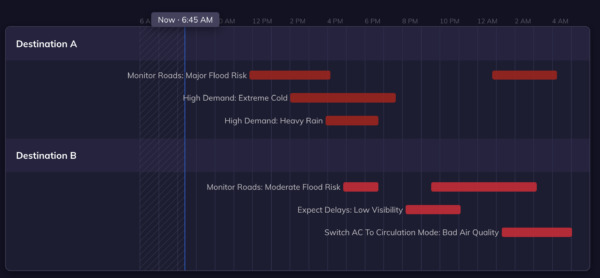 When drivers know that severe weather is in the forecast, they can take measures to mitigate risks and issues. Had the driver in the I-95 shutdown known ahead of time about the increasing snow intensity, for example, he may have even chosen a different route altogether.  Thankfully, the I-95 Uber driver happened to have enough fuel, but an alert could have reminded him and other drivers to fill up. But the driver alone can't be the only one preparing for the worst.
Providing on-demand drivers with weather intelligence helps maximize employee safety, which is why Tomorow.io tracks the potential impact of extreme weather across key territories. Using the Tomorrow.io platform, your company can decide how to prepare for incoming weather based on your unique business needs. On-demand organizations may choose to shut down operations completely, adjust their delivery radius, alert customers to longer ETAs, and more.
And driver safety isn't the only benefit. Knowing what the forecast holds also empowers teams to prepare for a spike in demand, allowing them to incentivize more drivers to get out on the road and ready to deliver. All the while, your drivers will know exactly what to expect. If snow is on the way, they can pack a blanket and extra food. If a flash flood is likely, they can adjust routes accordingly. 
In the meantime, your customers can stay in, stay safe, and wait for your company to deliver on its promises and shine a light on a stormy day. 
Investing in Employee Safety
On-demand organizations can't control the weather, but by predicting what's to come, they can empower drivers with the knowledge they need to act with confidence and efficiency. 
With the in-depth weather intelligence of Tomorrow.io, your company can help keep drivers out of risky situations while maintaining loyal staff, minimizing incidents, and keeping customers happy.
Learn How Weather-Related Risk is Impacting Your Business